Future Force
Cadet, Russian and German language student Brooke Newell is preparing to lead the Airmen of tomorrow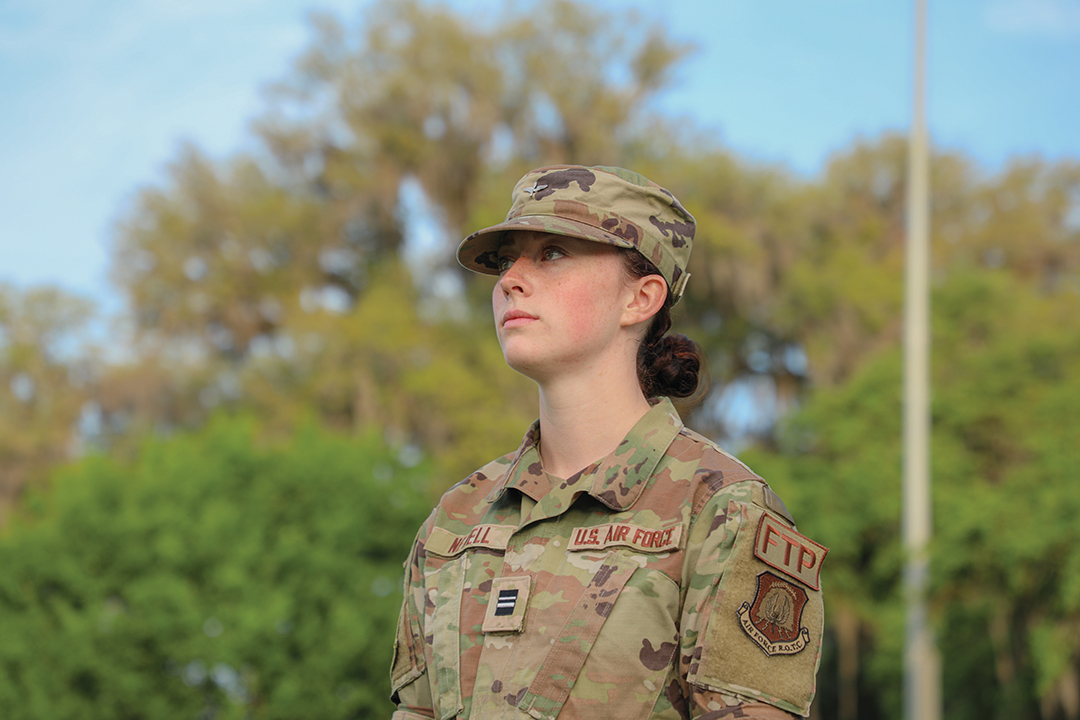 After weeks of grueling field training at Maxwell Air Force Base in Alabama, Florida State University student Brooke Newell was finally graduating. Standing in formation with over 300 other Air Force Reserve Officer Training Corps cadets in the fierce heat of a Southern summer, she reflected on how much had changed since she first signed on at FSU.
"Graduating from field training was the most memorable experience of ROTC so far. It was an awakening," Newell said. "The experience expanded my horizons, and I realized how many opportunities I'd missed out on before simply because I wasn't putting my name in for them."
Her graduation from field training behind her, Newell is still working toward her FSU degree — she's a rising senior double-majoring in Russian and German through the Department of Modern Languages and Linguistics with minors in aerospace studies, also known as Air Force ROTC, and law enforcement intelligence — in preparation to commission as a second lieutenant in the Air Force.
Languages come easy to Newell, something she first discovered while learning German in high school. ROTC, however, was not always part of the plan: Newell originally aspired to a career in international business like her father, but the topics didn't quite align with her interests. After realizing she thrives in highly structured environments, Newell spoke to veterans within her family about what a career as a military officer might entail.
Encouraged, she applied for ROTC scholarships and earned a scholarship from the Air Force that fully covered her tuition to study Russian language at the university of her choice.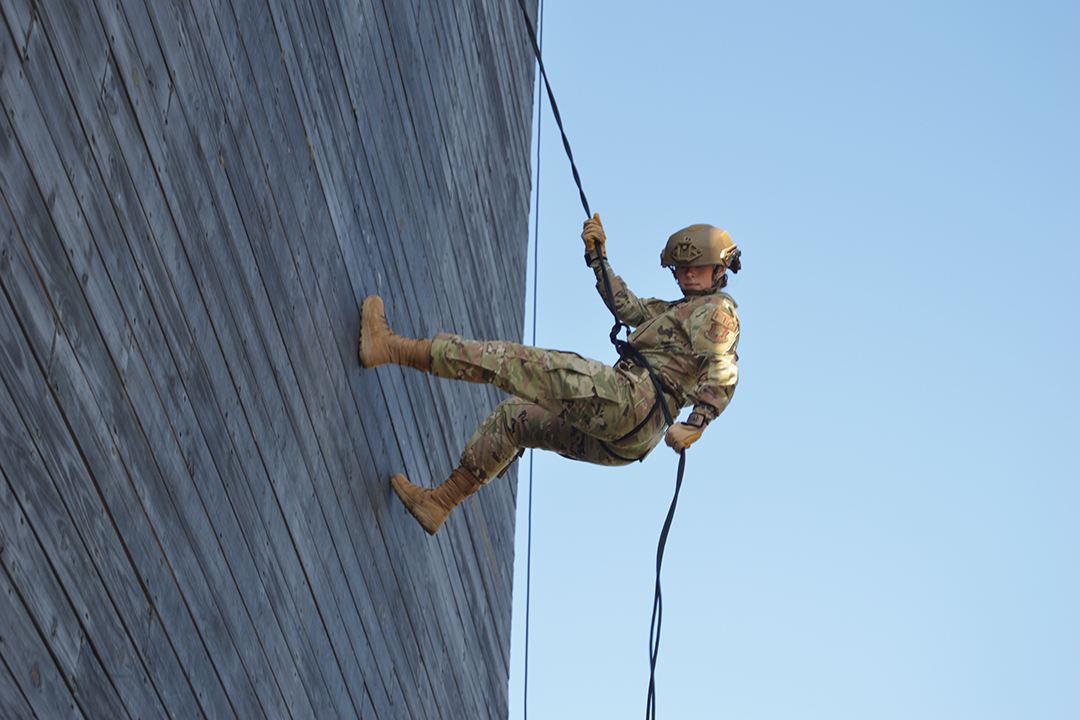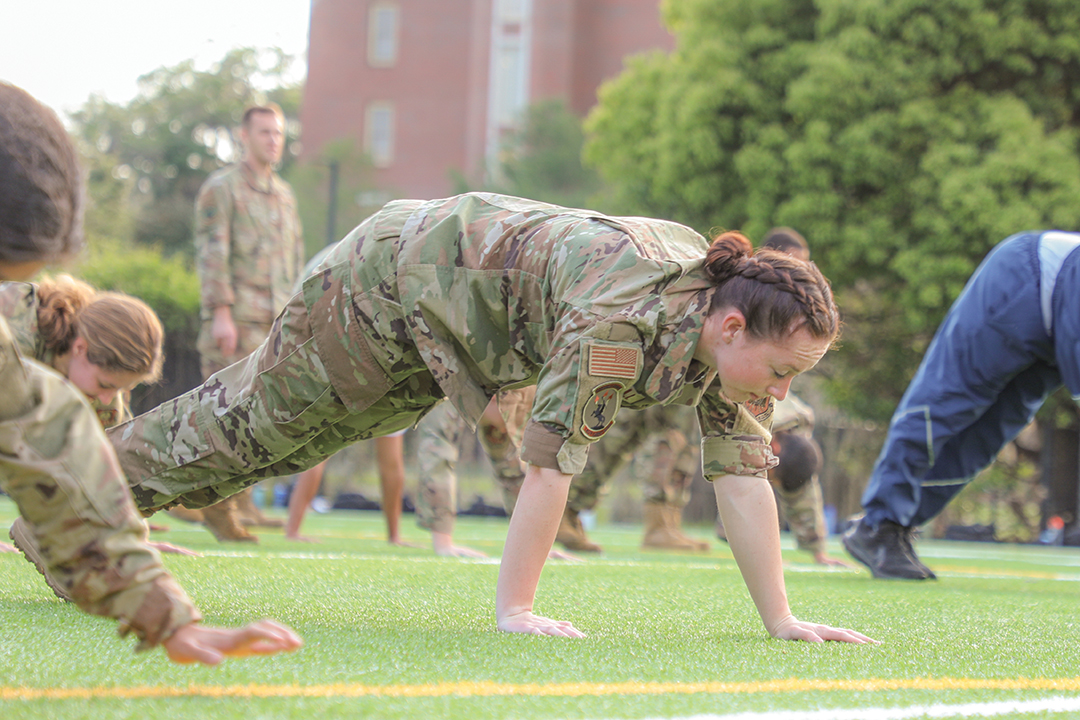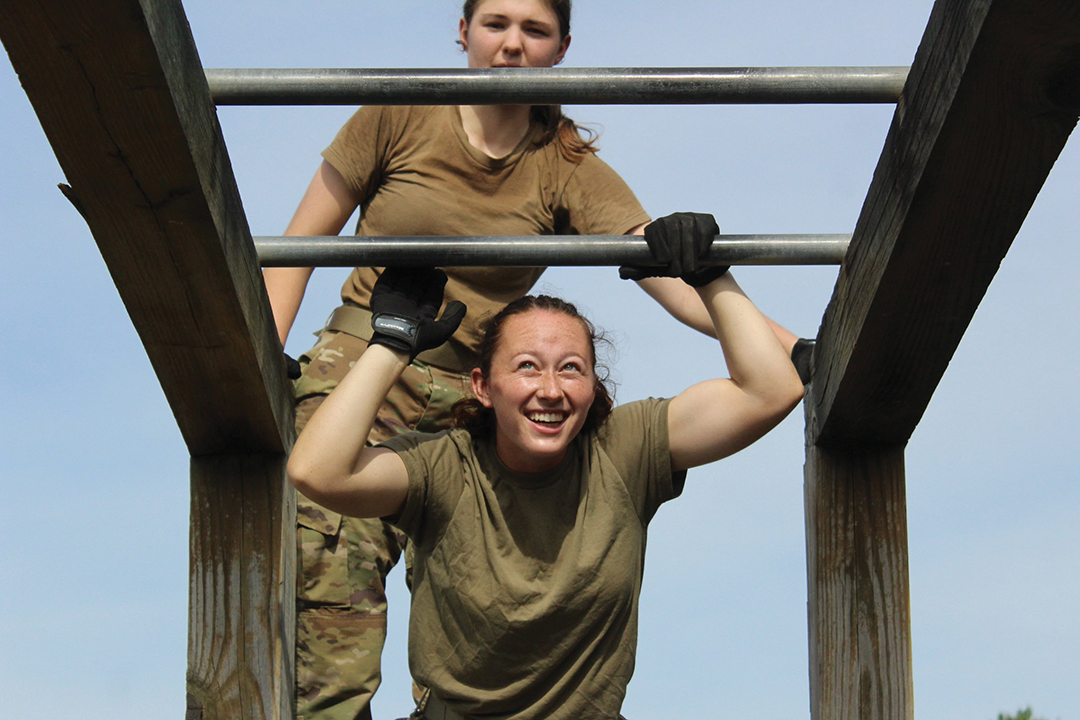 Scenes from Brooke Newell's Air Force training. Courtesy photos. Center photo by Devin Bittner.
"You only get one life on this Earth, and for me, making the most of my time means learning as much as possible," Newell said.
Studying Russian has provided a foundation for examining common elements of other languages that aren't immediately considered interrelated but that military officers may encounter within a single theater of operation, particularly when serving as part of an international coalition.
"The grammatical bases between Russian and German are similar, and some of the vocabulary between Russian and French is similar. It's fascinating to see how so many languages connect to each other," Newell said.
Olga Seliazniova, the Dean's Postdoctoral Scholar in Slavic, has taught Newell in two different Russian courses. In the most recent, Newell was the only undergraduate in the conversation-oriented class.
"She's the gold standard of a student," Seliazniova said. "She's easy to work with, diligent and hardworking; she puts herself in charge of her education."
Newell is near the top of her class, and she cites self-imposed discipline and routine as the driving forces for her academic excellence, traits that complement her military service. She's also a natural leader and has taken on progressively more complex roles during her time in ROTC.
During her sophomore year, Newell served as a general military course adviser deputy and was responsible for the squadron's general wellbeing and morale. In Fall 2022, she was selected as wing executive officer, a role that provides immediate, chief-of-staff-like support to the wing commander, who is the highest-ranking cadet in FSU's Air Force ROTC Detachment 145.
This summer, she'll be back at Maxwell AFB, this time serving as field training cadet training assistant and using her leadership skills to help train more than 1,000 future Air Force officers.
"As a CTA, she will shape and mold tomorrow's leaders to uphold the high standards that we have set to be an officer," said Air Force Capt. Derrick Drennan, FSU's Air Force ROTC education officer. "Cadet Newell is an excellent student in and outside the classroom, and she strives to develop all the people around her and be a leader who sets the example."
It's Newell's ability to seamlessly blend her disciplines that truly makes her stand out.
"Whether someone is deployed or working in intelligence, the Air Force always needs people who can speak multiple languages," she said. "It's cool to bring my Russian studies into ROTC and vice versa, and to apply the knowledge and experiences I have to each area of study."
Newell looks forward to pinning on her second lieutenant's bars in May 2024, and she hopes to have a long Air Force career using her language skills as a foreign area officer.
"I want to be part of something that's bigger than me," Newell said. "I want to help people, and it doesn't really matter to me if they don't even know I'm helping them. For me, that's kind of the point. It's not about the recognition — it's about helping people."