Student Spotlight: Ava Dodd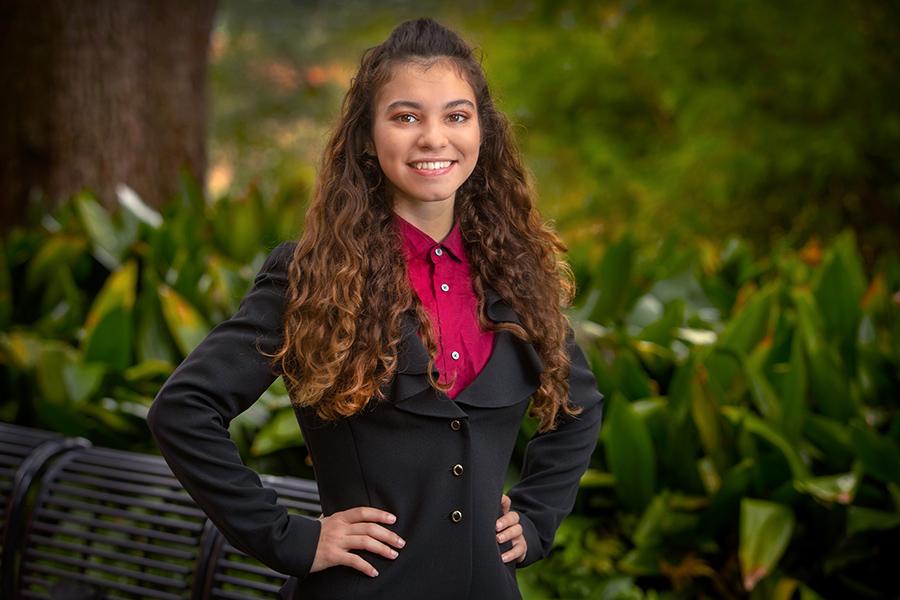 Ava Dodd is a senior majoring in computational science, a discipline within the Department of Scientific Computing, in the College of Arts and Sciences, that provides the digital tools necessary for solving complex problems in nature. In Fall 2020, Dodd and her team of researchers were recipients of the Steve Madden Undergraduate Research Award and had the chance to present their work at the San Diego Society for Information Technology and Teacher Education Conference, an international association focused on improving education through technology.
Where are you from? Tell us about your academic credentials.
I am from Port St. Lucie, Fla. I graduated from high school with an associate's degree in computer science and then transferred to FSU to become a computational science major. Science has been my field of choice since I was a little girl, and my interest in the "brain" behind robots led me to conduct extensive research into the use of artificial intelligence and drones and the creation of synthetic data for more efficient machine learning. Machine learning is a method of data analysis that automates analytical model building.
What brought you to FSU?
As soon as I toured FSU, I felt at home. I knew I would attend Florida State after my first visit because everyone seemed excited to be there, and that energy was contagious. I also thought the campus was beautiful and welcoming.
How has it been navigating college life as a first-generation student?
It was difficult at first because I had no idea what to expect throughout the transition from high school to college. I had high expectations for myself to succeed so I could make my family proud. But with all the resources, faculty, and friends I have come to know during my three years at FSU, I have been able to thrive beyond my initial expectations.
What inspired you to work in the field of computational science and artificial intelligence?
I have always dreamed of being a scientist. After taking introductory engineering and robotics courses in high school, I gravitated toward physics and computer science in college. I began my freshman year at FSU as a computer science major but realized I was not enjoying computer theory as much as I thought I would. With the assistance of my friends and an academic adviser, I found my place in scientific computing and became excited about my future in artificial intelligence.
What are some new developments in AI that you're excited about?
In computer vision, a field of AI that trains computers to interpret and understand the visual world, researchers are experimenting with creation of synthetic data. Images are created by neural networks to appear realistic and the images are then used to improve computer vision systems utilized in self-driving cars, medical imaging, agriculture and security detection.
You presented research on how AI might be utilized as a teaching tool in classrooms at the 2020 San Diego SITE Conference. What was that experience like?
My team and I researched how to improve computer vision algorithms by exploring a new training method for supervised machine learning systems, or systems that observe large amounts of data and make predictions using statistical algorithms. Although the presentation was remote due to COVID-19, it was still a thrilling experience to present our research in front of other experts.
Working in a group was an amazing opportunity, and we all have a huge sense of pride in our accomplishments. This experience inspired us to submit our work to two other conferences that focus on the technological advancements in various fields: the International Conference on Image Processing and the International Conference on Information and Education Technology. This time, our research explored how images created by computers can cause AI to perform better than images captured in the real world, thus making computer vision algorithms more efficient.
Are there any faculty or staff that have helped you during your time at FSU?
Jonathan Adams, a professor in the College of Communication and Information, has been both my mentor and research adviser. He has allowed me to explore my interests through research and encourages me to expand on my leadership abilities. I feel more confident in my technical career skills than I did before starting my research journey. I am glad to have his support and helpful advice as I transition to life after college.
When I was feeling lost my freshman year and decided to change my major, I was very appreciative of the warm welcome from Karey Fowler, an academic adviser in the Department of Scientific Computing. She introduced me to the faculty in the department and made sure to always check in on me. She made me feel comfortable in a new environment and more excited to be part of the department.
What do you like to do when you're not doing schoolwork or research?
When I'm not working, I am usually on Landis Green playing with my husky, Shiloh. I find it relaxing to go outside and play when I want a break from schoolwork. I also enjoy reading and hanging out with my friends.
What are some long-term goals you hope to accomplish after graduation?
I am currently working toward creating a startup company named Syntheta that is aimed at helping computers "see" better. We would create thousands of images that look real enough for computers to learn and function from. This technology will help companies integrate artificial intelligence into their business or enhance the capabilities of their current system.
What advice do you have for fellow students?
Even with life's ups and downs, stay focused on your goals. College is a new experience for everyone, and while no one knows exactly what direction life will take them, it's important to stay true to who you are and what you want because the rest will always follow.