Student Spotlight: Ahmed Kenawy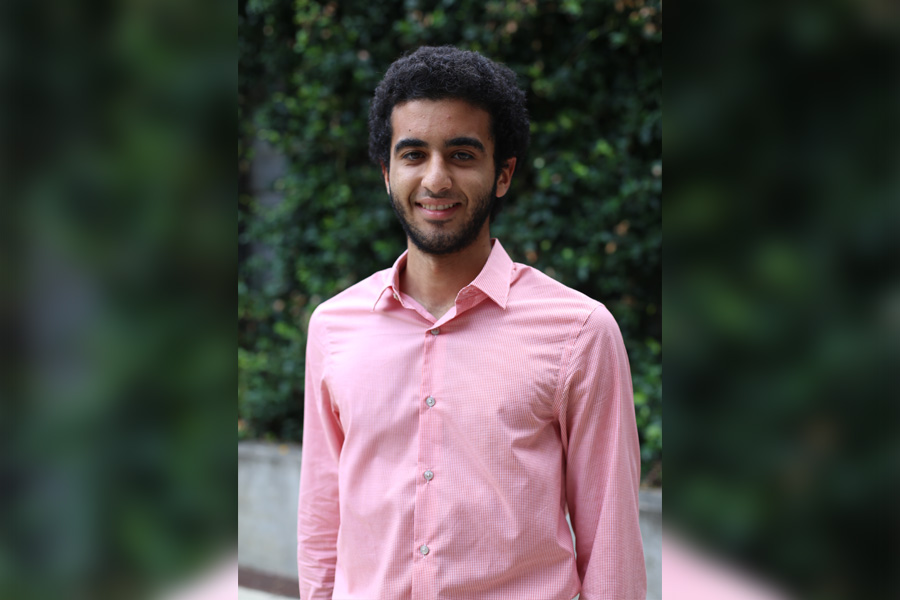 Ahmed Kenawy is a senior pursuing a bachelor's degree in biochemistry, within the Department of Chemistry and Biochemistry, with minors in biological science and mathematics, all part of the College of Arts and Sciences. As one of the recipients of FSU's highly-competitive Presidential Scholarships, Kenawy's access to special opportunities and projects across campus has led him to conduct, publish, and present his own research on advancements in neuroimaging. He was recently accepted into FSU's College of Medicine and is on track to begin courses in Summer 2021.
Tell me about yourself. What brought you to FSU?
I'm from Panama City, Fla. The two things that played a big role in my decision to attend FSU were the chance be a part of the Honors Medical Scholars Society and my acceptance into the Presidential Scholar's Program. I also enjoyed the university's culture and diversity among students and their fields of study.
What inspired you to choose your major and minor(s)?
My favorite subject in high school was chemistry. When I reached college, I loved the connection between chemistry and biology, so biochemistry was the perfect major for me. I chose biological science and mathematics as minors because they were recommended courses for my major but they both ended up being very useful to me in my upper-level classes.
FSU's Presidential Scholars Program provides four years of academic support to undergraduate students who have demonstrated the potential to become the leaders and innovators of their generation. How has your experience been as an FSU Presidential Scholar?
The Presidential Scholar's Program has allowed me to connect with so many like-minded students. The best part is the volume of opportunities available to participate in unique research internships. I completed a position as a clinical medical assistant at Dr. Fred Ross' family medicine clinic here in Tallahassee. I was able to assist triage patients and scribe several doctor's visits. This experience motivated me to work harder in achieving my career goals and proved that I was on the right path.
In Fall 2020, you published research in the Journal of Neuroimaging, a peer-reviewed scientific journal covering all emerging research in the field. What was your research about? How was your work received?
In Summer 2019, I had the opportunity to shadow endovascular neurosurgeon Dr. Ameer Hassan from Valley Baptist Medical Center. My research focused on individuals who had undergone a procedure called cerebral angiogram that images how blood flows to the brain in order to detect abnormalities and disease. In my study, we analyzed two different methods of the procedure — a newer method where a catheter is inserted through the radial artery in the arm and the standard method where the catheter is placed in the femoral artery.
We found that fluoroscopy time, the amount of time a patient is exposed to radiation, during radial artery access was reduced from 11.23 minutes and eventually plateaued to 6.73 minutes by the end of the study. The goal for doctors is to be able to reach the efficiency of the femoral artery access method, which averages about 4.92 minutes in fluoroscopy time. Because publications have shown that patients prefer radial artery access and deal with fewer complications with this method, it would be ideal for neurosurgeons to make the switch in the push for more ethical medical care.
What is something people don't know about studying a discipline in the medical field?
One thing people don't know is that there is a path for every personality in the medical field. As long as you have a passion for the sciences and interest in treating people, you'll thrive.
You're a part of the FSU Honors Medical Scholars Society, an organization that prepares its members for a future in the field of medicine through mentorship, medical and community volunteer activities, and shadow opportunities. Tell us a little about your work with this organization and how that work has impacted you.
HMSS is an amazing opportunity to work with other students pursuing a career in the medical field, and I enjoy the focus on patient-centered care. As HMSS co-president and outreach chair, I conducted our general body meetings and invited guests from the medical field to speak on various topics in medicine such as hospice care, mental health, and the presence of health care disparities across the United States.
Are there any faculty or staff that have helped you during your time at FSU?
Dr. Elizabeth Foster, assistant dean from the College of Medicine and adviser for HMSS, guided me throughout my time at FSU as a pre-med student. Assistant professor Joel Smith, from the Department of Chemistry and Biochemistry, taught the most challenging, yet rewarding, organic chemistry course that truly prepared me for my career.
What do you like to do when you're not doing schoolwork?
I like playing sports such as basketball, soccer, and tennis because they help to keep my mind clear. I also like to read, particularly books that address topics outside of the medical field, such as history or religion.
What are some of your career goals?
My major goal right now is to finish medical school. I am trying to keep my options open in terms of which medical specialty to pursue. I enjoy research and teaching but I also love the idea of meeting and helping patients firsthand as a physician. 
What advice do you have for fellow students?
Try your best to seek out all the opportunities that are available at FSU. So many events and chances to network are missed because students don't ask questions or visit advisers. Another piece of advice would be for students to prioritize their goals and complete tasks one at a time as this can feel less stressful and much more rewarding.