Elle Johnson: Golden Torch Recipient 2020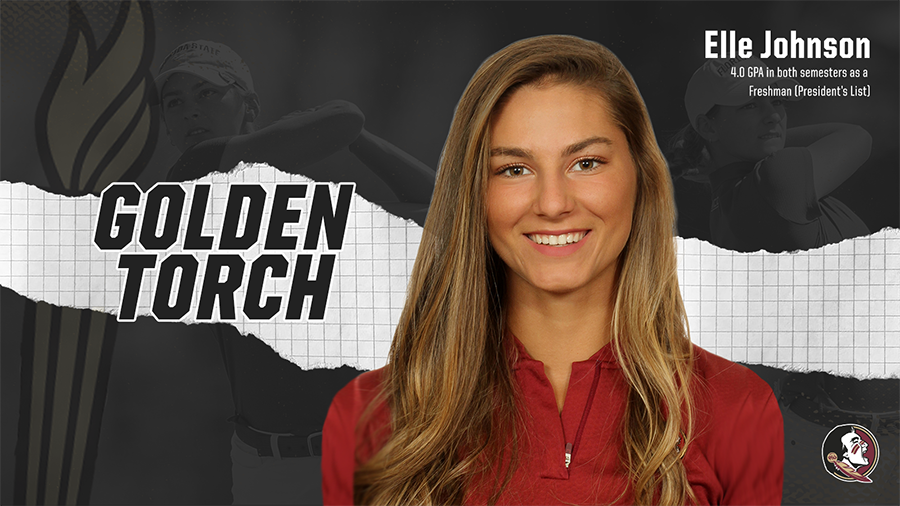 Whether it's on the golf course or in the classroom, Elle Johnson shines.
Johnson, a sophomore from Inman, S.C., has excelled academically and athletically since she arrived at Florida State in 2019.
Only a sophomore, Johnson is a rising star for the Seminoles on the golf course. She carded her career-best single round score of 71 in the fall 2019 Jim West Challenge.
She is also a star in the classroom.
Johnson, a pre-biological sciences major, was named to the academic President's List in both fall of 2019 and spring of 2020 and was named to the ACC Academic Honor Roll in 2020. With her 4.0 GPA, Johnson received the 2020 Golden Torch Award for Women's Golf.
The Florida State Athletic Department and Seminole Boosters host the "Golden Torch Gala" each year, honoring the academic achievements of our student-athletes. Each sport recognizes its highest achieving athlete based on the top GPA. The men's and women's teams with the highest GPA are also recognized. The ACC Honor Roll student-athletes are recognized as well.
"I have been studying a lot and I feel like it's finally paying off," said Johnson. "It's nice to be recognized for spending extensive hours trying to make A's. I like to do everything to the best of my ability."
Johnson works daily, pushing herself to be a better student and using her resources as much as possible. She takes advantage of the student-athlete tutoring program as well as attending her professors' office hours as much as possible.
"I like to use all of the resources I have," Johnson states. "I definitely would not be able to do this by myself."
Her classmates have also played a role in her academic success, and she turns to them whenever she is unable to attend class because of her commitments to the Seminole golf team and their busy travel schedule.
"I think it's important to have someone in your classes that you go to with questions," says Johnson. "Especially since I'm not there all the time because of golf."
Johnson also relies on her family for support. They instilled in Johnson at a young age that academics are important to stay focused on.
"As long as I am putting in the best effort, my mom knows I have the ability to do well," Johnson said. "If I do put in my best effort, I have realized that I am capable of making good grades."
In order to stay on top of things, Johnson utilizes time management skills and avoiding procrastination. Keeping a schedule is key to making sure that she doesn't miss any assignments or wait until the last minute to do one.
"I'm pretty much only doing school and golf," Johnson said. "I have a schedule where I plan to do all of my work and when I plan to finish each assignment."
Besides her personal motivation, Johnson also has a whole team behind her, supporting her daily. Head Coach Amy Bond has also created an environment on the team in which women are being held to the highest standard and are performing the best of their abilities.
"Academic success is extremely important and one of my top priorities for the girls to be good students and leave here with a degree," said Bond. "I am a firm believer that there's a reason it's student-athlete and not athlete-student."
Coach Bond's philosophy is implemented through her push for academic success. She ensures that athletes are taking advantage of every available resource.
"I require all of the freshman on the team to attend tutoring," said Bond. "I like having the others start with it each year, at least until they've had their first test in a class. If you ace your test and things are going smoothly, then you can bow out."
Johnson attributes a lot of her success to the help provided to her by the Academic Support Unit within Athletics.
"She's done a really good job," said Bond. "The fact that she's been able to maintain straight A's throughout her time in college is certainly an accomplishment."
Not only has Johnson exemplified what it means to be a good student, she has also been a leader and mentor to the younger girls on the team. The transition to college life can be tough, especially when you are trying to balance golf with everything else going on.
"She's taken the three freshmen on our team by the hand and has explained things to them, told them what to expect, and even helped them to settle in to life on campus," said Bond.
Johnson is no stranger to the stressful all-nighters spent studying for exams. And going into her sophomore season, she will continue to set an example for her teammates as the true definition of a student-athlete.
Republished from seminoles.com.