Alumni spotlight: Spirit Karcher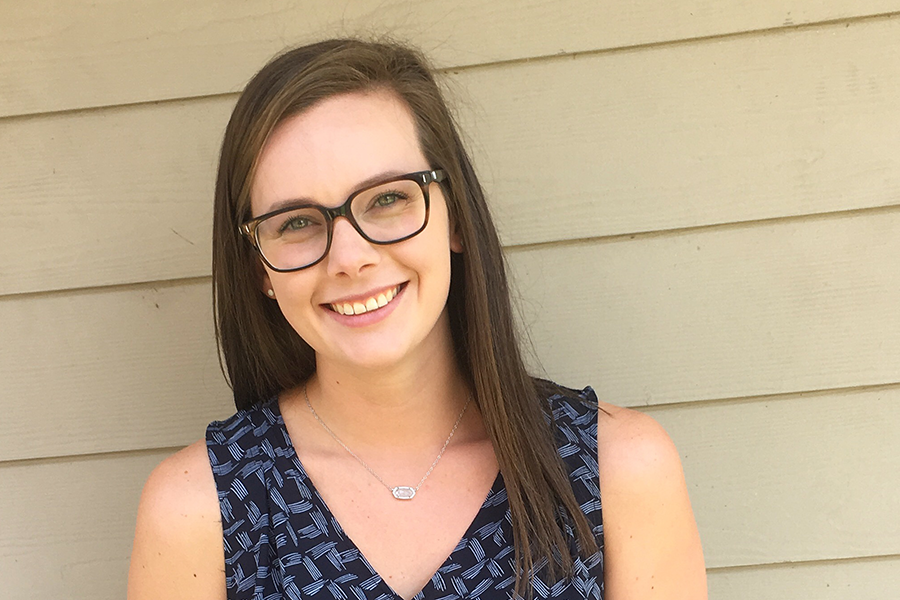 Spirit Karcher earned her master's degree in College STEM Teaching through the Florida State University College of Arts and Sciences' Office of STEM Teaching Activities in 2020. She previously served as a teaching assistant in FSU's Department of Mathematics, and she presented during the 2020 Diversity and Inclusion in Research and Teaching, DIRECTO, fall symposium. Karcher is presently a doctoral student in mathematics education in FSU's College of Education.
What year are you in school, and when do you expect to graduate?
I am a second-year doctoral student in mathematics education. I hope to graduate in Spring or Summer 2024.
Tell us a little about your background, where you're from and what brought you to FSU.
I'm originally from Fredericksburg, Va. I have a bachelor's in mathematics from Christopher Newport University. During my junior year, I decided I wanted to pursue a higher degree in mathematics so I could teach college level courses. I chose FSU for my master's degree because its programs not only had coursework in math and teaching, but there were also opportunities to gain experience in real classrooms.
What inspired you to stay at FSU to pursue a doctorate in mathematics education?
I've always been fascinated by math and how it's taught. I knew I wanted to pursue a doctorate after finishing my master's, but I thought I might take a year off first. However, the pandemic started the spring semester I planned to graduate, and I decided it was probably best to continue straight into my doctorate. I liked the idea of staying at FSU because the program was highly recommended by my adviser, and I was already involved with the community here.
What aspect of your areas of study do you find most fascinating? What are some exciting projects/ goals you're working on?
I'm really interested in how algebra and calculus are both learned and taught. Currently, I'm working on a project focused on how students conceptualize complex numbers. Research on college-level mathematics is expanding, and I hope to focus my efforts in this area.
Tell us about your experience presenting at last year's DIRECTO symposium? What inspired you to choose recruiting and retaining minority grad students in STEM as your presentation topic?
The symposium was completely virtual because of COVID-19, but there were still many awesome presentations. I showed a poster presentation on this topic because I was involved in a project with my adviser and the Aspire Alliance on building up partnerships between two- and four-year colleges with the goal of recruiting diverse graduate students into STEM disciplines and retaining them to teach. As a woman in mathematics, I was personally inspired by this project, and I would love to see more diversity in across the STEM fields.
Tell us a little about the Aspire Alliance, your role in the organization and what your experience has been like.
The Aspire Alliance is a network of university partners seeking to develop more inclusive and diverse STEM faculty across the U.S. There are three different "change groups" that have complementary goals to approach this multifaceted goal. FSU is a part of the alliance at two levels — regional change and institutional change. My involvement was with the team in regional change, which is being co-led by Erica Staehling, director of the master's program in STEM teaching, and Anthony Jones, Tallahassee Community College associate vice president of academic affairs. Because I'm focusing on getting my doctorate, I no longer hold an active role. However, I hope to still be involved and support their work while I finish school.
What on-campus resources have helped you achieve success? Are there any faculty or staff who have helped or inspired you?
Exercising is a huge way I destress and practice self-care, so the Leach Student Recreation Center was my home-away-from-home for a long time. I've also gone to the University Counseling Center a few times. I feel like people don't talk about that much, but there's nothing wrong with asking for help when you need it. I learned a lot of good habits for managing stress and anxiety by going to the counseling center.
I don't know where to start with my professors because they've all been hugely helpful and inspiring. Of course, my master's adviser Dr. Staehling has probably been my biggest mentor and supporter at FSU. Can I just shout out the entire math education faculty too?
How has COVID-19 impacted your studies and research?
I was teaching two courses at TCC for my master's program when we went into the first lockdown, and it was eye-opening. I'd never taught a course online before, and we were given about a week to move everything virtual. It made me appreciate finally returning to the classroom. The pandemic was also a catalyst for a lot of diversity and inclusion work that really needed to be brought to the forefront of education research.
Following your graduation, what are your plans? Even though you might miss FSU, what are you looking forward to once you graduate?
I'd love to get a position teaching mathematics at a college or university and continue research on undergraduate mathematics. I'm looking forward to improving as an instructor and researcher, and, hopefully, inspiring the next generation of young mathematicians.
What advice do you have for students still completing their degrees?
Take advantage of office hours. Your professors are there to help you, so don't feel like you need to do everything on your own. Get to know your peers too. I couldn't have done this without the support of my friends in the program. Not only are they people to study with, but they know exactly what you're going through and are a great support system. Lastly, allow yourself time and grace to practice self-care. It can seem like you need to spend all of your time studying, but mental and physical health are also important.