Summer 2020
| Mon, 07/20/20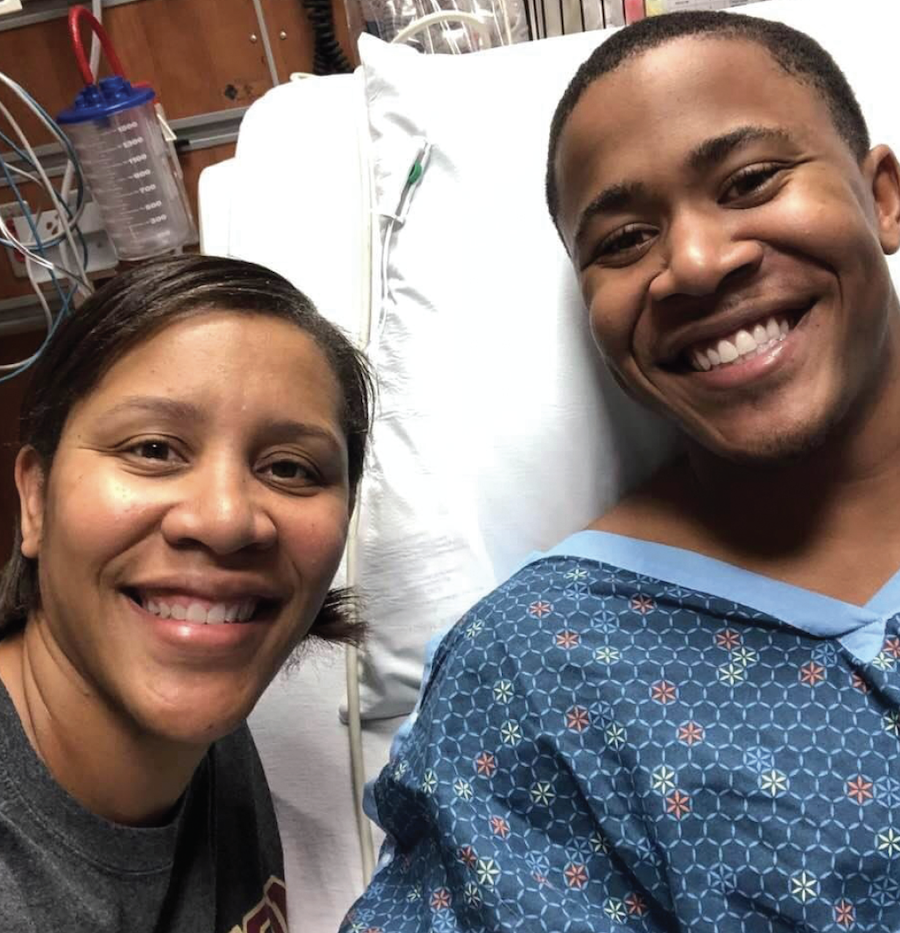 Operation: Space
Math, physics undergrad overcomes brain surgery to pursue dreams of engineering space travel
By McKenzie Harris
As John Wise kicked off his third year at Florida State, he had his sights set on the stars. With lofty aspirations to design and engineer rockets and spaceships, not even neurosurgery could slow him down.
Wise spent his freshman year as a civil engineering major with plans to work in architecture. However, a class with assistant professor of physics Jeremiah Murphy opened his eyes to a new frontier and left Wise captivated by the relationship between astronomy and physics. Shortly after, he transferred into astrophysics.
"Though my goals are related to astrophysics, double-majoring in physics and applied mathematics gives me a broader scope that will help me understand my specific field. I want to obtain as many tools and skills as possible to be the best aerospace engineer I can be."
Stellar foundations
After just two semesters in the Department of Physics, Wise was accepted into a Research Experience for Undergraduates at Texas Christian University. This competitive astrophysics REU, under TCU's Peter Frinchaboy, included investigation of local stellar populations, using star clusters and giant stars to analyze the structure, evolution and age of the Milky Way and other galaxies. 
When Wise returned from Texas, he began working at the National High Magnetic Field Laboratory, the world's largest and highest- powered magnet lab, as a research assistant to Krafft Professor of Physics and MagLab chief scientist Laura Greene and research faculty member Wan Kyu Park.
"John is an impressive young scientist. What stands out most about him is how eager he is to conduct research. He's hardworking, clever and extremely helpful in the lab."

— Laura Greene, MagLab chief scientist
At the National MagLab, Wise uses quantum physics to investigate superconductors — materials that offer zero resistance to electricity when cooled to low temperatures. These super cool materials are already found inside hospital MRI machines and certain research magnets, but could be key to developing new efficient electric motors, generators and power transmission lines of the future.
"John is an impressive young scientist," Greene said. "What stands out most about him is how eager he is to conduct research. He's hardworking, clever and extremely helpful in the lab."
Big-brained
Wise's best-laid plans came to a halt in 2019, when he slipped from a pull-up bar during a seemingly normal workout. His grip strength weakened until it was almost impossible to hold anything — a water bottle, the car door handle or even a pencil.
Tests for carpal tunnel syndrome and rheumatoid arthritis came back negative, so Wise underwent a series of MRIs. He was diagnosed with an Arnold-Chiari I malformation, a congenital condition in which the lower part of the brain, the cerebellar tonsil, presses down through the back of the skull and into the spinal canal.
In other words, Wise's brain was too big for his head. This pressure led to a block of spinal fluid flow and the formation of a cyst in his spine, which affected his grip strength but could have affected much more, had it gone undiagnosed.
Wise had neurosurgery in October and was hospitalized for three days.
"The recovery was the worst pain I've ever felt," he explained. "I had to retrain my body to sit up, to walk."
While recovery wasn't easy, it would have been unbearable without the support of his loved ones, he said. Wise started physical therapy in December and returned to work and school in January of this year.
Stars re-align
Despite the immense challenges of 2019, Wise's future has only crystallized further. As he prepares to graduate with a dual degree in Fall 2022, he has compiled a list of potential graduate schools and is starting applications for master's programs in aerospace engineering.
"I never want to stop being innovative or creative," Wise said. "I want to design spaceships and help commercialize space travel. With an applied mathematics and physics background, I hope to work at a company such as SpaceX."
Greene said Wise's work ethic and brilliance are integral to his success as both student and scientist.
"He also has a true desire to 'get a number out of nature,' which is code for loving science," she said. "I'm lucky to have him in my laboratory!"
McKenzie Harris graduated in May with a bachelor's in English with a concentration in Editing, Writing and Media.