Scientific Curiosity
Hamidreza Rahmani's biophysics research may pave the way for new heart treatments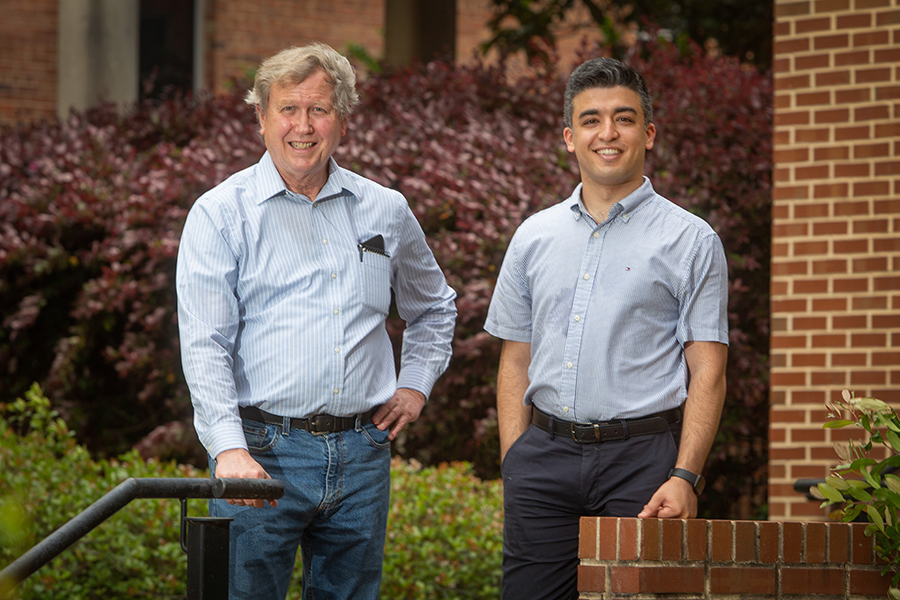 What can a water bug tell us about the human heart? The answer could one day save your life.
Physics doctoral candidate and interdisciplinary researcher Hamidreza Rahmani is analyzing flight muscle contractions of a Thai giant water bug, Lethocerus indicus, because of its similarities to human heart muscles. Like a mammal's heart, the roach-like bug's flight muscle beats rhythmically, and Rahmani's distinct research may lead to new treatments for diseases such as cardiomyopathy, which make it harder for the heart to pump blood to the rest of the body.
"I've always been fascinated with life science because your results can affect human lives in a direct way," he said. "It's why I switched to biophysics for my graduate study and started research in cryogenic electron microscopy."
Several years into his program, Rahmani has already made a name for himself in the physics community. He has contributed to five physics research publications, was a finalist in FSU's 3-Minute Thesis Competition in 2018, earned the College of Arts and Sciences' Richard L. Wilder Endowed Fellowship in 2019, received the American Heart Association Predoctoral Fellowship in January 2020, and was among just 31 students nationwide to win Biophysical Society Student Research Achievement Awards in 2020.
Rahmani's interests are wide and varied, and desire for understanding is singular, said Jorge Piekarewicz, Robert O. Lawton Distinguished Professor of Physics and a member of Rahmani's dissertation committee.
"Hamid is a truly unique student," Piekarewicz said. "His pursuit of knowledge is his most salient academic characteristic, and his determination towards unfettered discovery will produce an outstanding dissertation."
That drive is rooted in Rahmani's childhood in Takestan, Iran, where he cultivated a curiosity about his place in the universe through astronomy and dreamed of one day becoming a physician. As a result, his undergraduate work at the University of Tehran focused on astrophysics.
"[Hamid] has a good way of seeing what's needed in his experimental work...If there's something he needs to learn to further his research, he will find a way to learn it...[He] has a persistence that sets him apart."

— Kenneth Taylor, Professor of Biological Science
Rahmani was an undergraduate during an intense period of civil unrest. The university was a center for opposition to the contested 2008 Iranian elections, and his college experience included tear gas and pepper spray. Despite the political chaos, Rahmani thrived — he founded and became editor-in-chief of the campus publications, "Physics Morning," and "Invariant," joined astronomy and amateur astrophotography groups, and played music, basketball, and volleyball with friends.
While Rahmani worked to get the most out of his physics studies, he was stymied by a lack of interdisciplinary opportunities. Under Iran's education system, high school students choose academic tracks in math, biology or human sciences, which they then carry into university, and it's not easy to change disciplines later.
"When I was an undergraduate student, I realized I enjoyed astronomy more as a hobby, not for research. Working in biophysics research now feels like a small turn toward my childhood dream," he said. "The academic environment in the U.S. is definitely more efficient, open and cooperative. A lot of things are completely new, but that means I get to learn new things every day."
Rahmani chose Florida State for his graduate degree because of its outstanding research opportunities and emphasis on interdisciplinary work. Since enrolling in 2013, he has done research at the National High Magnetic Field Laboratory, the world's largest and highest-powered magnet lab, and conducts his current research at FSU's Institute of Molecular Biophysics.
Kenneth Taylor, Rahmani's doctoral adviser and a professor in the Department of Biological Science, considers Rahmani's ability to push through research challenges and avoid dwelling on setbacks truly noteworthy.
"He has a good way of seeing what's needed in his experimental work to strengthen the research story," Taylor said. "If there is something he needs to learn to further his research, he will find a way to learn it."
In addition to excelling in his current position at the Institute of Molecular Biophysics, Rahmani teaches introductory physics courses to undergrads. Upon completion of his dissertation, Rahmani plans to combine his love for both fields as an independent researcher and professor at a university in the U.S., a career move Taylor enthusiastically supports.
"While Hamid is extremely smart, success in academia doesn't necessarily depend on how smart you are," Taylor said. "Hamidreza has a persistence that sets him apart."
Hannah Fulk is pursuing a bachelor's in public relations and interdisciplinary social sciences and plans to graduate in Spring 2022.