Two-time FSU alumna gives back through Noles In Action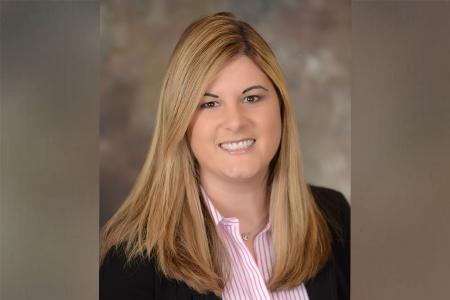 The period students spend at Florida State University can make a lasting impression on their lives. For Danielle Mason, a two-time FSU alumna and committee chair for the Noles In Action volunteer group, her Seminole start set her up for a life of service of aimed at making life better for others.
Today, in her job as an engineer for Johnson & Johnson Vision in Jacksonville, Fla., Mason works alongside other members of the advanced engineering organization in the manufacture of billions of ACUVUE® Brand Contact Lenses worldwide each year.
"Having an impact on a patient who wears our contact lenses is a huge deal. In my position, I might design a new manufacturing line or process. Knowing my company directly influences someone's quality of life through improved vision is truly rewarding," Mason said. "I'm so thankful I get to solve complex problems to enhance our patients' lives. The saying 'choose a career that you love, and you'll never work a day in your life' rings true for me."
Mason's path to service started in the early 2000s, during her time as an FSU undergrad. She graduated from the College of Arts and Sciences in 2008 with a bachelor of science in biology and went on to earn an additional bachelor's in chemical engineering from the FAMU-FSU College of Engineering.
While pursuing her biology degree, Mason sequenced DNA under former Geophysical Fluid Dynamics Institute director Tim Moerland and assistant in research Carl Whittington in Moerland's laboratory and developed an understanding of how she might apply what she was learning to help others enjoy a better quality of life. She was working as an office assistant at Coloney Bell Engineering after graduation when answering the company owner's question about her future plans steered her toward the FAMU-FSU College of Engineering for further education.
After her 2013 graduation and some time spent settling into her role at Johnson & Johnson Vision, Mason joined the Jacksonville Seminole Club, part of the FSU Alumni Association's nation-wide network that unites alumni and friends of FSU in certain geographic areas and helps foster a continued bond of fellowship and supporting ties with Florida State.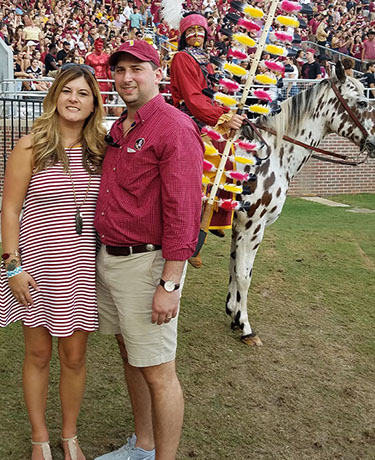 Mason's husband, Adam, is similarly dedicated to service and FSU: He graduated from the College of Arts and Sciences in 2008 with a Bachelor of Science degree from the Department of Psychology and earned his master's degree in instructional design from the College of Education.
In keeping with their joint passion to serve, Adam, with Danielle's full support, soon proposed the idea of a service volunteer group to the Seminole Clubs governing board. The board granted the Masons approval to form the Noles In Action Committee.
Before Noles In Action, the club only participated in two service events a year, but word soon spread and other Noles who shared the same passion for service joined to start planning monthly events and identify other Noles who wanted to help as well.
"Since our founding by Adam in 2013, we have helped nearly 50 organizations, with over 250 volunteers, amounting to more than 36,000 hours of service given to our community," Mason said.
The committee has donated its time to more than 40 different organizations in Jacksonville so far.
"I'm so proud to be involved in this group because not only do I get to give back to the greater Jacksonville community, but I'm able to give back with other Noles. We are all giving from our hearts," Mason said. "Being a Seminole is something I'm extremely proud of, so my position in this committee is truly all-encompassing of my love for FSU and its community."
In addition to its own monthly events, the Noles in Action Committee participates in dedicated nationwide service days each year, including Seminole Service Day. Noles In Action had planned to help the Catty Shack Ranch Wildlife Sanctuary, a non-profit ranch dedicated to the rescue and care of big cats, in March 2020 for Seminole Service Day, but events are currently on pause due to the COVID-19 pandemic.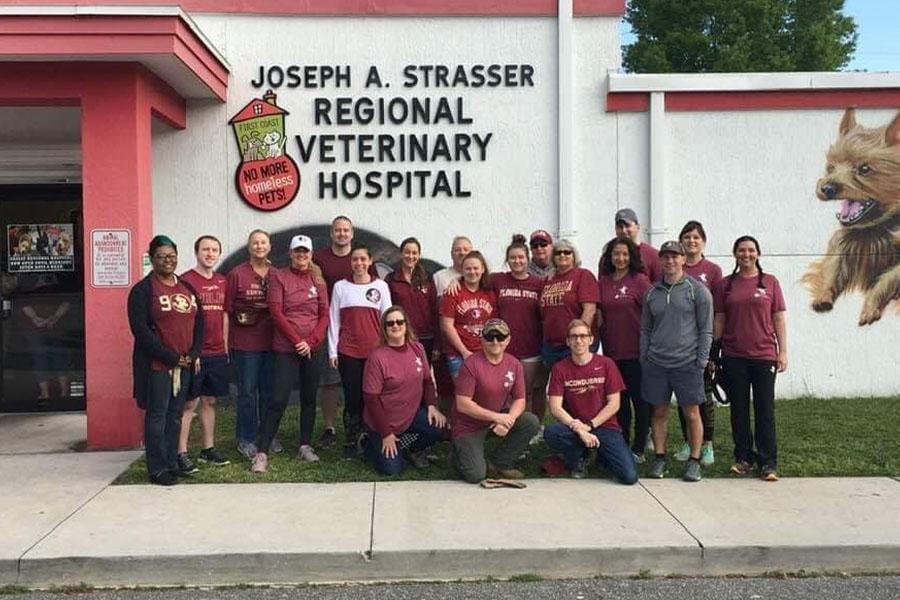 "Every March, the 50-plus Seminole Clubs nationwide that operate under the FSU Alumni Association engage and serve in their local communities. Giving back while wearing our garnet and gold not only brings Seminoles together, but shows the public the fantastic folks that make up the Florida State family," said FSU Alumni Association director of Seminole Clubs Keith Cottrell. "The Jacksonville Seminole Club takes this great work one step further with its Noles In Action team. Danielle and the Noles In Action serve year-round, impacting the Duval County area in amazing ways. We are thankful and extremely proud of how they embody the Seminole Spirit."