Two arts and sciences students acknowledged with FSU leadership awards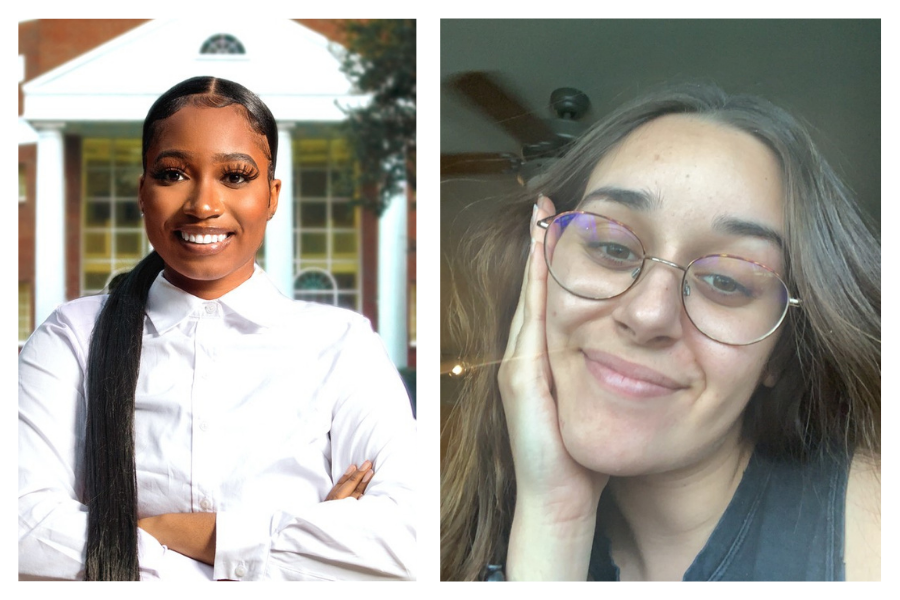 Two Florida State University College of Arts and Sciences students received Academic Leadership Awards and were recognized during the university's annual Leadership Awards Night on April 5.
Madelyn Perera and Shaniyah Jennings were recognized for their outstanding leadership development in their departments and organizations. The awards, sponsored by FSU's Division of Student Affairs, honor the diverse collection of individuals and groups across campus who engage in leadership learning.
Perera is a current student in the Department of Psychology with a double major in psychology and studio art. Following her yearlong Florida State University Undergraduate Research Opportunity Program experience studying the impact of mindfulness-based art therapy on college students, Perera transitioned into a research assistant position, continuing to research alongside assistant professor Theresa Van Lith, who came up with the concept.
Perera has accrued more than 700 service hours over the course of her college career in areas related to research, mental health awareness and children. She engages as an intern and coach at Play Big Therapy, a pediatric neuro-physiological therapy center located in Tallahassee, Florida, focusing on behavioral health and aiding therapists in performing occupational and physical therapy treatment plans and evaluations. The expressive therapy done here allows patients to heal psychologically through the means of self-expression. Additionally, she serves as a Florida State National Alliance on Mental Health member.
As the founder and designer of Studio H, a registered student organization with a focus on bringing art therapy to undergraduates at Florida State to improve mental health campus-wide, Perera has organized workshops led by art therapy graduate students, created promotional materials and an online presence.
"Receiving this award means a lot to me," Perera said. "I have put a lot of time and effort into what I do. These awards show that our effort has made an impact and that our time as students is valued. It is empowering to be recognized for something we work so hard to accomplish."
Following her graduation in April 2023, Perera hopes to continue her studies at Florida State in the art therapy master's program.
Jennings is a current student in the Department of Psychology, studying psychology with a minor in child development. She began as a Center for Academic Retention and Enhancement student in 2020, a program that provides support for first generation college students, and instantly stood out as a leader. As an active and involved member of the undergraduate research community at Florida State, Jennings also joined the UROP program and assisted other CARE students in the UROP colloquium course.
"Her commitment to mentorship really exemplifies the spirit of this award. She is a leader among her peers in UROP and CARE and will also be serving as a Freshman Interest Group instructor in Fall 2022," said Lauren Dimmer, Jennings' adviser in the Department of Psychology. "I know her future students will really appreciate her patient guidance."
As a psychology freshman interest group instructor in the upcoming semester, Jennings will continue her student leadership journey as a mentor for incoming Florida State psychology students. In this student leader role, she will lead weekly class discussions and act as a student resource by offering guidance and mentorship to first year students. According to Dimmer, Jennings is almost a specialist leader for the Engage 100 Program at Florida State because she serves the Florida State community as a leader in the UROP, CARE and FIG programs.
Following her graduation in April 2023, she plans to continue her education at FSU in the clinical psychology doctoral program, and eventually open a private practice serving traditionally underserved populations.
"It warms my heart to know that I am being recognized for my achievements in academics and leadership. It demonstrates that I have had an impact and that my hard work has paid off. My top priority has always been to be a leader while also excelling academically," said Jennings.
For more about this year's ceremony, visit leadershipawards.fsu.edu.