Student Spotlight: Natali Ramirez-Bullon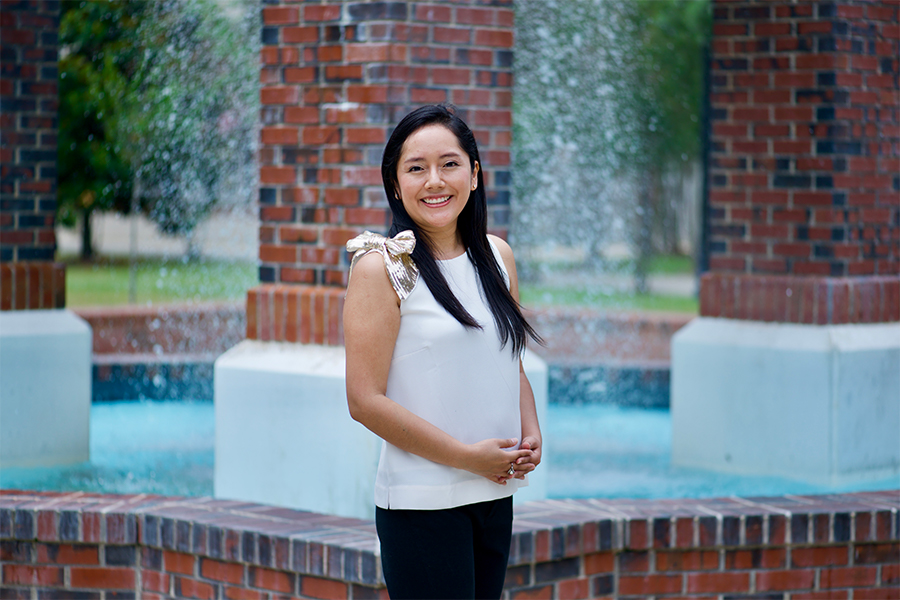 Natali Ramirez-Bullon is a doctoral student in the Department of Biological Science, part of the College of Arts and Sciences. She is one of 12 recipients of the Ecological Society of America's 2020 Katherine S. McCarter Graduate Student Policy Award, which provides graduate students the opportunity to receive policy and communication training in Washington, D.C., before meeting lawmakers to discuss the importance of federal funding for science.
Where are you from, what year in school are you, and what is your anticipated graduation date for your doctoral degree?
I'm originally from Lima, Peru, and became a U.S. citizen in 2013 while living in Panama City, Fla. I'm in my fourth year of my doctorate and plan to graduate by the end of 2021.
What brought you to FSU?
After working for different conservation projects and as a field biologist for environmental consulting companies, I decided to pursue a graduate education to become an expert in population ecology and help quantify plant conservation goals and objectives. At a conservation meeting, my supervisor at the time met Alice Winn, associate professor in the Department of Biological Science at FSU, and was impressed with her insights and rapport with her graduate students. I researched the Ecology & Evolution Group at FSU and found it was a good fit for me because of the strength of collaboration and expertise in the program, and the opportunity to work with Dr. Winn as my thesis and dissertation adviser.
What inspired you to choose your major? What do you find most interesting about your area of research, ecology and evolution?
Because of my father's job as a mining engineer, for six years I lived in the middle of the Andes Mountains in in Colquijirca, Peru, which exposed me to environmental problems caused by illegal mining practices. I perceived scientists as having power to educate and influence decision makers and decided I could ameliorate social and environmental problems by becoming a conservation scientist.
It's hard to choose only one interesting topic in ecology and evolution, but I'm especially interested in population ecology because it can be applied to different problems, such as predicting population growth or predicting the spread of diseases.
How did you learn about the Katherine S. McCarter Graduate Student Policy Award? Can you tell us about your past experience and future plans in conservation policy work?
I was notified of the award through the Ecolog-L listserv hosted by the Ecological Society of America, and through Nora Underwood, professor of biological science and chair of graduate studies for the biology department. I applied because I'm interested in improving and promoting communication between lawmakers and ecologists, and my eventual career goal is to work in conservation at a government or non-profit agency where I can use science to negotiate better efforts to conserve biodiversity.
For my dissertation, I'm developing a quantitative framework to set conservation priorities for plant species. I'm also the current principal investigator for the National Socio-Environmental Synthesis Center Graduate Pursuit funded by National Science Foundation that investigates how public engagement with biodiversity influences conservation policy and how it relates to conservation success.
Are there any faculty/staff who have helped or inspired you?
Dr. Winn provided the opportunity for me to join her lab and has dedicated time to helping me improve my scientific writing and expertise. I'm grateful for mentorship from Robert O. Lawton Distinguished Professor Joseph Travis, as conversations with him have always provided a refreshing boost in my scientific curiosity that has cultivated my biological intuition. I would like to recognize biology professor Scott Steppan for his mentorship in macroevolution topics, which inspired me to develop a chapter of my dissertation in this topic. I'm also grateful to Dr. Underwood and assistant professor of geography Stephanie Pau for their insightful suggestions while developing my research proposals.
How are you maintaining your research and commitment to academic success during the COVID-19 pandemic?
COVID-19 has put extra pressure on everyone by increasing uncertainty in our daily lives. I think it is okay to take time to care for your mental health and your family. Working at home can be distracting, but keeping up with my exercise and setting a daily schedule has helped me to be more productive.
Upon receiving your doctorate, what are your plans?
I was selected for an internship with the U.S. Fish and Wildlife Service pathways program at the Arthur R. Marshall Loxahatchee National Wildlife Refuge in Boynton Beach, Fla. I will be involved in different research projects with senior wildlife biologist Rebekah Gibble, including Everglades restoration, habitat monitoring, invasive plant removal, management of Cuban tree frogs, data management and field work.
Although you might miss FSU, what are you looking forward to in your post-graduate life?
I'm looking forward to applying quantitative skills I have acquired while doing research at FSU. I hope to remain in contact with the faculty and graduate students to promote collaboration with applied conservation scientists.
What do you like to do when you're not doing schoolwork or research?
I'm an extrovert, so I enjoy spending time with friends exploring new places and eating dinner together. I also enjoy knitting and crocheting while watching a movie with my cat. I learned how to play piano in my first year as a doctoral student, which I highly recommend!
What advice do you have for fellow students?
Make time to decompress and identify which time of day you are most productive. No one can work all the time on highly cognitive tasks — you are not a robot! Invest time in relationships and foster a network of mentors at different levels — within your cohort, with other graduate students and with faculty members. Science is a collaborative process, so help people around you, seek advice and don't isolate yourself. Take advantage of accessible resources.