Student Spotlight: Lily Lamb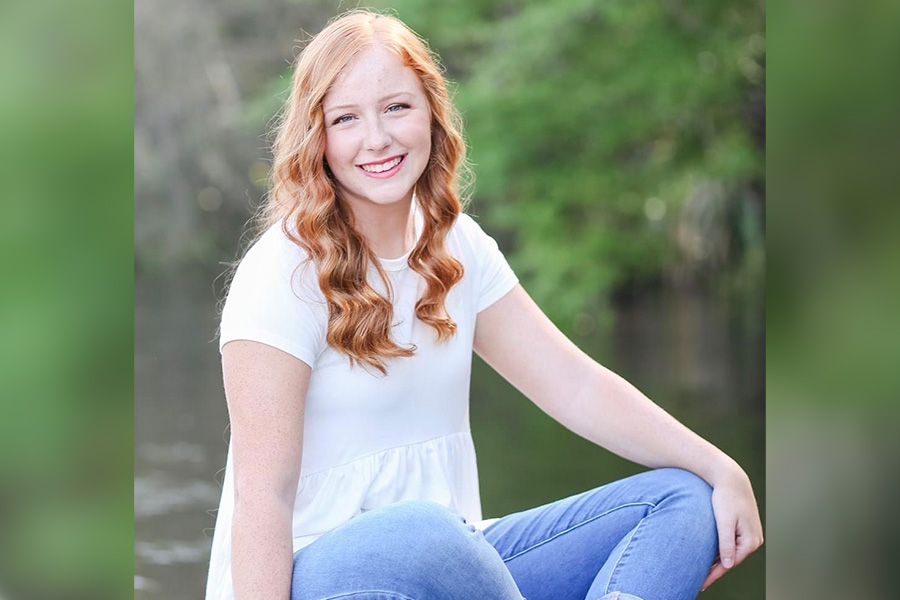 Lily Lamb is a sophomore majoring in behavioral neuroscience, part of the interdisciplinary Program in Neuroscience, a joint effort of the Department of Psychology, the Department of Biological Science, and the FSU College of Medicine. Lamb, Honors Medical Scholar and SSTRIDE member, recently entered her philosophy paper on ethics of consent to New York University's Bioethics Essay Contest in competition with hundreds of undergraduate entries. Her paper won second overall and was published in the Spring 2021 edition of NYU's Medical Dialogue Review undergraduate journal.
Where are you from? When is your expected graduation date? What brought you to FSU?
I am from the small, rural town of Live Oak, Fla. I expect to graduate in Fall 2023 or Spring 2024. FSU was one of the schools I visited first, and I was impressed by the faculty who genuinely cared for their students and the opportunities FSU offered. FSU has become a home away from home, and I am excited to spend the next two-to-three years here.
What inspired you to choose your major and your specific area of research?
My favorite classes in high school were psychology and anatomy because they challenged the way I look at myself and human behavior. Behavioral neuroscience is the best fit for me to continue challenging my perceptions of people and behavior. I am specifically interested in studying the role of consent in human behavior.
What aspect of your area of study do you find most fascinating?
The most fascinating part of behavioral neuroscience is how our emotions are a result of miniscule chemicals moving from one area of our brains to another. Our predispositions, life experiences, and environments then interact with these chemicals and shape the way we perceive the world around us.
You are an active member of the Honors Medical Scholar Society, an extension of FSU's Honors program that allows students to become part of the College of Medicine in undergrad. What has your experience been like in this program, and how does your passion for neuroscience guide and assist you?
Being a member of HMSS is one of my favorite parts of FSU so far because it has given me an immediate group of friends and cheerleaders. In the competitive pre-med field, finding people who genuinely want you to succeed is rare. As we welcome new students each year, HMSS connects me with freshmen pursuing neuroscience and helps me continue fostering encouraging relationships.
Who are the faculty or staff members that have helped or inspired you?
Assistant dean Elizabeth Foster and director of the Bridge to Clinical Medicine Master's Program and associate dean Anthony Speights, both of Interdisciplinary Medical Sciences, have been a constant source of encouragement and guidance as my HMSS advisors. Orenda Johnson, teaching professor in the Department of Psychology, made learning the fundamentals of neuroscience exciting and served as an inspiration to me as I pursue a major in neuroscience.
Can you elaborate more on your award-winning philosophy paper from your class, "Ethics of Consent"? What was your focus and inspiration?
The final capstone paper for my "Ethics of Consent" course challenged me to analyze an issue from my course content through the lens of consent. At the time, there was some discourse surrounding restrictive anti-abortion legislation that required specific paperwork or consent from a parent for a minor to have an abortion. Through the lens of consent, I examined why a minor could not provide their own consent for an abortion if they could consent to sex/pregnancy.
You published your first article as a first-year student at FSU. How will you apply what you learned about bioethics in your area of study moving forward? Do you intend to pursue additional publications in the future?
Without understanding the nuances of human behavior, such as ethics and decision-making, I would lack the understanding of what makes us distinctly human. In terms of future research, I want to participate in FSU's Undergraduate Research Opportunity Program this upcoming year and pursue other research opportunities during my time at FSU to learn more about human behavior.
What do you like to do when you're not doing schoolwork or research?
I volunteer with FSU College of Medicine's SSTRIDE: Science Students Together Reaching Instructional Diversity and Excellence mentoring program; Camp Kesem at Florida State University's Make the Magic committee, a support program for children with cancer; and Phi Delta Epsilon, one of FSU's medical student fraternities. Outside of school and volunteering, I love playing sports and reading.
After graduating, what are your plans?
I plan to attend medical school and pursue a specialty in Obstetrics and Gynecology.
What advice do you have for fellow students?
Your doubts can be frightening, but they also serve as a sign you are pursuing something out of your comfort zone. Do not be afraid to put yourself out there. Who knows? You might win a bioethics essay contest!