Student Spotlight: Jessica Moser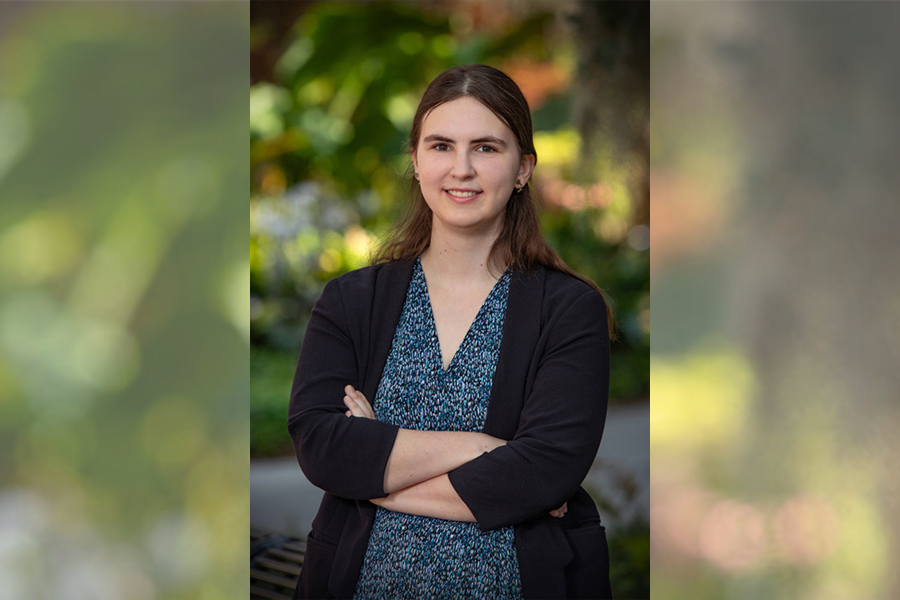 Jessica Moser is an undergraduate student pursuing a bachelor's degree in behavioral neuroscience through Florida State University's Program in Neuroscience, an interdisciplinary program with participation from the College of Medicine as well as the Department of Biological Science and Department of Psychology, both part of the College of Arts and Sciences. Moser is a member of the FSU Honors Program, and in 2021, she earned the Barry Goldwater Scholarship, one of the most prestigious national undergraduate scholarships in natural sciences, mathematics and engineering.
What year are you in school, and when do you expect to graduate?
I'm a senior, and I expect to graduate in Spring 2023.
Tell us a little about your background, where you're from and what brought you to FSU.
I'm originally from New Jersey, but my family moved to St. Petersburg, Florida, before I started college. I applied to FSU because of its strong research focus, and when I toured the campus, I liked that they clearly valued their students. Many other colleges have the attitude that it's a privilege to attend their school, but at FSU, I felt valued and like I had a home here.
What inspired you to pursue a degree in behavioral neuroscience?
As a baby, I had a stroke that resulted in a condition called hydrocephalus, which is when too much fluid builds up in the brain. I've had four brain surgeries to treat this condition, and I'm pursuing a degree in neuroscience in hopes of helping others like me.
Tell us about your research assistant internship with the Martin Memory Lab. Why is your topic important?
I'm currently studying memory and decision-making in the lab of Chris Martin, who is an assistant professor of psychology and neuroscience. More specifically, I study if people make decisions about objects using visual or conceptual similarities. For instance, we show people an image of a drill and then show them two more images such as a hammer and a hair dryer. If we asked them to choose a conceptually similar object, they would choose the hammer because they are both tools. If we asked for the participant to choose a visually similar object, they would choose the hairdryer because of the similar shape. We track their eye movements as they make that decision. This particular phenomenon — visual versus conceptual decision-making — is an early measurable deficit of Alzheimer's disease. In the future, this research may be used to detect early cognitive decline in older adults.
What does a typical day in the lab look like?
For our visual versus conceptual decision-making experiment, we use eye-tracking and motion-tracking to judge how people are choosing between visually and conceptually similar objects. I run the eye-tracking component of this study. When I first arrive at the lab, I typically set up the computer for eye-tracking and ensure the program I need is working properly. Then, I grab a consent form for my participant before I check if they are in the waiting room. If my participant is there, I take them into the lab and explain the premise of the experiment, have them sign the paperwork, and begin the trial. Currently, the eye-tracking data on healthy younger adults (college students) is being processed, and I look forward to running eye-tracking trials on older adults soon. We first tested young people, who have typical response times and decision-making capabilities, because we need a control group to which to compare the older adults.
Tell us about your role as an Academic Center for Excellence tutor.
As an ACE tutor, I mainly help students with introductory chemistry topics. My favorite part about the job is seeing when something clicks for a student, and they finally understand the topic they've been struggling with. I tutor individually and in groups, as well as both online and in person. I'm excited for this semester because I've worked with ACE since the pandemic, but this is my first semester helping students in person.
What on-campus resources have helped you achieve success?
I'm grateful for the Office of National Fellowships, particularly associate directors Jesse Wieland and Bonnie Garcia-Gloeckner. They helped proofread my applications for undergraduate research experiences and graduate school. The ONF team also helped me get into a research program at Pepperdine University last summer. I am thankful for all the support from those at the ONF.
Are there any faculty or staff who have helped or inspired you?
I'd like to thank both of my research mentors that have supported me throughout my time at FSU: Assistant professor of biological science Doug Storace and assistant professor of psychology and neuroscience Chris Martin. They have been instrumental in shaping my undergraduate research career.
Distinguished teaching professor of chemistry and biochemistry Ken Goldsby has also had a major influence on my life since my very first semester at FSU when I took his general chemistry course. He has always encouraged me and given excellent life advice for potential career paths.
Following your graduation, what are your plans? Even though you might miss FSU, what are you looking forward to once you graduate?
I recently found out I was accepted into the translational neuroscience doctoral program at Wayne State University in Detroit, Michigan, and I'm very excited about that opportunity. I look forward to starting a new chapter in my life and exploring a new city.