Psychology student wins prestigious NSF fellowship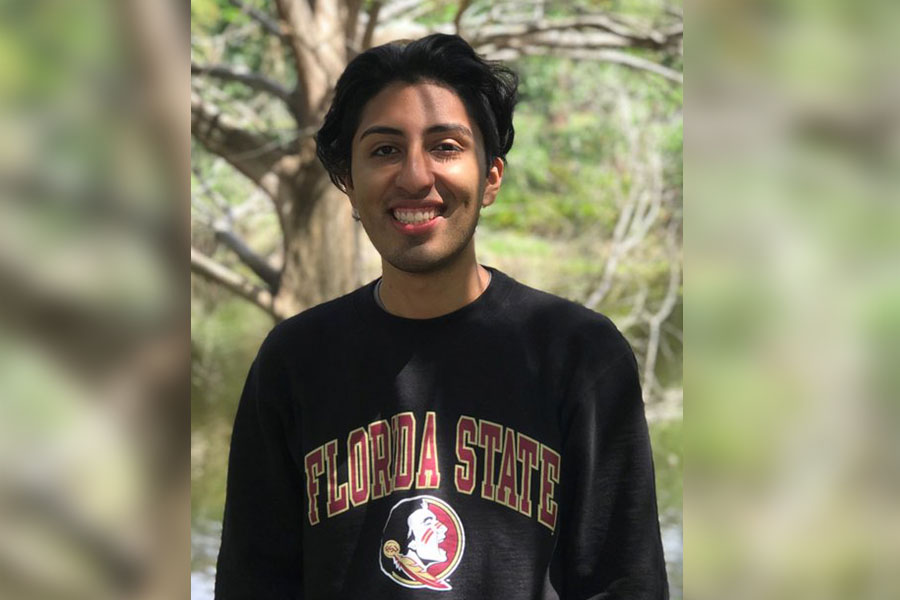 A spring 2020 graduate from the Florida State University College of Arts and Sciences has received a highly competitive Graduate Research Fellowship from the National Science Foundation.
Jose Martinez, who recently earned a Bachelor of Science degree from the Department of Psychology with summa cum laude and honors in the major distinctions, will use his award to pursue his research into social psychology.
"This fellowship allows me to begin conducting research as soon as I start graduate school, which is something I greatly valued while applying. Moreover, the fellowship offers significant funding opportunities and connects me to an elite group of scientists all over the world," Martinez said.
Martinez has served as a research assistant to psychology professor Jon Maner in the Evolutionary Psychology Laboratory for the last two years. He will begin as a first-year doctoral student in Fall 2020.
The Graduate Research Fellowship program recognizes and assists outstanding graduate students in NSF-supported science, technology, engineering and mathematics disciplines who are pursuing research-based master's and doctoral degrees.
"Florida State has extraordinary students who are the next generation of faculty and industry researchers," said Adrienne Stephenson, assistant dean of the Graduate School and director of the Office of Graduate Fellowships and Awards. "The NSF Graduate Research Fellowship supports these students as they build their academic and professional portfolios."
Fellows receive an annual stipend of $34,000 over three years, which allows them to conduct their own research at any accredited U.S. institution of graduate education. The stipend includes a $12,000 cost of education allowance for tuition and fees, and opportunities for international research and development.
"Being selected for the very prestigious and highly competitive NSF Graduate Research Fellowship is a tremendous achievement for any student," said Farrukh Alvi, associate dean for Research and Graduate Studies.
Martinez's research involves underlying patterns of emotion, cognition and behavior, specifically how dominance and prestige underpin emotions. Having also conducted research on sinister personality traits and social worldviews, Martinez said he aims to gain a deeper understanding of social psychology by continuing his work with cognitive and behavioral patterns and delving into new topics.
"As people, we have a fundamental motive for high status. In striving to reach status, two strategies we use are dominance and prestige. Dominance uses force or coercion for one's own benefit while prestige-oriented people display their skills, wisdom and respect towards others," Martinez said. "Both strategies are strong for different reasons and in different situations, but conflict can arise because of the contrasting behaviors and actions that stem from these strategies."
Martinez was motivated to join Maner's lab due to its perspective on studying social psychological phenomenon. Studying with an evolutionary perspective, he explained, can provide a "why" behind the "why" regarding social behavior. An evolutionary view provides a more comprehensive picture, versus an "in the now" proximate view.
"While almost everyone I've spoken with in the Department of Psychology has had an impact on my research in some way, my adviser, Doctor Maner, has had the largest impact." Martinez said. "He helps me figure out why certain ideas are worthy of pursuing and why others aren't. His criticism is constructive, and his feedback always helps me fit another piece of the puzzle together."
"Jose is an ambitious thinker and he is naturally curious — traits that are important to being a social scientist. He tackles questions of broad importance to society, such as how differences between high and low socioeconomic communities serve to maintain class disparities," Maner said. "We are proud to have Jose in our lab and in our graduate program."
Five other students from Florida State were selected to receive NSF Graduate Research Fellowships. Recipients include Jonathan Albo, Hannah Alderson, Stacy Ashlyn, Stephanie Damas, Kylie Van Meter and Anna Wuest.
"We are very happy for the students who have won this award and are excited to see how it propels them to the next step in their academic journeys," Stephenson said.
To learn more about the National Science Foundation Graduate Research Fellowship Program or similar awards, contact the Office of National Fellowships or the Office of Graduate Fellowships and Awards.