Psychology, social work double-major shares passion for community service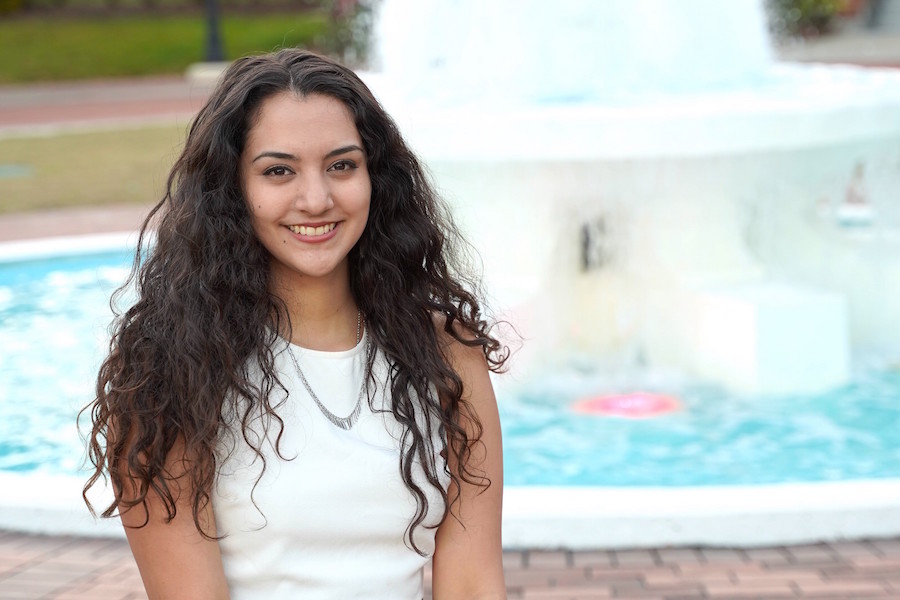 When Ariaunna Sahagun came to Florida State University in 2018 as a transfer student after earning her associate of arts from Miami Dade College, she knew she wanted to pursue a degree path that would help make a difference in her community. When Sahagun graduates on Friday, she does so with a double-major in psychology and social work, and hundreds of hours of community service under her belt.
Sahagun grew up in North Miami Beach after her family moved from Fresno, Calif., and was drawn to Florida State's wide variety of offerings for volunteer work, internships and networking opportunities. Her interests in various aspects of both psychology and social work helped her to realize and cultivate her passion for service to others, a passion first ignited during her childhood through seeing her own family members working to overcome substance abuse, homelessness, and mental health issues.
"Witnessing firsthand the struggles that my loved ones faced allowed me to put myself in someone else's shoes," Sahagun said. "This new perspective helped me use empathy to connect with people and talk to individuals from all walks of life. I learned to be open-minded and learn about someone's story before judging them."
Sahagun took that newfound perspective and put it into practice through volunteer service. As she reflects on the individuals from her past who helped her through her own hardships, she is gratified to now look at such situations from the viewpoint of the person lending the helping hand.
"I understand how powerful it can be to help guide someone through their toughest battles and witness their growth," she said.
Sahagun has volunteered with a wide variety of organizations, including Adopt-a-Highway, Boys Town of North Florida, the Damayan Garden Project, the Food Recovery Network, Hartsfield Elementary School, Hope House, the Pace Center for Girls, Kids Inc., the Kearney Center, Miracle Hill Nursing Home, Project LOVE and Second Harvest Food Bank. Her duties have encompassed everything from assisting with a post-arrest diversion program and organizing food donations, to mentoring adolescents and serving as a companion for the elderly. Her community service hours fill up an entire page on her transcript and spill onto the next.
FSU doctoral candidate Matthew Gilmour is one of Sahagun's social work instructors and witnessed her unwavering determination during a year that was anything but ordinary.
"Completing an undergraduate program is an accomplishment on its own, and doing so while also balancing your time to allow for hundreds of volunteer hours is especially impressive," Gilmour said. "It speaks to Ariaunna's work ethic and personal organization, but also her commitment to helping others, and those are all qualities that will make her an excellent social worker."
After graduation, Sahagun is looking forward to traveling, meeting new people, and spending more time with her family. She is also making plans to move to a new city and immerse herself in a career in the social service sector.
"I am excited about having a flexible schedule that will allow me to explore my passions. Moving to a new city will mean more possibilities with this newfound time," Sahagun said.
As she prepares to turn the page on a busy college career and begin an exciting new chapter, Sahagun is grateful for every hour she dedicated to giving back to the Tallahassee community during her time at Florida State.
"I have gained a lot of valuable experiences after volunteering at numerous organizations in my community and each one taught me a lot about myself and the individuals around me," Sahagun said. "Every person's contribution makes a difference."
Nearly 2,900 graduates will be awarded degrees as Florida State University's Fall 2021 Commencement ceremonies get underway Friday, Dec. 10. For more information and the complete schedule, visit commencement.fsu.edu.