Prestigious arts, sciences honor society Phi Beta Kappa hosts annual induction ceremony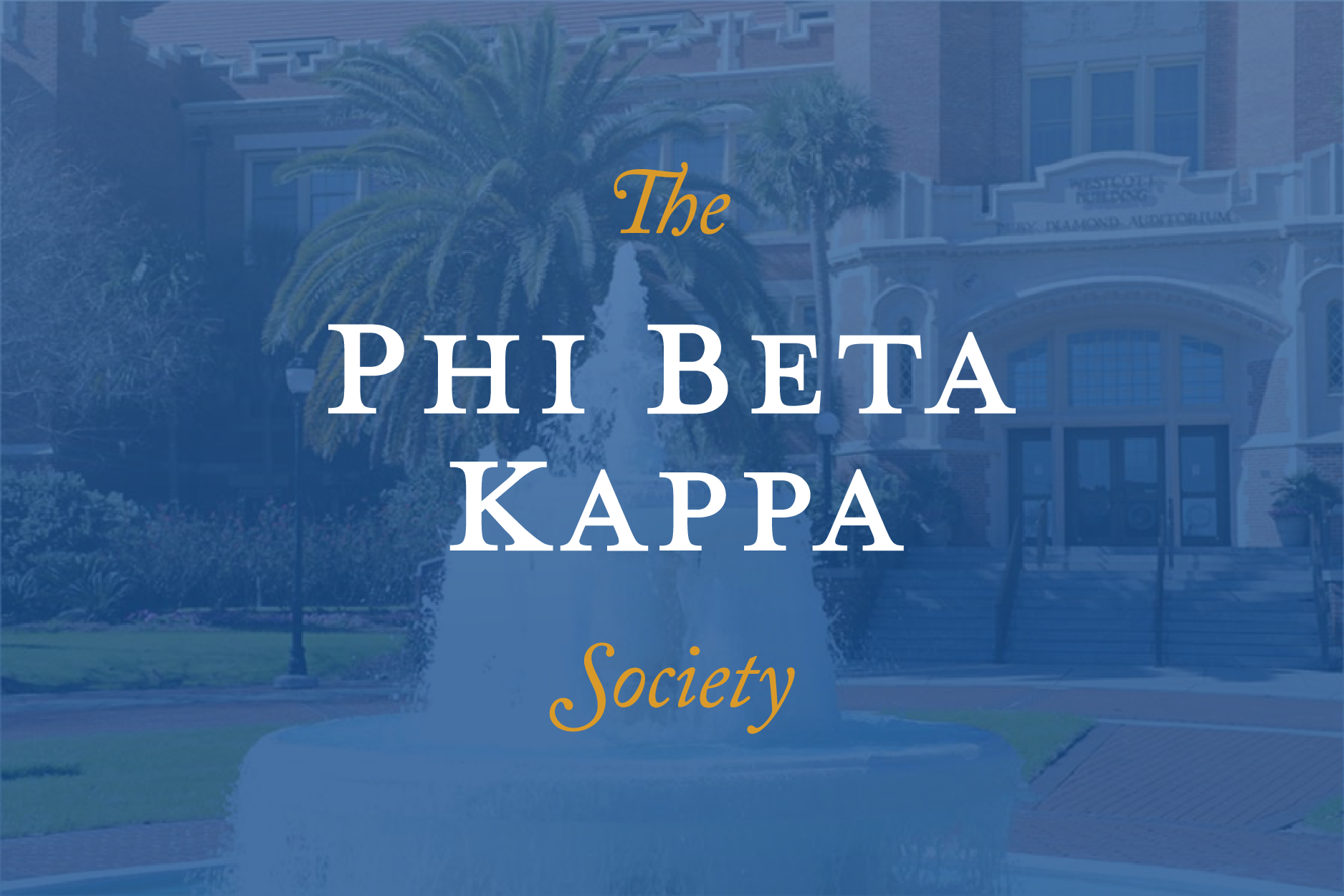 The Florida State University chapter of the Phi Beta Kappa honor society, the oldest and most prestigious academic honor society in the U.S., hosted its annual induction on Saturday, April 23, in the FSU Alumni Association's Grand Ballroom. Each year, Phi Beta Kappa inducts exemplary juniors and seniors who excel in their rigorous arts and sciences education.
"It takes discipline and dedication to fulfill the stringent requirements that must be met in order to receive an invitation to join Phi Beta Kappa," said Sam Huckaba, dean of FSU's College of Arts and Sciences. "By joining Phi Beta Kappa, students will formalize attainment of a mark of distinction that will follow them throughout their careers."
Only 10 percent of U.S. colleges and universities have Phi Beta Kappa chapters, and these chapters only invite 10 percent of their arts and sciences graduates to be inducted. Induction constitutes a lifetime membership and access to many academic and professional benefits including potential employer and academic preference. Since the society's inception, 17 U.S. presidents, 40 U.S. Supreme Court justices, and 136 Nobel laureates have been inducted as members.
President of FSU's Phi Beta Kappa chapter and president of the Faculty & Friends Club of FSU Annelise Leysieffer, Ph.D., first joined Phi Beta Kappa alongside her oldest daughter when both were FSU students in 1993. After earning her doctorate in French literature from the Department of Modern Languages and Linguistics in 2007, Leysieffer joined the Phi Beta Kappa board and has served as the chapter president for 11 years.
"Phi Beta Kappa is the one honor society that should always be on top of members' curriculum vitas," Leysieffer said. "Being in Phi Beta Kappa can be quite beneficial when seeking acceptance to graduate institutions or entrance into various academic fields."
Phi Beta Kappa is the oldest academic honor society in the U.S., and was founded in 1776. Currently, the honor society has 290 chapters at distinguished colleges and universities nationwide. FSU's Phi Beta Kappa chapter is unusual in that it has significant student involvement, an element claimed by only a handful of chapters across the U.S. FSU's chapter became a Registered Student Organization in 2009, and students are allowed and encouraged to hold leadership roles within the honor society.
Spring 2022 graduate of the meteorology program in the Department of Earth, Ocean and Atmospheric Science Jonathan Marcus said he became a member of Phi Beta Kappa due to the prestige and honor associated with the honor society's name. Marcus' mother was also a member of Phi Beta Kappa, and her excitement upon Marcus' acceptance further cemented his decision to join.
"As I was filling out an application for postgraduate employment, I actually qualified for a higher salary grade due to my Phi Beta Kappa membership," Marcus said. "This confirms that the decision I made was a good one, and I am sure the benefits of Phi Beta Kappa will follow me into the professional world."
Rising senior Emilia Waddington, who is pursuing a psychology major through the Department of Psychology along with a general business minor, also chose to accept her Phi Beta Kappa invitation due to the honor society's prestige and exclusivity. With plans to apply for law school in the fall, Waddington said that her Phi Beta Kappa membership will strengthen her application because it shows she has placed significant importance on academics.
"Throughout my undergraduate career, I have strived to maintain above a 3.9 GPA, so I was thrilled to become a member of an organization that recognized my efforts in achieving said goal," Waddington said. "It is an extremely rewarding feeling when your hard work is truly seen and acknowledged. I am confident that becoming a member of Phi Beta Kappa will not only help build connections and open doors for me in my future endeavors, but it will also motivate me to continue achieving high academic goals."
To learn more about FSU's Phi Beta Kappa chapter, visit https://pbk.fsu.edu/.