FSU grad student and alumna earn NOAA's prestigious Knauss Marine Policy Fellowships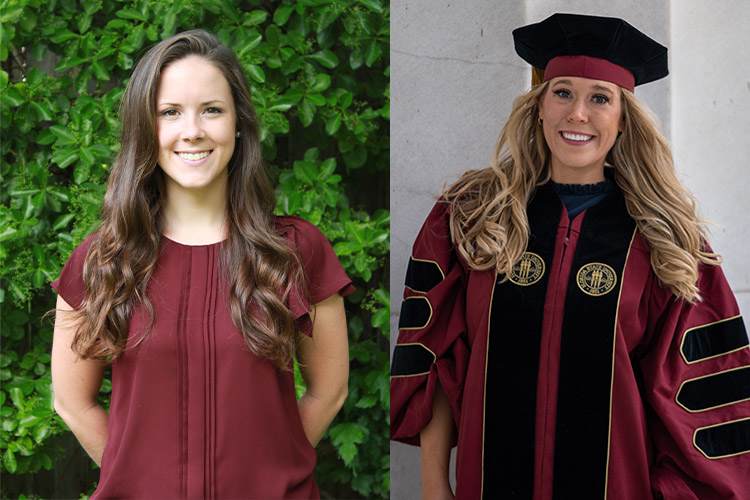 Graduate student researchers from two College of Arts and Sciences departments have been selected as finalists for the National Oceanic and Atmospheric Administration's 2021 John A. Knauss Marine Policy Fellowship Program.
The fellowship, part of the National Sea Grant College Program, has provided educational and professional experiences for graduate students interested in ocean, coastal, and Great Lakes resources and policy decisions affecting these resources since 1979.
Department of Earth, Ocean and Atmospheric Science doctoral candidate Renee Richardson and recent Department of Biological Science Ph.D. graduate Abbey Engleman will work in federal offices in Washington, D.C., as part of their one-year fellowships, beginning in February.
The fellowship program matches fellows with hosts in legislative and executive branches of the government for an immersive ocean sciences policy experience. Legislative fellows work in either the U.S. House of Representatives or in the Senate while executive fellows work in various federal agencies. Fifty percent of Knauss Fellowship Program alumni go on to work in the federal government and use science to help shape policy.
"One of the first decisions Knauss finalists make is whether they will carry out their fellowship in the executive or legislative branch. Both options provide opportunities for fellows to be involved in the evolution of science into policy, to better understand the innerworkings of the government, and to network with a diverse group of mentors," Richardson said.
As a researcher, Richardson analyzes processes that affect intensification of tropical cyclones: She is investigating the role of sea-spray generation, a microscale process occurring at the boundary between the ocean and atmosphere, plays in these severe storms. In her executive branch fellowship, Richardson will serve as the weather observations fellow at NOAA's Ocean and Atmospheric Research Weather Program Office.
"While this fellowship is independent of my research, the wide range of opportunities will make me a more well-rounded scientist, and these experiences will be invaluable as I develop my research in the future," Richardson said.
In addition to her dissertation studies, Richardson works as a graduate research assistant at the Center for Ocean-Atmospheric Prediction Studies and conducts climate-related research with a team at the FSU Marine Data Center.
"Ms. Richardson is an excellent multidisciplinary student, combining aspects of meteorology and oceanography in her dissertation to provide more physically sound knowledge of sea surface drag, like friction between the ocean surface and wind, for hurricane force winds," said Mark Bourassa, COAPS associate director and FSU professor of meteorology. "She has the character and ability to be a research leader and explain the value of that research to the broader community."
"There is a clear disconnect between science and effective, science-based policy. There is a dire need for more scientists working in policy, translating the research into language that is heard, understood and valued by non-scientists," Engleman said. "Though I haven't received placement yet, I applied to work in the legislative branch to work directly in policy reform."
Engleman, who earned her doctorate in Fall 2020, researches coral reef ecology, resilience, and response to changes in environmental conditions to aid in the future conservation and management of reef ecosystems. She uses 3D technology, such as photogrammetry, to reverse-engineer coral to better understand how coral create complex ecosystems. She also created 3D Sea, an outreach and research platform to inspire the use of 3D technology to better understand oceans, which are understudied from a 3D and structural perspective.
Applying techniques learned as a graduate assistant at FSU's Coastal and Marine Laboratory, Engleman has conducted research in the Florida Keys and Carrie Bow Cay, in Belize. She has amassed a number of distinguished awards in addition to the Knauss Fellowship, including a Smithsonian Graduate Fellowship, Florida Sea Grant scholarship, and National Geographic early career grant.
"Abbey was always very clear that her ambitions lie in high level public policy, education and outreach with a focus on marine conservation. Her degrees provide a solid foundation in marine science and the challenges facing marine ecosystem," said Sandra Brooke, research faculty at the FSU Coastal and Marine Laboratory. "She has the ambition and ability to make significant contributions to marine resource protection."
Richardson and Engleman are the latest in a tradition of FSU representation in the program; since 2015, at least seven FSU students and alumni have been selected to work in federal offices and participate in national policy decisions affecting ocean, coastal and Great Lakes resources.