FSU Arts and Sciences students receive Gilman scholarships to study internationally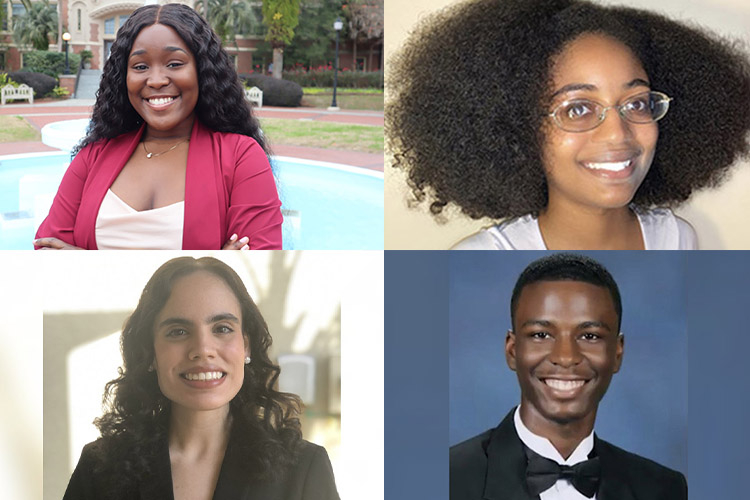 Eight Florida State University students have been awarded opportunities to study or intern abroad this summer, thanks to the Benjamin A. Gilman International Scholarship Program from the U.S. Department of State. Four of these students hail from the College of Arts and Sciences.
The Gilman Scholarship emphasizes learning about culture and language to prepare individuals for a globalized world and encourages development of critically-important academic and career development skills.
"Despite the challenges posed to international travel by the pandemic, these students put in the added effort to make safe and feasible plans to study abroad over the coming semesters and have now secured funding to place their goals within reach," said Jesse Wieland, assistant director of FSU's Office of National Fellowships. "I couldn't be prouder of our Gilman Scholars for all the hard work they put into their applications, and I'm excited to see what they accomplish during their time abroad."
While the pandemic has impacted international travel this year, the Gilman Program is supporting scholarship recipients' international travel plans under its usual policy, allowing students to study or intern in countries with Level 1 or Level 2 Travel Advisories only.
Alexza Alamo, a student in the Department of Psychology, originally planned to use her Gilman Scholarship to take classes and experience the language and culture of Russia this summer. Due to COVID-19, Alamo now plans to study abroad in Spain with FSU International Programs.
"I never thought I'd be lucky enough to receive this prestigious award out of the many students who apply each year," Alamo said. "But with the help and support of Jesse Wieland and FSU's Office of National Fellowships through the process, I now see what I am capable of achieving and am beyond excited to study abroad this summer."
The College of Arts and Sciences 2021 Benjamin A. Gilman Scholarship winners, including hometowns, academic majors, and where they plan to study abroad, are:
Fort Lauderdale, Fla.
Roshelle Thompson, sophomore, psychology, United Kingdom
Miami, Fla.
Djaina-shae "DJ" Dervil, sophomore, behavioral neuroscience, Italy
Riverview, Fla.
Alexza Alamo, junior, psychology, Spain
Tampa, Fla.
Davion Jeanty, freshman, biochemistry, Panama
Since the program's inception in 2001, the Gilman Scholarship has enabled more than 28,000 American students of various backgrounds to immerse themselves in meaningful educational experiences in new countries. The late Congressman Gilman, for whom the scholarship is named, served in the U.S. House of Representatives for 30 years and chaired the House Foreign Relations Committee. He was honored with the Secretary of State's Distinguished Service Medal in 2002.
FSU's Office of National Fellowships, located in the Honors, Scholars, and Fellows House, introduces students to scholarship programs they may be eligible for and helps facilitate the application process.
Students who receive federal Pell Grant funding are eligible to apply for the Gilman Scholarship. Winners receive up to $5,000 toward study abroad or internship program costs with additional funding available for the study of a critical language overseas.
For more information, visit the Office of National Fellowships online. For a full list of FSU's Gilman scholarship winners, read more via FSU News.