FSU Air Force ROTC cadet honored with Legion of Valor Award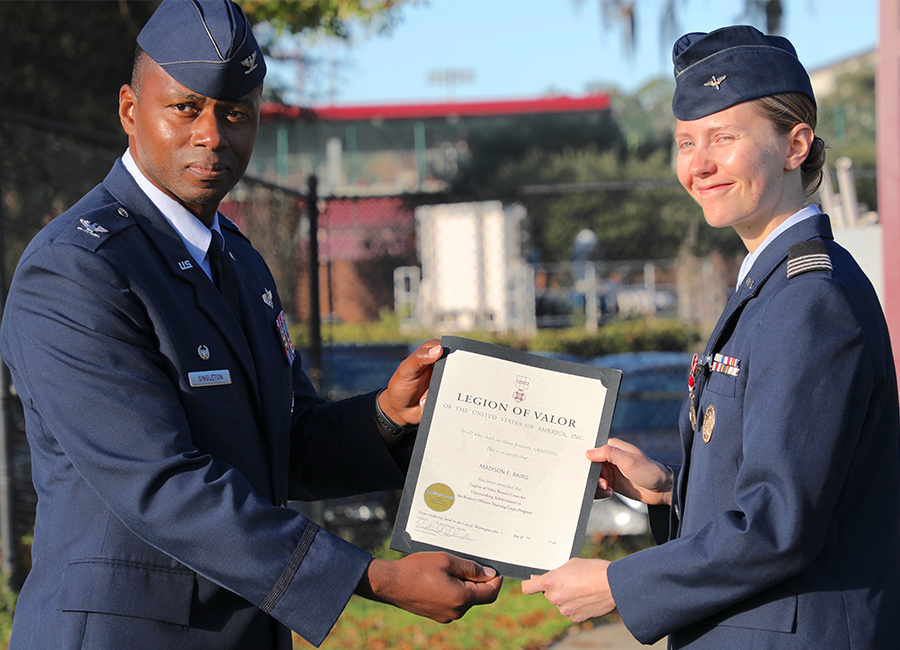 "This makes me remember why I joined ROTC— to do something bigger, to make myself proud," said Florida State University student Madison Baird.
Baird, a cadet with Florida State University's Air Force ROTC Detachment 145, has earned national recognition for her excellence in military and academic performance.
Late last year, Baird was awarded the Legion of Valor Bronze Cross for Achievement during FSU Air Force ROTC's Change of Command Ceremony held at the Marching Chiefs Field. The Legion of Valor, the oldest military service organization in the United States, selects one outstanding cadet from each of the four regions of the country to receive the award. 
The Legion of Valor's Bronze Cross for Achievement program was first launched in 1951 to recognize excellence among the Washington High School Corps of Cadets and evolved into a nationally sponsored program by 1957.
"Cadet Baird leads by example and epitomizes the Air Force core values," said Air Force Col. Rodney Singleton, the detachment's commander. "She is absolutely deserving of the Legion of Valor Award." 
Baird has maintained a 3.65 GPA while double-majoring in Chinese and finance, landed on the Dean's List five times, and netted six ROTC Academic Awards. She has held various cadet administrative and leadership positions in the detachment, including general military course liaison, general military course adviser deputy, recruiting deputy, flight non-commissioned officer, field training preparation deputy flight commander, flight deputy, and cadet wing commander. Baird also scored 100 on her physical fitness assessment, receiving the designation "fit to fight," and has earned the ROTC Fitness Award half a dozen times.
Baird first joined AFROTC in 2016 as a freshman, inspired by the personal growth and maturity she witnessed in her sisters, both of whom count themselves among FSU Air Force ROTC's alumni. 
"I began to see that as I started putting more effort into ROTC, I got a lot back," Baird said. "I realized how I was growing as a person." 
"Cadet Baird has done remarkable things in this program," Singleton said. "She was selected as No. 1 of 26 cadets in my detachment, but the fact that she won this award signifies that she was also the top cadet in the southeast region, which consists of about 38 detachments and 4,800 cadets in total."
Baird said although she was honored to receive the award, the greatest reward of all is the continued support she has received from her peers. 
"I'm proud of the journey that it took and how many people helped me. I just want to do my best in everything and it's wonderful to get recognition, but I'm just here for those that are with me."
Baird is set to be commissioned onto active duty in the Air Force after graduating this spring.