Design and Discovery
Florida State University professor Igor Alabugin's enthusiasm for chemistry is rivaled only by his enthusiasm for his students' success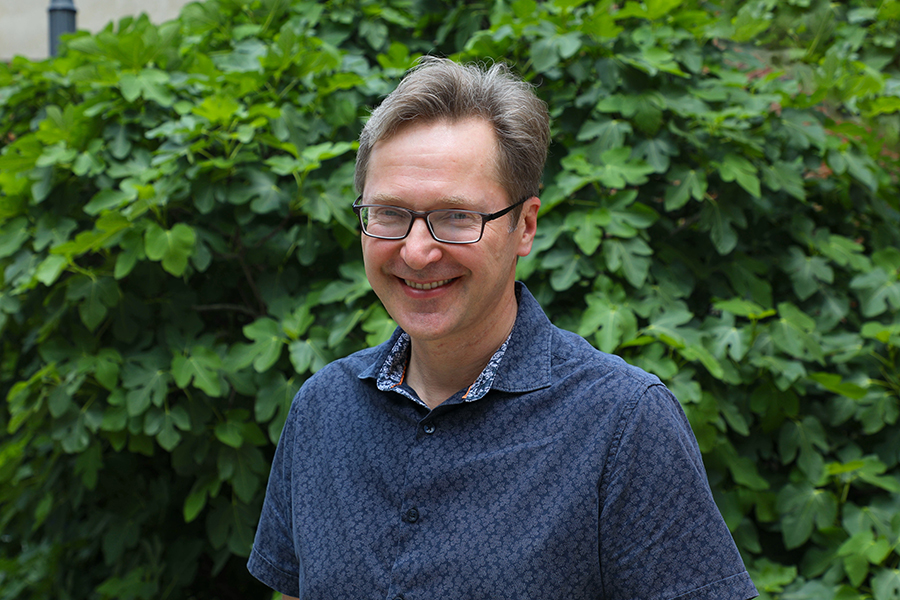 Florida State University Distinguished Research Professor Igor Alabugin is always on the go. While it's easy to spot him in the halls of the Chemical Sciences Laboratory building, keeping pace with his purposeful stride — and his travel calendar — requires stamina.
When he isn't attending a research conference in Brazil, Canada, or Japan, conducting experiments, or writing grant applications, you might find Alabugin embarking on a boat tour at Wakulla Springs with his graduate students, hoping to help them catch their very first glimpse of a manatee or alligator. 
Calendars and schedules notwithstanding, Alabugin consistently makes time to mentor and help his students feel at home in Tallahassee. He knows something about the importance of finding one's place while carving out a professional foothold, and about how mentorship can ignite a groundbreaking career. 
Alabugin grew up a world away, in Siberia, and earned his Ph.D. from Moscow State University before coming to the U.S. in 1996. He was working as a postdoctoral research associate at the University of Wisconsin-Madison when he heard about an assistant professorship opening at FSU.
Chemistry professor Jack Saltiel chaired FSU's search committee for the position and contacted prominent academic chemists in physical organic chemistry, asking their assistance in finding the perfect candidate. Soon after, he received a response from renowned chemist Howard Zimmerman, one of the fathers of modern molecular photochemistry, bringing Alabugin's name to his attention.
"It is not frequently that I have a candidate with the potential of my best former students who have been successful," Saltiel reads from Zimmerman's 24-year-old email. "At present I do. This is Dr. Igor Alabugin. His abilities fit your request of being creative, energetic, and enthusiastic with great potential in research and teaching (your words). He is brilliant." 
To fully appreciate that glowing recommendation, Saltiel said, one must note the late Zimmerman's spectacular record of former students and postdoctoral fellows who are pursuing distinguished independent careers — they are a who's who of today's leaders in the field.
"I had the pleasure of serving as Igor's mentor during his early years in our department and watching him fulfill and surpass all that was promised in Zimmerman's initial communication," Saltiel said.
If you need a metaphor for the roles of professor and graduate student in research projects, here you are: students collect the fruits (make discoveries) while professors hold the ladder (by writing grant proposals...).
P.S. And, yes, you CAN pick up oranges near @ChemistryFsu! pic.twitter.com/K2XM5MUiOi

— Igor Alabugin (@IAlabugin) November 5, 2022
When Alabugin arrived at FSU in 2000, he found himself surrounded by internationally famous scientists, who, to his delight, were kind and quickly made him feel welcome.
"I recall fondly the traditional morning coffee with Harry Kroto, Jack Saltiel, Michael Kasha, Ed Hilinski, and many other colleagues who became first mentors and later friends. Suddenly, a boy born in the middle of Siberia was having scientific discussions with colleagues who had met Albert Einstein, Linus Pauling and the Queen of England," Alabugin said.
Alabugin's research in organic and materials chemistry focuses on discovering new connections between structure and reactivity. His research group at FSU combines experiments and computations to develop new reactions and design challenging molecules with unusual properties. Reactions discovered in Alabugin's lab have been used for efficient light-activated cleavage of double-stranded DNA in cancer cells and for preparing complex polycyclic structures with possible applications in molecular electronics.
The international chemistry community has taken note of Alabugin's contributions to the field, as reflected by an impressive list of awards and honors. After receiving the American Chemical Society's prestigious Arthur C. Cope Scholar Award in 2020 and FSU's 2021-2022 Distinguished Research Professor Award, Alabugin was selected by the ACS's Florida chapter to receive the 2022 Florida Award, presented annually to one chemist in the southeastern U.S. for significant contributions to teaching, research, publications or service in chemistry.
Saltiel says Alabugin's ability to translate complicated theoretical concepts into language understandable to organic chemists — a skill he had in common with Zimmerman — is exceptional.
"The review of his recent highly regarded book on organic reactions in Angewandte Chemie, a foremost chemistry journal, calls Alabugin a 'widely acknowledged expert in this field' who gives an 'up-to-date and comprehensive overview of this topic with a strong focus on organic chemistry.' The review goes on to highly recommend the book to every chemist and particularly to every student. It is no wonder Igor is a sought-after speaker at conferences and universities all over the world," Saltiel said.
For Alabugin, the globe-trotting is fun, but the real prize is watching his students forge their own paths in the field.
"Over the years, more than 200 students have gotten a taste of the open-ended research inquiry in my lab. Many continued in chemistry, but others became medical professionals, engineers, Food and Drug Administration experts and patent specialists. This illustrates the broad impact of research opportunities created by FSU for society," Alabugin said. "My students' success is one of the most rewarding aspects of my career, and I am glad that the list of awards they have received is much longer than mine will ever be."