Dependency Detective
Two-time clinical psychology alumnus Keanan Joyner looks to the brain for answers in understanding, preventing substance addiction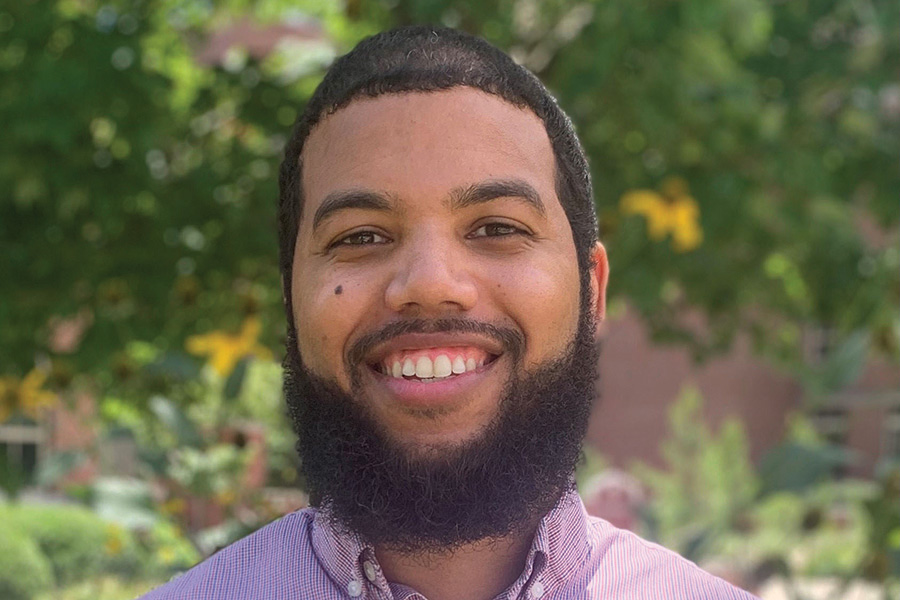 Drug and alcohol misuse and addiction are not unique to any one person — many people know someone who has overdosed or they may have a person who has battled dependency in their friend group or family. In the U.S., compounding stressors such as the COVID-19 pandemic saw substance use disorders skyrocket and resulted in nearly 100,000 overdose deaths in 2020, an almost 30 percent jump from 2019. That number went still higher in 2021, with nearly 107,000 overdose deaths.
Is there something about an individual's brain chemistry that leads them to make these deadly decisions? 
Keanan Joyner, a recent graduate of Florida State University's doctoral program in clinical psychology who is now an assistant professor of psychology and clinical science at the University of California — Berkeley, has always been drawn to work that aims to reduce overall suffering. He currently investigates risk and maintaining factors of the mental illness of drug and alcohol addiction in the Clinical Research on Externalizing and Addiction Mechanisms Laboratory.
Whereas legacy drug-use prevention programs such as D.A.R.E. center on the idea that drugs themselves are the problem, Joyner questioned the scientific causes of dependency after witnessing peers have vastly different experiences when it came to alcohol and drug use. 
"I had a tough time reconciling some of the things I was taught as a child through drug prevention programs in school with what I witnessed as an adult. It bothered me from a scientific curiosity standpoint," Joyner said. "If the drug is the only problem, how do such similar people have opposite reactions? How can people drink the same amount and have completely different experiences with alcoholism?"
To answer these questions, Joyner, who graduated from FSU with a master's degree in 2018 and doctorate in 2021, seeks to understand preexisting risk factors for psychopathology, or why some people are more prone to develop substance use disorders. Making an earlier identification of risk factors in individuals can allow preventative interventions to be provided to those at highest risk before casual use becomes dependency. So far, Joyner has investigated dependency on alcohol, marijuana, and illicit drugs. 
"I research the neurophysiological and neurobiological processes implicated in this mental illness through different methods including behavioral performance, event-related potentials, functional magnetic resonance imaging, or fMRI, and electroencephalography, which allows us to make important observations about the way people's brains respond to photos of substance paraphernalia or other triggers," Joyner said. 
"Keanan has made innovative and significant contributions to our understanding of addictive behaviors, and he is well-positioned to become a world leading scholar in the scientific study of addictive behaviors."

— Christopher Patrick,
Distinguished Research Professor of Psychology
Differentiating the brain's responsivity to substance-related versus substance-free stimuli is the premise on which much of Joyner's research rests: It's not just about how someone responds to drugs but rather their differential response to drugs versus other available alternatives. 
"I want to gain a better understanding of addiction through a lens that connects research on basic neurobehavioral dispositions with behavioral economic concepts of substance-free rewards to decrease the burden of addiction on society, such as the high costs of mortality, health care, criminal justice, family assistance and productivity loss," he said. "I'm looking at how risk factors — the environment, behavioral genetics, and more — coalesce in a comprehensive account of risk for addiction, from where addiction stems, its characterizations, and perhaps where we can intervene before it spirals out of control." 
Through the years, Joyner's work has earned him nearly 20 highly competitive research grants and awards, including a graduate dissertation grant from the National Institute on Drug Abuse, a fellowship award from the Society for Psychophysiological Research, and a travel award from the National Institute on Alcohol Abuse and Alcoholism. In 2019, Joyner became the first FSU student in a decade to earn a prestigious Ford Foundation Predoctoral Fellowship, awarded by the National Academies of Sciences, Engineering, and Medicine, and he earned the Glee Ross Hollander Dissertation Award from FSU's Department of Psychology in 2021. 
"Keanan has a brilliant mind and quickly established himself as an invaluable member of my lab. During his time with us, he was a strong ongoing source of positive inspiration for others in the lab and department," said Christopher Patrick, distinguished research professor of psychology, director of clinical training, and Joyner's adviser. "Keanan has made innovative and significant contributions to our understanding of addictive behaviors, and he is well-positioned to become a world leading scholar in the scientific study of addictive behaviors." 
McKenzie Harris is a two-time FSU alumna who earned a master's degree from the College of Communication and Information in 2022 and a bachelor's degree from the Department of English in 2020.