Modern Major General
As the state's top military leader, alumna Tracy Norris guides the Texas Guard to meet today's missions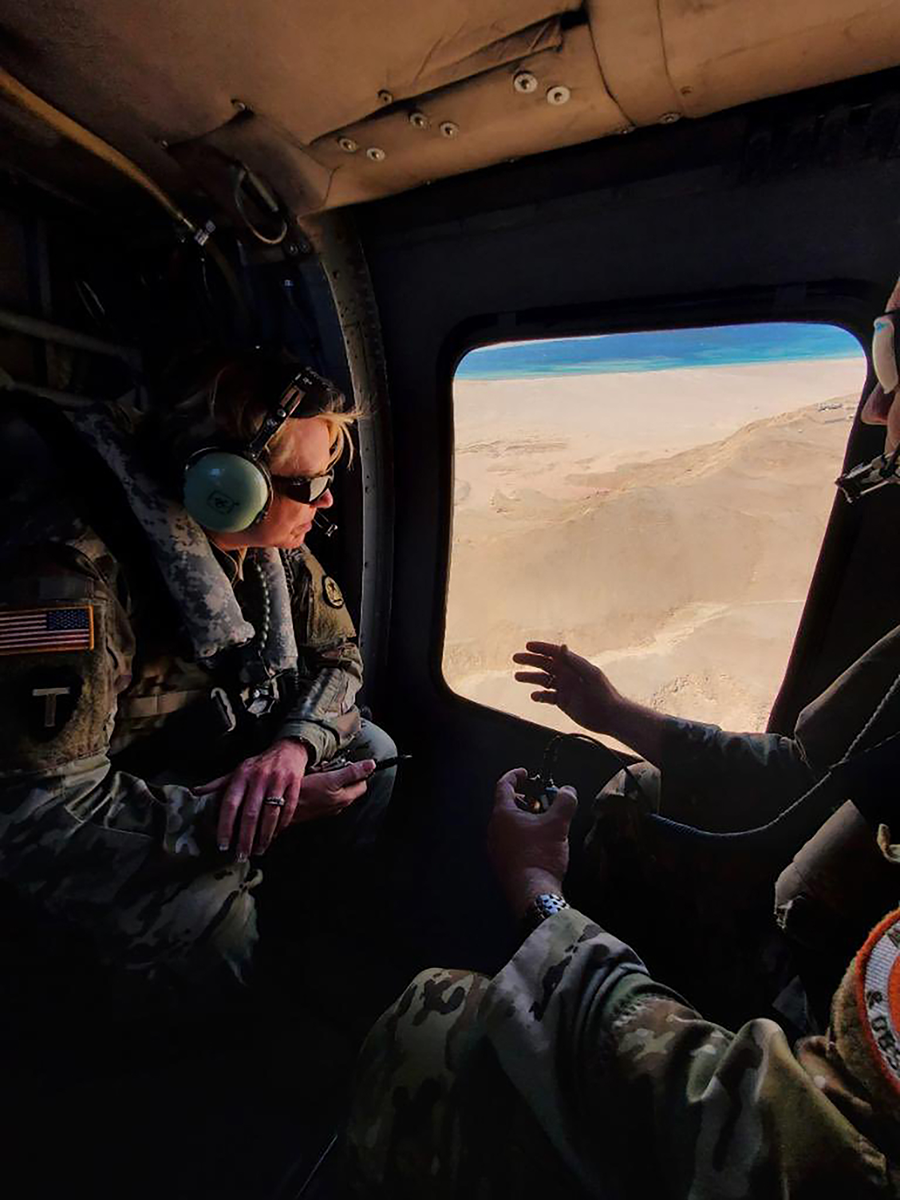 Being a leader is nothing new for Tracy Norris. In her long military career, the Army Major General has served in combat zones and worked her way through the ranks, earning increasing positions of responsibility.
When Texas Governor Greg Abbott needed someone uniquely qualified to serve as adjutant general of the state's National Guard, Norris was both a natural and unconventional choice. Norris, a 1984 Florida State University graduate, would be the first woman to serve in the role.
Abbott made history by promoting Norris, putting her at the top of the Texas Guard's organization chart. It sent a signal that critical military roles should be filled by the best people, regardless of gender.
"Being the first can obviously be scary, but it's a role I have embraced," Norris said. "As a force, we need the best people put in the right positions. If we are excluding the 50 percent of the population who are women from the talent pool, we can't do that. While it's an honor to be the first, my real sense of pride comes as I see young female leaders come up behind me."
Norris oversees Texas' Air National Guard, Army National Guard and State Guard. The state has the most National Guard troops in the country, with approximately 22,000. Its yearly budget checks in at around half a billion dollars.
The Guard is constantly at work in the state. It serves along the Mexican border, reacts to natural disasters and, since March 2020, has been key to Texas' response to COVID-19.
"General Norris has faithfully served the people of Texas and continues to make great strides in the modernization of the Army and Air Force, while increasing the capacities of the Texas State Guard," Abbott said when he reappointed Norris to the position in 2020. "Her dedication and expertise has guided Texas' response to challenges ranging from natural disasters to cybersecurity threats."
The ongoing pandemic and devastating winter storm of February 2021 presented unexpected and daunting challenges for Norris' team. Fulfilling its mission of serving its neighbors and communities, the Guard stepped up during and after the storm by staffing shelters, pulling vehicles out of ditches, and delivering supplies to some of the millions without power.
"You have to keep in mind that the Texas National Guard is primarily made up of part-time soldiers and airmen who have civilian jobs, are attending school or taking care of their families," Norris said. "These men and women have responded to three years of no-notice missions that required them to pause their personal lives as they were called to serve."
Norris' interest in service began when she attended FSU on an ROTC scholarship. FSU was already high on her list even before earning the scholarship.
Norris, who grew up in Atlanta, was introduced to the university by her uncle, Bill Bolton, who was an assistant men's basketball coach at FSU in the 1970s. As a youngster, she became hooked on the Seminoles when they made the NCAA Tournament title game in 1972.
A few years later, a campus visit made her choice easy: FSU was it.
"I wanted to get far enough away from home, but close enough to get back if needed," Norris said. "I fell in love with Florida State and Tallahassee. It's such a beautiful city and the FSU campus is just as beautiful. After my first visit, my mind was made up and I made the decision to go to Florida State. The rest is history."
She earned a bachelor's in anthropology and master's in urban and regional planning. She joined the service afterward and added a master's in business administration from the University of Texas.
"In college, you get your confidence and, along the way, I decided to join the ROTC program with a plan to go into the military," Norris said. "Those college years, meeting different people and joining the ROTC, definitely prepared me for military service and helped me mature really quickly so I could go on that adventure."
Her most recent visit to Tallahassee was in 2019 when she spoke to the FSU Army ROTC cadets. She was especially impressed with the cadets and their questions about being a woman in the service. It showed her that the next generation of Army officers didn't see gender as an obstacle.
"It made me feel confident in the future. It was a diverse group and they weren't shy and did not hesitate to ask questions," Norris said. "This group seemed confident, and they asked hard questions about being a woman in my position. My biggest piece of advice was, 'Be the best you can be at what you do'."