Balancing Act
Alumnus and researcher John Wilcox works to improve lives of diabetes patients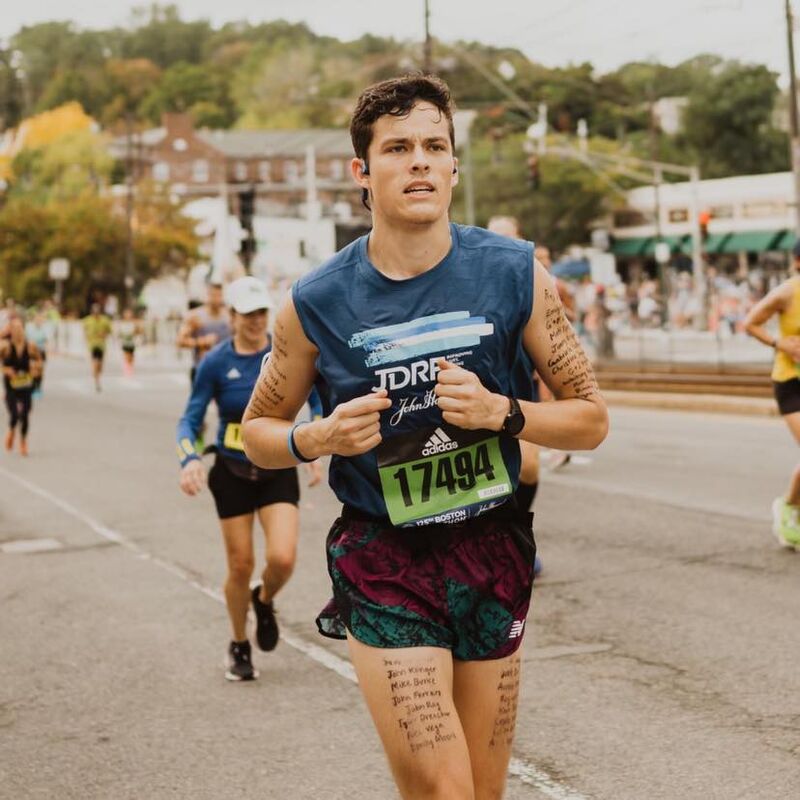 Training for a marathon is already a brutal, months long endeavor, but for John Wilcox, logging 40 to 60 miles per week in his preparation for the 2021 Boston Marathon posed an additional challenge. Beyond tackling training runs and balancing mileage increases and rest days, the Florida State University alumnus, and Type 1 diabetic, was also carefully monitoring his daily food intake, blood sugar and insulin dosages.
Approximately 100 years after the discovery of insulin, which turned a once terminal diagnosis into a manageable condition, Wilcox crossed the Boston Marathon's finish line this October.
"It is something I can barely describe in words," Wilcox said. "Running towards the finish line, with thousands cheering at the top of their lungs, was magical."
During his time in Tallahassee studying biological science, Wilcox grew to love running as a goal-driven means to manage his blood sugar. While a Type 1 diabetic can certainly be as active as someone without the disease, many patients have to take extra steps before, during and after exercise. Wilcox checks his blood sugar before he runs and, if it's low, he has to eat and wait until it rebounds before he can head out. He also runs with medical identification and plans routes around places to buy food to boost his blood sugar, if needed.
Wilcox was diagnosed as a Type 1 diabetic on his 9th birthday and spent the following week in the hospital as doctors worked to stabilize his blood sugar and develop a treatment plan. Having ample support available to make it through that experience quickly showed Wilcox the importance of community for both new and established diabetes patients.
"They can provide you a sense of belonging, a source of education and inspiration," he said. "I was never self-conscious about being a patient with diabetes. Instead, I learned to use it as an opportunity to relate and empathize with people."
Wilcox also found community with the nonprofit Juvenile Diabetes Research Foundation. He and his family participated in fundraisers and awareness walks in the years following his diagnosis and, when Wilcox ran Boston, he ran in association with JDRF with the goal of raising $10,000 for the organization.
Community Commitment
As an undergrad studying biological science, Wilcox knew he wanted to participate in diabetes-related research and find a way to improve the lives of others who live with this condition. What he didn't anticipate was that he would cofound the diabetes research company Diatech Diabetes before his 2018 graduation.
Wilcox focused his efforts on insulin pumps, a common medical device used to help stabilize a patient's blood sugar — they mimic a functioning pancreas and serve as a lower maintenance alternative to frequent insulin injections. Unfortunately, the pumps often fail to work properly, which means patients may experience more sugar instability.
Diatech's origin story began as part of Wilcox's senior thesis, which focused on ways to reduce insulin delivery failure. He joined forces with biomedical engineering students Luis Blanco, Nick Cooper, and John Clark Gray, and the group quickly realized this research had major potential.
"Anyone who's interested in pursuing their passion, whether that's enacting change or starting a business, should go for it if they're dedicated and can really put the time and energy into it," said Wilcox, who graduated with a bachelor's in biological science and a chemistry minor.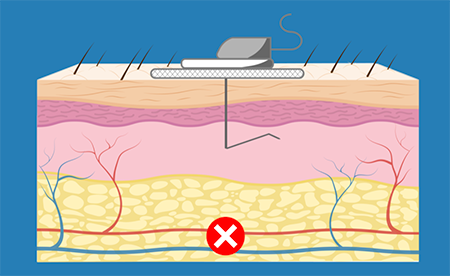 The team pitched its prototype developments to the Jim Moran College of Entrepreneurship's 2018 InNOLEvation Challenge, but in order to accept the prize money from winning the competition's Most Innovative project award, they needed to actually create a company. And so, Diatech was born.
Innovation and Invention
The research company develops medical devices and products. Right now, its focus remains on solving insulin pump delivery failure. Among its solutions is Diatech's SmartFusion system, which uses an algorithm that detects insulin delivery failure more successfully and quickly than the standard pump software.
Diatech's initial team of four has doubled in size with the addition of four advisers, including data scientist adviser Marzia Cescon. Cescon has been a part of the team for over a year and is responsible for the system's algorithmic developments.
"John possesses the ability of pragmatically describing the various day-to-day issues that patients encounter, as well as scientifically formalizing the perspective of patients," Cescon said. "This is an extremely valuable asset to Diatech's mission."
Since relocating to Memphis, Tenn., in 2019, the company has received awards and funding including a $300,000 Small Business Innovation Research grant from the National Institutes of Health and a medical device accelerator from ZeroTo510, a program granting access to mentorship and funding. Even in a new city, Wilcox still finds the connection to community to be among the most fulfilling aspects of his work.
"One of the most impactful things that has ever happened in my life was directly talking to patients about the problems that they were having," he said. "To ultimately bring it full circle with discussions about ways in which that issue can be solved is incredible."
Kendall Cooper is pursuing a double major in media/communication studies and English with a concentration in editing, writing and media. She is set to graduate in May 2023.