Hindsight: 2020
Florida State University students, faculty and staff persevere during a challenging year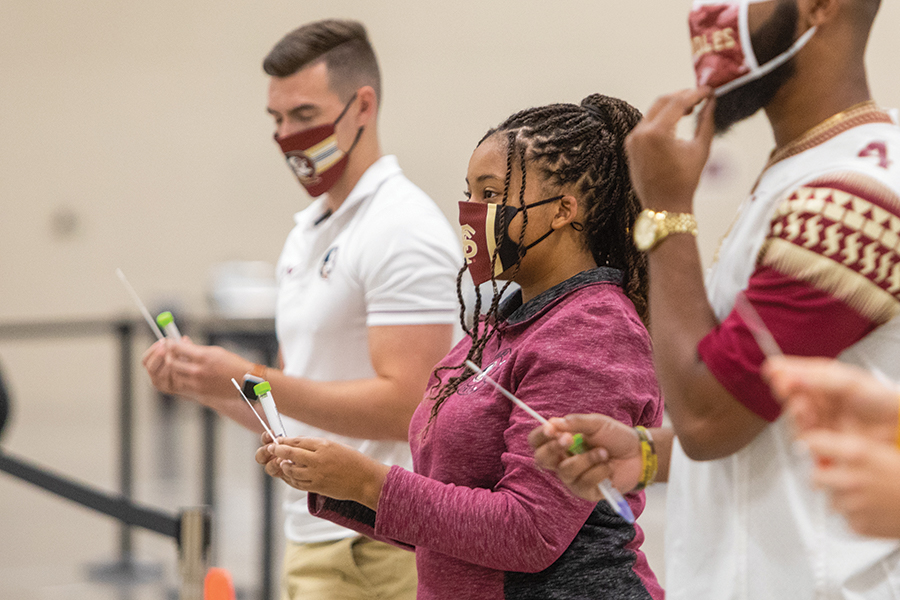 2020, the year that saw COVID-19 become a global pandemic has officially drawn to a close. Although we're not sure what 2021 will hold, a new chapter is certainly a welcome one. Despite difficult circumstances, the Florida State University community rose to 2020's biggest challenges.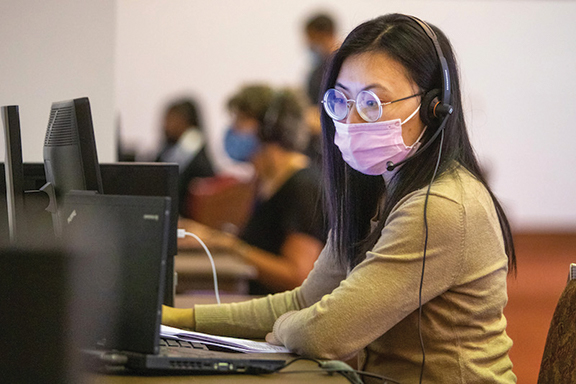 Back to school
The Fall 2020 semester brought the return of face-to-face classes on campus after the pandemic forced coursework to go remote in spring. Students, faculty, and staff were given the option to resume courses in-person thanks to newly implemented safety measures. Work crews spent the summer sanitizing campus facilities and installing plexiglass partitions inside libraries and lecture halls, while face masks became an essential part of daily attire.
"Although some aspects of university life will be different this fall, our commitment to providing a world-class education to our 42,000 students remains the same," said FSU President John Thrasher in June.
Jake Carstens, a Ph.D. candidate and teaching assistant with the Department of Earth, Ocean and Atmospheric Science, was among the first students to arrive back on campus. Time spent working in the laboratory is vital to Carstens' research, which relies heavily on computing.
"Our students split time in the lab as evenly as possible so only one person occupies the room at all times," Carstens said. "One of the other students created a weekly spreadsheet of times we can update should someone not head to campus for work in their normal timeslot. We are able to maximize our productivity while ensuring each other's safety."
On-site testing
Coinciding with the return to campus in August, FSU opened a COVID-19 testing site at the Donald L. Tucker Civic Center. Free tests were administered to university faculty, staff and students, with specimens analyzed on campus at the FSU-Tallahassee Memorial Hospital Rapid Response Laboratory.
Jonathan Dennis, an associate professor in the Department of Biological Science who oversees the lab's operations, developed an innovative new testing procedure to overcome supply shortages that hamper other common testing methods.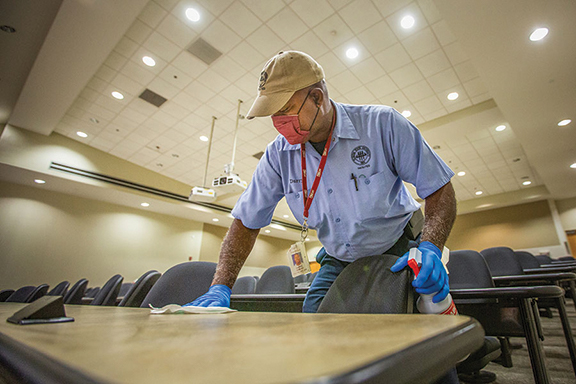 "We thought if we applied our research laboratory mentality to this clinical test, we could create a test that did not suffer from the ebbs and flows of reagent availability," Dennis said.
By mid-November, more than 34,000 tests had been conducted at FSU since the testing site first opened, a figure expected to go up by roughly 2,000 per week for the foreseeable future.
Without the need to send tests to an off-site lab for analysis, scientists in FSU's lab can generate results within 24 hours. In addition to a quick turnaround time, the lab is also equipped to handle a large influx of tests if necessary.
"We stabilized our process to where doing 1,000 tests a day is not a problem," Dennis said. "We're doing big things in this lab. The throughput and quality of the results are world-class."
Team effort
Beyond the testing lab, researchers from across campus found ways to join the fight against the virus. FSU's Office of Research allocated over $400,000 to fund 26 interdisciplinary projects addressing questions related to COVID-19.
"This is an exciting opportunity and responsibility for FSU," said former vice president for research Gary K. Ostrander. "As researchers, we have an obligation to use our specialized skills to help understand this disease and its impacts."
The university also deployed the SecureAssessment for FSU Exposure Response (SAFER) team to conduct contact tracing and provide support to individuals in the FSU community who tested positive. FSU concurrently launched its COVID-19 online dashboard, which tracks weekly data on the number of tests and positive cases, and offers an array of health and wellness resources to the university community.
"We're doing big things in [the FSU-TMH Rapid Response] lab...throughput and the quality of results are world-class."

— Jonathan Dennis,

Associate Professor of Biological Science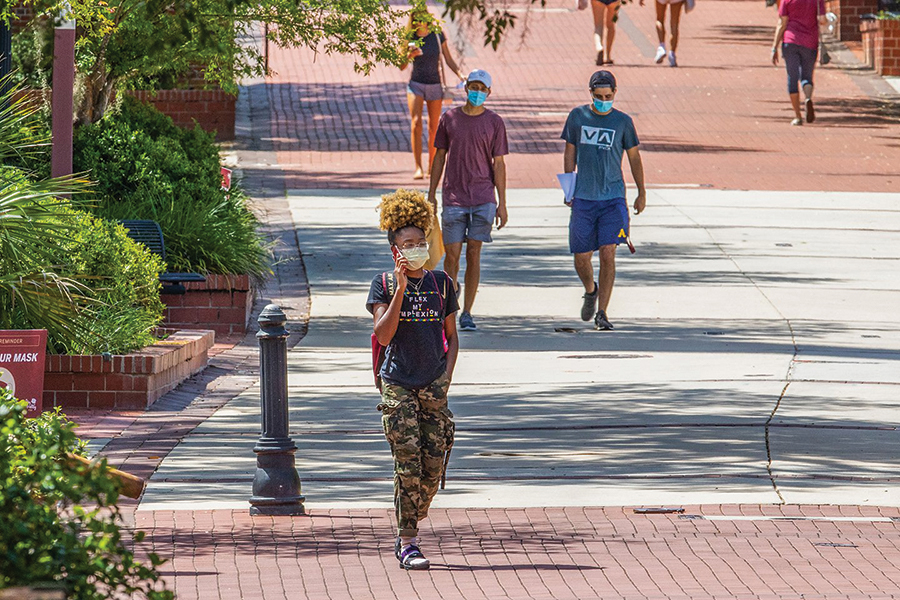 A new year
Although the pandemic is still very much a part of daily life, as the calendar flips to 2021, a sense of hope for the new year is tangible, and FSU students remain flexible and optimistic.
"We are all in this together, even if it feels like that sentiment has been lost," said FSU history major Alice Fabela. "We can all still decide our futures, and history has shown us that humans adapt to whatever comes our way."
Visit news.fsu.edu/coronavirus for FSU COVID-19 updates. Bill Wellock contributed to this story.
Get Well Soon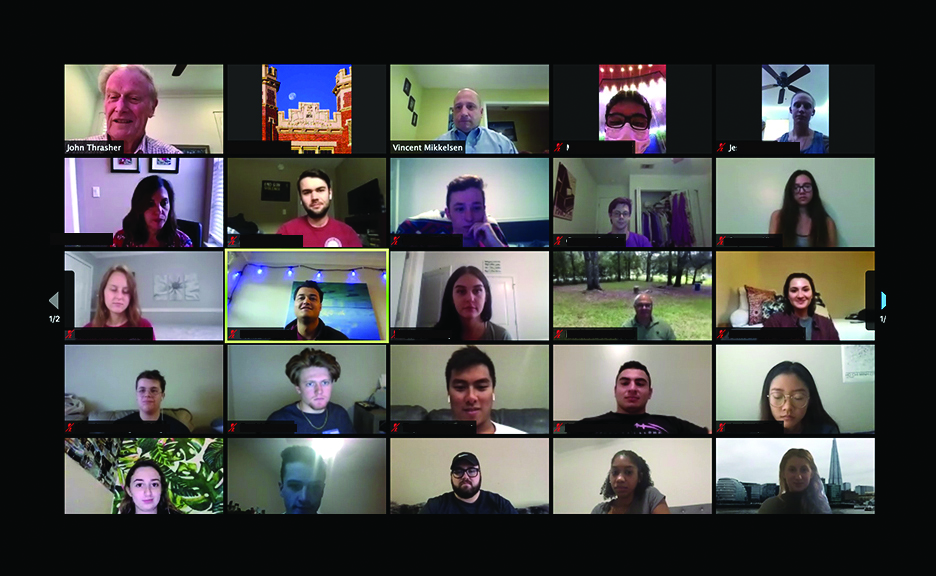 On Oct. 6, FSU President John Thrasher announced that he and First Lady Jean Thrasher had tested positive for COVID-19 and were self-isolating. Thrasher continued to work from home, even joining a Zoom session the following week with FSU history professor Vincent Mikkelsen's "America in Vietnam" class to discuss his experience serving as an Army captain during the conflict. The Thrashers took to social media several days later to share news of their recovery and thank the FSU community for the outpouring of well wishes.