Mining the mind
Neuroscience major offers new undergraduate opportunities
In the 20th century, many an academic studied the dynamics of human behavior as "nature versus nurture": Is it our biology or our environment that causes us to act the way we do?
But advances in technology and brain science in the new century have turned that thinking on its head.
"The 'versus' doesn't belong, it's 'and,'" said professor Jeanette Taylor, chair of Florida State University's Department of Psychology. "Nature and nurture, those are both important."
Recognizing that an interdisciplinary approach would be the best way to prepare students to delve into this brave new world, the departments of Biological Science and Psychology at FSU joined forces to develop a new undergraduate degree — Neuroscience — that began in the fall 2018 semester.
FSU is the only member of the State University System to offer the degree to undergraduates. It has had a Ph.D. program in place since the early 1990s — again, the only public university in Florida to do so.
"One of the things that in the past was an issue for graduate training in neuroscience was having students come in who either had sort of a pure psychology background or who had a pure biology background," said Thomas Houpt, a professor of Biology and Neuroscience and chair of the Department of Biological Science. "And that would be a challenge for both of them because you'd cover a topic like addiction and the biologist would understand the biochemistry of dopamine but they wouldn't know…"
"… What it looks like in the actual person," concluded Taylor.
The departments of Psychology and Biological Science have collaborated since the early '60s on a Psychobiology program, but a confluence of different trends made it the right place and right time for the departments to team up and develop the new undergraduate degree.
Because of the existence of the graduate program and the emphasis on research in the Psychology Department, faculty who sought to create the undergraduate degree curriculum didn't feel as though they were starting from scratch.
"I think the beauty of this is it's putting together a lot of pieces that were already here, Taylor said. "It's putting it together in a smart way."
Early in the curriculum, students are required to take prerequisite classes in biology, chemistry and biochemistry, physics and math, followed by 19 semester hours of core courses in psychology and biology. The 17 hours of elective courses determine whether a student majors in the more biology-focused Cell and Molecular Neuroscience track or the psychology-based Behavioral Neuroscience track.
In addition to hiring faculty with neurobiology backgrounds, the new program has a dedicated adviser to help students to map their course choices toward their degree. Frank Johnson, a professor of Psychology and Neuroscience and director of the Interdisciplinary Program in Neuroscience, said advising students is not just academic, but career-focused.
"For the Neuroscience degree, students need to be thinking about what they're going to do after graduation as early as possible," he said.
Explosive growth in the field
While the major thrust of a Neuroscience degree is obvious for medical school and health-related work as well as graduate studies, there are a number of bachelor's-level career paths available to graduates, such as laboratory technician, regulatory affairs specialist, health educator and science writer. Brain science is also emerging in non-STEM professions including law, business and economics.
"It was an overnight success 50 years in the making," is how Johnson, who for two years shepherded the new degree through the approval process, described the process.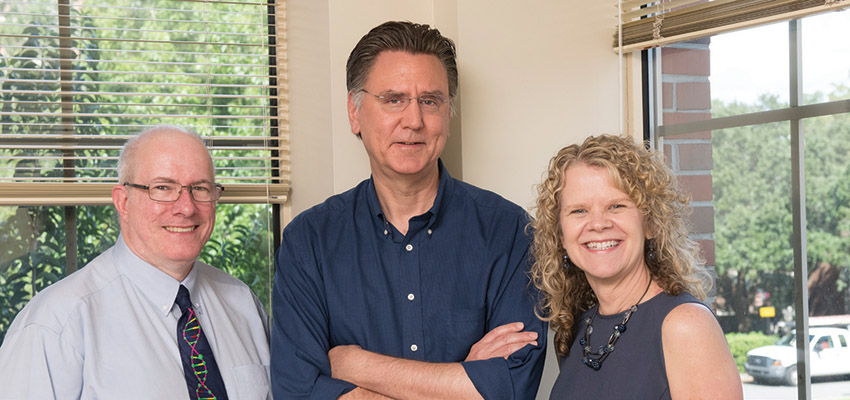 For starters, "there's been explosive growth in neuroscience as a discipline nationally, internationally and scientifically," Houpt said. "It's gone from being a tiny subspecialty — which would have been the Psychobiology program back in the 1960s — to now just a huge enterprise, both scientifically and in popular interest and applications."
Also, Taylor said, the creation of a new STEM degree program fits in well with the university's mission of focusing education in "areas of emphasis" and directives from the governor and state legislature.
Important questions remain
Student interest was another key factor in creating the new degree, including a desire to study experiences affecting their own lives, such as Alzheimer's disease, the effects of concussions and addiction.
"One of the things that got my attention and that of some of the other faculty in Neuroscience was when the students formed a student group called the Neuroscience Undergraduate Student Association," Johnson said. Their mission statement included a goal to help promote the development of an undergraduate degree in neuroscience at FSU. "That for me was the sign: If we do this, student interest is there. They were expressing it."