First-generation leader
Biology major Stacey Pierre takes reins as student body president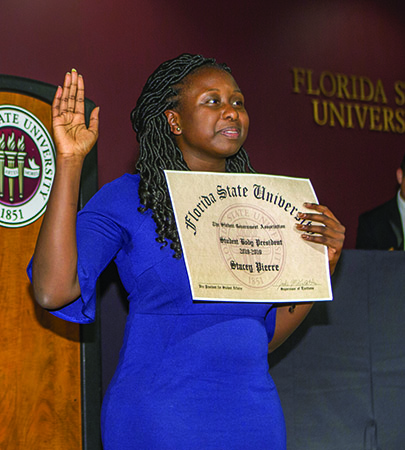 When senior Stacey Pierre started her term as student body president this fall, she was quick to give credit to her unwavering support system.
Pierre said she owes much of her success to her mother, Nicole, who moved to the United States from Haiti. While it took a little time to acclimate, Nicole Pierre found success in her new home without a college degree. Despite her experience, she made it clear to her two daughters, Stacey and her younger sister, Karybe Jean-Gilles, that higher education was necessary.
Along with being the first member of her family to be born in America, she's also the first to attend college. Pierre's mom questioned her daughter's choice to pursue a Biological Science major. She wanted Stacey to consider how tough the coursework would be, especially if she planned to participate in extracurricular activities.
"One of my mom's first questions was how would I get this done," she said. "She said I have to make sure I'm putting the work in."
Mom's words of encouragement and caution have worked. Pierre has a 3.0 GPA and is on track to graduate in four years.
Institutional support
Much of that success is because Pierre got an early start at Florida State by participating in the Center for Academic Retention and Enhancement's Summer Bridge Program in the months leading to her freshman year. The program helps students become more familiar with campus and develop solid academic habits. It's the largest program of its kind in the country, serving more than 400 people each year.
CARE students are the first in their families to go to college and often come from disadvantaged backgrounds. To qualify for the program, applicants also must maintain at least a 3.0 GPA in high school with qualifying scores on their ACT and/or SAT exams and a series of courses required by the state of Florida.
The Summer Bridge Program is one of several CARE options that give students a better shot at succeeding, including programs that help middle-schoolers prep for college. Once they begin college, CARE students receive tutoring and computer lab assistance, advising, life-coaching, financial aid support and post-graduation prep. When she arrived at FSU, CARE paired Pierre with a student ambassador who helped her get ready for the classroom and beyond.
"I wouldn't have come here if CARE wasn't around," Pierre said. "A large part of being in college isn't just being smart enough and having friends. It's also making sure you have faculty members and fellow students who are clear about things outside of school. I had no one in my family who could relate to what I was going through. CARE has your back."
Being part of CARE has given Pierre the confidence to thrive and accomplish things she never thought possible. A former student-body vice president, she was elected president in February 2018 and is only the second African-American student in school history to earn the position. As president, Pierre oversees the Student Government Association's executive branch and cabinet.
Speaking her mind
Pierre is also the only student who votes on the FSU Board of Trustees. A believer in transparency, she vows to be a strong and consistent voice for her classmates.
"I'm not one to be on the fence about anything," she said. "If I have an opinion, I'm not ashamed to speak on it. If people ask me, I'll tell them my perspective."
CARE Director Tadarrayl Starke said he isn't surprised by Pierre's progress. The Nova High School graduate has served as a CARE ambassador for the past two years, giving younger students the benefit of her experience.
"Stacey has been an inspiring example as a CARE student," Starke said. "She has used her background as a first-generation college student to fuel her success since arriving at FSU.
"Stacey has been an inspiring example as a CARE student. Through the many roles she's had on campus, she remains steadfast in her passion for helping others reach their fullest potential and achieve their goals."

— Tadarrayl Starke, CARE director
After graduation, Pierre plans to pursue a master's degree in public health. She also has applied to serve in the Peace Corps and is trying to earn a Fulbright Scholarship. Eventually, she aims to complete medical school and operate a women's health clinic. Thanks to her mom's care and FSU's CARE, plenty of options are out there.
"I have so many opportunities," she said. "Only time will tell what I do."
---
Supporting Care
Learn more about the services provided by the Center for Academic Retention and Enhancement, and how to support its mission, at care.fsu.edu.
The college supports CARE students like Stacey Pierre through the CARE Scholarships for College of Arts and Sciences Majors fund. This academic year, eight scholarships of $2,000 were awarded.
---