Scientific Service
Biochemistry doctoral student Charlisa Whyms researches bacteria immunity, helps others envision careers in STEM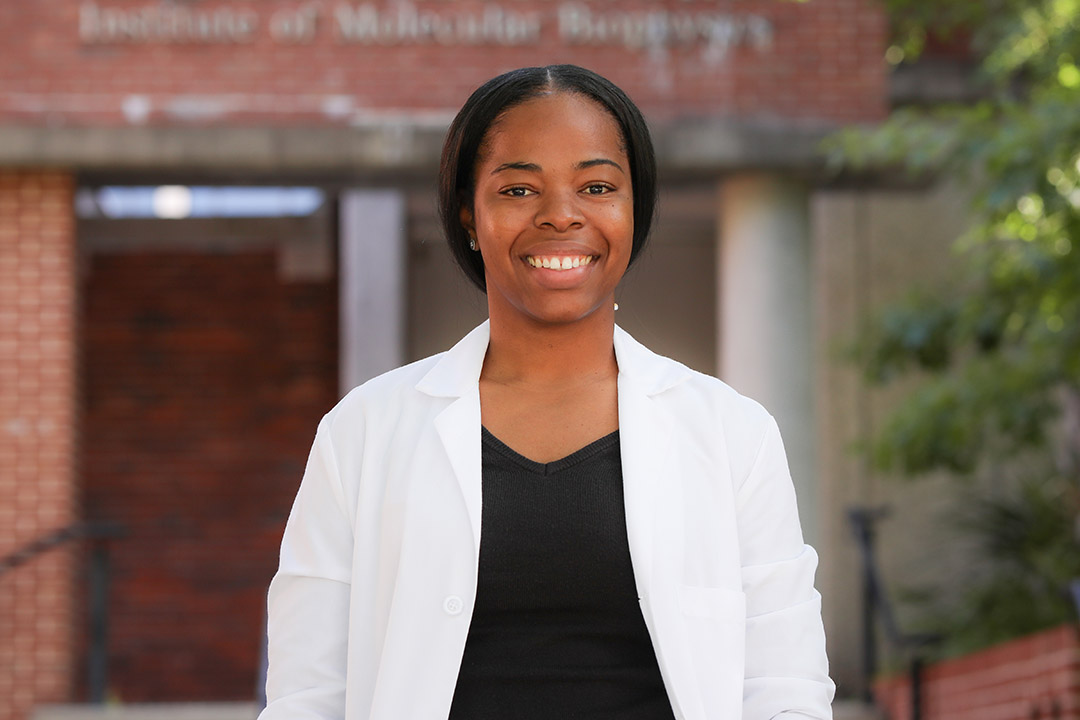 We've all experienced the nuisance sting of a paper cut, but that tiny skin tear is a signal to the body's immune system that a battle is beginning. As our bodies enlist the power of our immune systems to thwart bacterial invaders attempting to gain entry, the bacteria are employing defenses of their own.
These countermeasures, known as CRISPR-Cas systems, protect the bacteria from virus invasion, much like vaccines protect against disease. For researchers, exploring the cellular mechanics of bacteria defenses can uncover ways to help the human immune system more efficiently fight off infection.
That is precisely the aim for Charlisa Whyms, a doctoral student in Florida State University's Department of Chemistry and Biochemistry, who studies the molecular mechanisms governing CRISPR-Cas systems. Her work in the Molecular Biophysics Graduate Program endeavors to explain how bacteria immunity works and to uncover technological developments understanding CRISPR immunity.
"The purpose of my work is to discover innovative ways to hijack bacteria's defense systems and use them to kill bacteria more efficiently in the human body," Whyms said. "The part of CRISPR-Cas systems I study is how type III CRISPR bacterial molecules act as an alarm to call other proteins to the site of infection and what these molecular responses mean for bacteria behavior overall."
This research played a large role in understanding the COVID-19 virus and developing tools to combat it. Whyms is part of the Hong Li Laboratory, which published and patented an RNA virus detection kit during the onset of the pandemic to identify COVID proteins and establish fundamental knowledge about the virus for treatment efforts. The incorporation of the research team's knowledge about bacterial CRISPR-Cas systems proved useful to international scientists working towards COVID-19 vaccines.
"Charlisa is an energetic and curious student. She instills her passion in her research and works to impact others around her," said Hong Li, Whyms' adviser and director of the Institute for Molecular Biophysics. "She does not easily give up in the face of challenges, which is extremely valuable considering she is pursuing novel and previously unknown mechanisms within CRISPR-Cas systems."
For her work, Whyms was the recipient of an honorable mention in the National Science Foundation Graduate Research Fellowship Program during her first year at FSU. She was also selected as a 2023-2024 fellow in the McKnight Fellowship Program that allows her to mentor younger minority students in science, technology, engineering and mathematics fields.
"The science I do is important for so many reasons; not only does it have global impacts on our understandings of bacteria and how it interacts with our bodies, but I want to use my science to connect with people, specifically younger populations," Whyms said. "If I can demonstrate the importance of science to future generations, then they can start using their creativity to develop solutions to real-world problems just as I do now."
Whyms' desire to inspire means she spends much of her time outside the lab involved in community service. She was previously involved with STEMS4Girls, an initiative to increase representation of women of color in science, technology, engineering, and math studies and careers, and she held leadership roles in the Urban League of Broward County Young Professional Network, a community support program. Whyms now serves as a member of the Junior League of Tallahassee where she contributed to city-wide food distribution of over 50,000 meals to Leon County students experiencing food insecurity during spring break.
"I am a firm believer in lifting while you climb. I cannot do something and have it be all about me. I believe in paving the way for somebody else to do what I do in STEM if they choose," she said.
Before working in Li's lab, Whyms had a different kind of science career. After earning a bachelor's in biology from Florida Memorial University in 2013, she taught for four years at an alternative high school in Broward County. That time spent teaching continues to drive Whyms' research, and the skills she developed, such as open-mindedness and promoting knowledge-building, propel her post-graduation plans.
"As a scientist, Charlisa will have a bright future in either an academic or entrepreneurial career. Her current project could have lasting impacts in the field of CRISPR-Cas system studies and in biochemistry broadly.""

— Hong Li, Director of the Institute for Molecular Biophysics
"As a scientist, Charlisa will have a bright future in either an academic or entrepreneurial career," Li said. "Her current project could have lasting impacts in the field of CRISPR-Cas system studies and in biochemistry broadly."
Whyms is in the fifth year of her doctoral program and plans to graduate in Spring 2024. Though she doesn't have a specific career goal yet, her enrollment in the Biomedical Entrepreneurship Graduate Certificate program at FSU prompts her to translate the technologies she develops in the lab to the market.
"I want to keep my options open after graduation to appease my passions for biochemistry, volunteer work, and mentoring initiatives in my community," Whyms said. "I believe I can learn to do anything."