Primary Care
Biology alumna and Tallahassee top doc Andrea Friall has a personal stake in health care education, delivery in Florida's capital city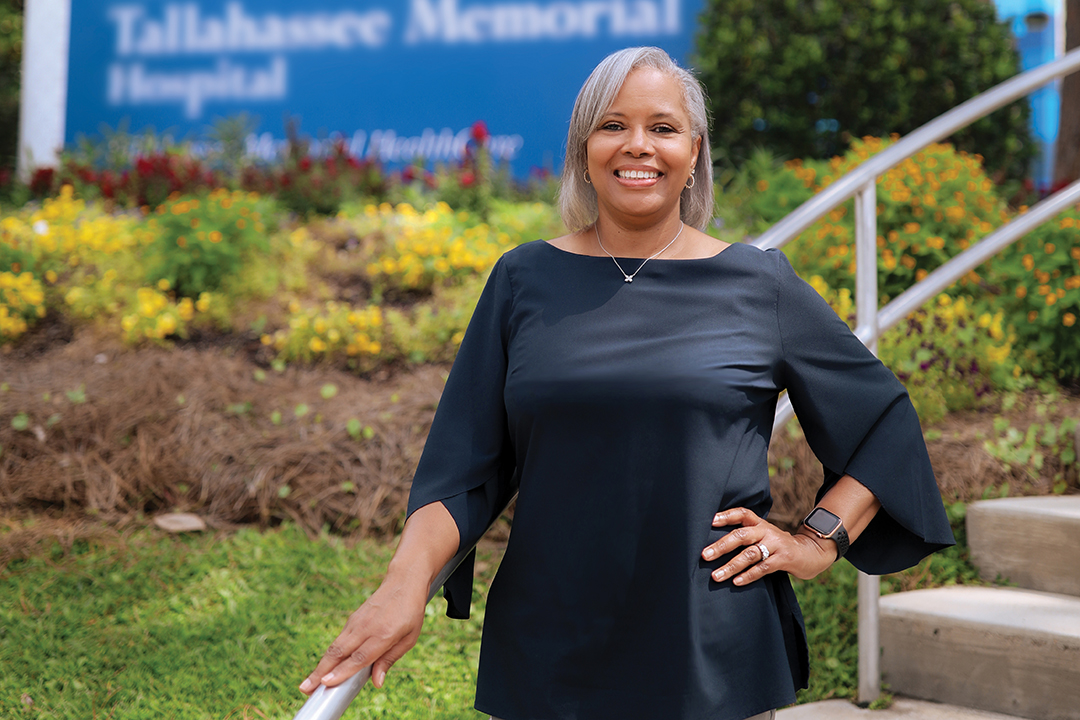 Dr. Andrea Friall has known some of her patients their entire lives. That's because as a board-certified obstetrician and gynecologist, Friall actually helped bring some of them into the world herself. Now, this Florida State University biology alumna is helping patients and fellow physicians alike in her role as chief medical officer for Tallahassee Memorial HealthCare.
As the CMO, Friall oversees the hiring and credentialing of the hundreds of physicians and medical professionals who support patients' needs in North Florida and South Georgia through TMH's 21-county operational footprint. Assessing the needs of the community and ensuring demand is met by top physicians is a role to which the Florida native is perfectly suited — she has been serving women and families throughout Florida's Big Bend for more than 20 years practicing as an OB-GYN.
"I really enjoy the practice of obstetrics and gynecology, from delivering babies to performing surgery, to counseling," Friall said. "I have gained so much from the patients and families I have met along this journey."
Friall's path to a medical career began early with a fascination for science and anatomy. But her drive for helping others was inspired by a daughter's love for her mother, who passed away when Friall was just six years old.
"As I matured, I became curious about how to help women like my mother who suffered from depression," said Friall, who highlights the importance of maternal mental health advocacy in her work today.
As an FSU undergrad, Friall already had her sights set on medical school. She earned a bachelor's from FSU's Department of Biological Science in 1993 and her M.D. from the Howard University College of Medicine in Washington, D.C., in 1997, before completing her OB-GYN training in 2001 at Tulane University in New Orleans, Louisiana.
When FSU announced plans to open a College of Medicine that same year, Friall was eager to get involved. She returned to Tallahassee, becoming the first female physician to join the practice at North Florida Women's Care and seizing an opportunity to teach the College of Medicine's inaugural cohort of medical students as an associate clinical professor.
"I was excited to get to work with students and see how the medical school would take shape. My husband Eric and I met at FSU and love that we have been able to give back and endow the Walter T. King Scholarship in the Black Alumni Scholarship Fund in my father's name to support other first-generation medical students," Friall said.
In addition to her faculty role, Friall began serving on the FSU Foundation Board of Trustees, working with the board to foster donor relationships. The goal, Friall said, is helping students feel supported and find the comfort and sense of family she experienced at FSU.
"I love working with students because they are the purest reminder of why you go into medicine. Their excitement for wanting to do good things fills my soul. The work the FSU Foundation does enhances that feeling as we help students and faculty strengthen the entire FSU community through commitment of our time, talents and treasure," Friall said.
As Friall's career progressed, she sought leadership roles with Tallahassee Memorial HealthCare, including chair of the Department of Obstetrics and Gynecology and chair of medical staff, and extended her involvement as a legislative chair and District XII officer of the American College of Obstetrics and Gynecology, where she passionately advocates for women's health, as well as a member of the William Gunn society, National Medical Society, and the Capital Medical Society.
"I love working with students because they are the purest reminder of why you go into medicine. Their excitement for wanting to do good things fills my soul."

— Dr. Andrea Friall
Friall is the first Black woman to serve as CMO for TMH, and since starting in the role in 2016, she has helped ensure health care continuity during a series of hurricanes and the COVID-19 pandemic. This year, under Friall's leadership, TMH ranked among the top 25 best hospitals in Florida, according to U.S. News and World Report.
Fellow FSU alumna Brenda Spencer was among Friall's most influential graduate advisers at FSU. Spencer, now director of Florida A&M University's Undergraduate Student Success Center, has cheered her former advisee, now friend, on for three decades."
"I am so proud of Andrea's growth as a person and all she has accomplished," Spencer said. "It has been great to see her fulfill the goals she had set for herself."
On the horizon for Friall is the growing partnership between FSU and TMH to construct an academic health center on the TMH campus. The center will provide about 130,000 gross square feet of medical and research-related space distributed over several floors. It will accommodate an estimated 30 principal investigators, producing an estimated $40 million of additional annual grant funding focused on clinical trials, data-driven precision health, digital health and clinical informatics, and clinical and translational research.
For Friall, all aspects of her work circle back to one thing — affecting positive change in the community.
"It is true that if you love what you do, you never work a day in your life," Friall said. "To me, being CMO continues to be an honor to serve in a role where I make a difference not only in patients' lives but those of my colleagues."