Cycles of Life
Ecologists Brian Inouye and Nora Underwood carry on environmental research more than 50 years in the making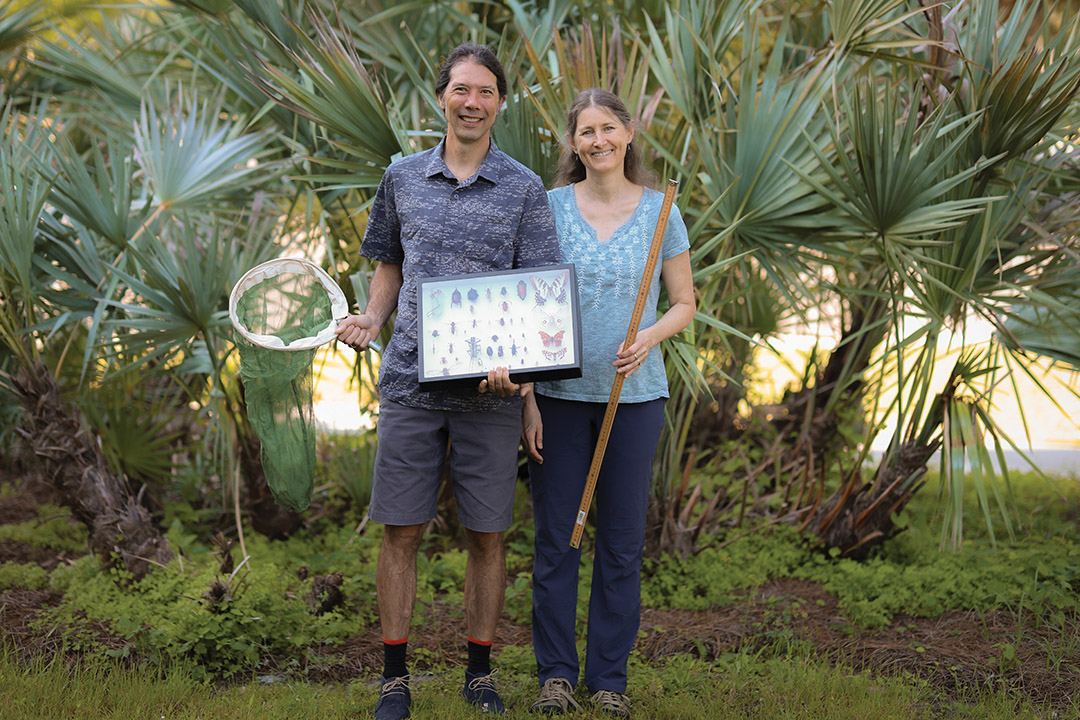 Brian Inouye and Nora Underwood are spending their summer counting flowers and chasing butterflies. Inouye and Underwood, ecologists and professors at Florida State University, meticulously tally the organisms present in the meadows of Gothic, Colorado, as part of ongoing data collection that will help scientists better understand how some of nature's most sensitive creatures are responding to environmental changes.
For 50 summers now, since 1973, at least one member of the Inouye family has returned to the lush valley to count and catalog changes in numbers and behavior of flora and fauna that populate the area. The current research team is led by Brian, Nora, and collaborators from Tallahassee Community College and North Carolina State University.
"Different species are changing their behavior and responding to different cues in the climate," Brian explained. "Some are more sensitive to temperatures, some to snowpack or rainfall, and some are even sensitive to what happened the summer prior."
Brian is uniquely qualified to make that assertion — he has been part of the work since the beginning.
That first summer at the foot of the Rocky Mountains, Brian was not a research assistant, but a toddler. His father, ecologist David Inouye, was starting a new project. As the bumblebees buzzed and hummingbirds flitted among flowers, David noted every change, from when the pollinators rose to how many flowers they greeted, gathering data that contributes to the field of phenology, the study of the timing of events in an organism's life.
"As a graduate student at the University of North Carolina, I decided to do my research every summer at Rocky Mountain Biological Laboratory, or RMBL, in Gothic," David said. "In 1973, I started a study with my wife Bonnie and other collaborators in which we each set up 2-meter-by-2-meter plots and counted every single flower in those plots every other day. Fifty years later, it's become one of the longest living projects of its kind."
Today, David is a professor emeritus in the University of Maryland's Department of Biology. His lifetime research portfolio is vast, but his most involved research stems from the summers spent tracking the timing and behavior of flowers, pollinators and insects at RMBL. As he approached retirement in 2014, David didn't have to search far for well-trained and experienced successors to assume responsibility for the work.
"We're very fortunate to have received long-term support from the National Science Foundation, and after nearly 50 years, I found it important to continue this research by passing it on to my son and daughter-in-law," David said.
A family tradition
After a childhood punctuated by those Colorado summers, Brian started college with an interest in biochemistry. His yearning to spend time in nature led him to transition his focus to biological science, and he seized opportunities to conduct field work in Costa Rica and Brazil.
No matter where he was working, Brian continued to visit his parents in Gothic over the summers. In 1988, Nora, a biology major at Vassar College, came to RMBL as a research assistant. The two bumped into each other in the dining hall where Brian's mother was teaching folk dancing, and it wasn't long before that meeting became a lifetime partnership.
Brian and Nora went on to pursue separate but parallel careers in biology, always discussing their respective research and trading ideas. Both earned doctoral degrees at Duke University and joined FSU's faculty in 2002.
Brian, a Fulbright Scholar and fellow of the American Association for the Advancement of Science, teaches undergraduate and graduate courses in ecology and experimental biology, and his current research ventures focus on how species respond to climate, such as when plants flower or when animals hibernate, migrate, have pups, or carry out other activities, and why certain plants are consumed more by herbivorous insects than others and why damage from herbivores tends to be distributed unevenly among plants.
Nora's research centers on the evolution of plant defense and growth strategies, herbivore movement, density dependence and population dynamics, and how plant and herbivore communities are influenced by each other. She teaches graduate and undergraduate courses in conservation biology and ecology of food and was recognized with FSU's Distinguished Teacher Award, the university's most prestigious honor for teaching.
Nora also serves as a program director for FSU in a nationwide cohort of institutions that has received an $8.8 million grant from the prestigious Howard Hughes Medical Institute to develop more inclusive pathways from community college programs to four-year universities.
"Initially, we kept our research programs separate," Nora explained. "We began collaborating more after receiving tenure, and that's been very productive. We bring different strengths to our work, and we're a more powerful research team together than either one of us would be alone."
Meaningful moments
Every minute change logged over the past 50 years has contributed to a greater understanding of how climate change has impacted life cycles in Gothic, such as how increasingly earlier snow melts trigger earlier flowering.
"It's indisputable that the climate has been changing, but it's not changing uniformly in all parts of the world," Brian said. "It's exciting to study these changes. For society, it means we need to keep our eyes open and be flexible in our responses because we can't predict every change that's going to happen over the next few decades."
"It's indisputable that the climate has been changing, but it's not changing uniformly in all parts of the world. It's exciting to study these changes. For society, it means we need to keep our eyes open and be flexible in our responses because we can't predict every change that's going to happen over the next few decades."

— Brian Inouye, Professor of Biological Science
David, Brian, and Nora attribute the project's ongoing success to the many collaborators who have participated over the last half century, drawing on established research practices while injecting fresh perspectives. These include college students, K-12 science teachers, and scientists from around the world. Rebecca Prather, an ecologist and United States Department of Agriculture postdoctoral research fellow at FSU, has joined the work at RMBL in recent years.
"Drawing on everyone's expertise is so helpful in understanding the patterns we observe and interpreting them biologically," Rebecca said.
The family also remains personally invested in the project's future success — Brian and Nora's middle-school-aged daughter is already counting flowers.