Insider's Guide
Two-time FSU alumna Sheree M. Mitchell uses languages, humanities background to curate authentic cultural experiences abroad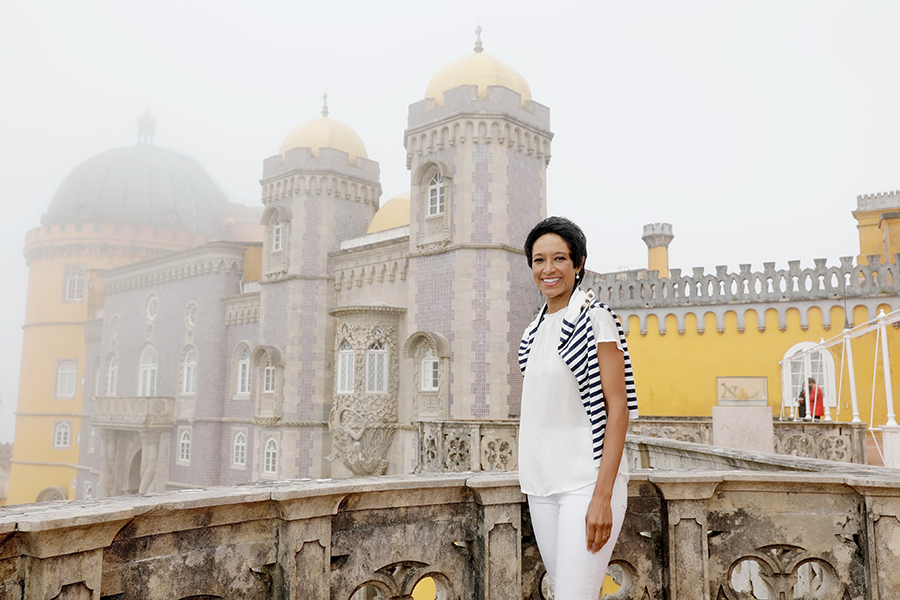 Brightly colored tourist shops and national monuments compete for visitors' attention in travel destinations across the globe, but it's often said that only the locals know the best spots. That is, unless you're Sheree M. Mitchell.
"You don't really know a country until you truly understand its soul," Mitchell said.
Mitchell, an alumna of Florida State's undergraduate and graduate Spanish programs, would know. As founder and president of Immersa Global, a tour operator and destination management company specializing in serving travelers interested in bespoke cultural experiences and authentic programs in Portugal, Mitchell was also recently named among the world's top travel experts by Travel + Leisure, the world's leading travel magazine. She credits much of her success to her love for languages.
Seeds of Interest
The trilingual traveler's fascination began in high school when she was inspired by a Spanish teacher and future mentor. Mitchell met her teacher's family in San José, Costa Rica, and spent many summers visiting the Central American country, honing her fluency as she embedded herself in a new culture.
"Those summers abroad were absolutely life-changing, and once I became fluent in Spanish, I was determined to help other Americans do the same."

— Sheree M. Mitchell
"Those summers abroad were absolutely life-changing, and once I became fluent in Spanish, I was determined to help other Americans do the same," Mitchell said.
Establishing Roots
As an undergraduate, Mitchell studied full-time, worked part-time for the Florida Department of Education, and continued spending three months abroad each year.
"I appreciated that FSU's modern languages and linguistics program is nationally ranked and enjoyed the fact that campus is culturally and ethnically diverse," she said. "After my first official visit, FSU just felt like the right place to be."
Mitchell earned bachelor's and master's degrees in Spanish in 2001 and 2004, respectively, before going on to spend nearly a decade teaching the language in Miami.
"While Immersa Global wasn't created right after graduation, the roots of the organization were planted while at FSU. The Beyond Borders program, through the Center for Global Engagement, invited me to manage one of its cultural immersion and service-project programs in Costa Rica," Mitchell said. "Without even knowing what it entailed, I accepted ... Costa Rica is a second home to me."
Following that experience, Mitchell knew she would eventually incorporate travel design into her career. Within her first year of teaching, she developed a language and cultural immersion program in Costa Rica for non-native and non-heritage Spanish-speaking students. This was so successful that it was extended to teachers and parents interested in learning Spanish, and she and a colleague created a similar, larger program in Spain the following year. Mitchell then revitalized an existing bilateral French-language and cultural-exchange program with a sister school in Aix-en-Provence, France, before transitioning into a business management role in an unrelated field.
Full Bloom
"After a few years, I felt the need to rediscover [myself], so I took a year-long solo sojourn around the world," Mitchell said. "It was a paradigm-shifting experience that shortly thereafter led to the official launch of Immersa Global, my lifelong dream. Now, I'm honored to be invited to speak about my [company], industry trends, and specific aspects of our work in Portugal at all sorts of events."
Among Mitchell's proudest accomplishments are speaking at two United Nations World Tourism Organization conferences, three New York Times Travel Shows, and the American Society of Travel Advisors Global Convention. She also serves as president of the American Society of Travel Advisors for Portugal.
Mitchell's humanities foundation, she explained, has been critical to understanding different backgrounds, processing information, taking risks, navigating foreign environments, and learning how to blend in, all of which are crucial to international trade.
"With our department's focus on success in a diverse, multicultural, multilingual, and globalized world, students are linguistically and culturally prepared for a variety of global careers in education, arts, government, and business," said Reinier Leushuis, chair of the Department of Modern Languages and Linguistics. "Sheree is a shining example of the diverse and successful careers graduates from our department embark upon."
Mitchell is also proud to give back to her alma mater — she is using her years of expertise to curate a once-in-a-lifetime experience for FSU graduates. The 10-day, tailor-made food and wine journey in Portugal is open exclusively to FSU alumni and will take place in Summer 2023.
"We're thrilled to have Sheree's company design and operate this program for us. Our travel program is all about experiencing the world with those who share your values and passions," said Brooke Robinson, FSU Alumni Association assistant director of membership and marketing. "Sheree's expertise and experience will enhance this trip and allow our travelers to see the world's wonders through the eyes of another 'Nole. We're so proud one of our alumni can take this connection to another level, and we cannot wait to follow her lead through Portugal."