Intersectional analysis
Sam McLoughlin explores demographic and political elements shaping America's modern religious landscape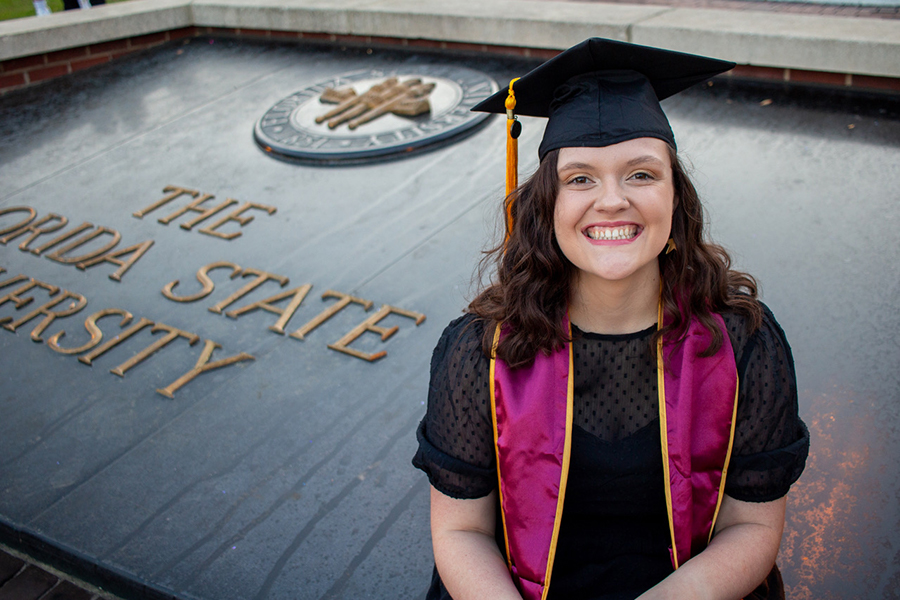 In 2016, Sam McLoughlin experienced a political awakening.
While McLoughlin, a Lake Mary, Fla., native, had cycled through a selection of dream jobs growing up — being a veterinarian, a chef, or a journalist all held appeal — none of them stuck. Political science, however, was a different story.
Witnessing the local, state, and presidential elections in 2016 motivated McLoughlin to become involved in the political process and learn about how local politicians can affect change at the community level.
"I wanted to make sure I understood the issues I believed in and cared about," McLoughlin said. "As a teenager, I had accepted my parents' beliefs without taking the time to understand politics for myself, and I wanted to change that."
Florida State was McLoughlin's top college choice, since it would put her in contact with other students determined to make a difference and in proximity to Florida's state capitol, but there was still a decision to make on how she would begin her studies, thanks to an invitation from FSU Admissions.
FSU's Seminole Pathways program provides an option for first-time-in-college freshmen to spend their first semester or first full year at one of FSU's study abroad centers through FSU International Programs, to take their first year of classes at FSU Panama City, or to study at a local accredited college before joining the main campus in Tallahassee. McLoughlin elected to begin her Seminole experience with a fall semester abroad at FSU's London Study Centre, and that decision shaped her future research focus.
"Going abroad sounded amazing, but it wasn't what I had originally planned for my first semester away from home," McLoughlin said, "One course on British youth culture sparked my interest in the intersections of religion, sexuality, gender, and race, and how politics can influence these subjects."
During her first semester in Tallahassee, McLoughlin realized her planned political science degree was missing something. While she enjoyed learning about the psychological forces that shape an individual's beliefs, she realized researching and studying the evolution of such beliefs was of more interest to her as a career than one working in politics. McLoughlin also needed to pick up a minor to supplement her degree. In Spring 2019, she enrolled in "Religion in the U.S.," taught by then-adjunct professor Dan Wells from the FSU Department of Religion.
"The course stood out to me," McLoughlin said. "I enjoyed the course and the literature exploring American history, politics and religion. The connection I made with the subject, and Professor Wells, is why I chose to continue an education in religion."
McLoughlin's current research focuses on the racial and gendered aspects of American conservatism from the 1950s to the present day and its relationship with contemporary Christianity. The refinement in topic resulted from time McLoughlin spent with assistant professor of religion Laura McTighe.
"Sam's work will bring fresh eyes to a tangle of questions surrounding American religion and politics, especially how the religious worlds created by American conservatives have shaped, and been shaped by, gender, race, and sexuality in American society writ large," McTighe said. "It is research that we need now more than ever."
McLoughlin spends much of her time researching and writing about individuals with opposing views, and mentors like McTighe have emphasized the importance and value of ethical collaboration. When dealing with more nuanced topics like white supremacy or movements of deep-rooted activism, McLoughlin leans on her political science background to ensure that her work objectively assesses the motivations and values held by the individuals and groups she studies.
"It can be easy to dismiss the opinions of people who see things differently than you. It has always felt more rewarding to push myself in their direction and read the literature to try and understand their beliefs," McLoughlin said.
Looking to broaden her study of religion, McLoughlin became a member of FSU's religion club, Students Organized for Religious and Cultural Exploration. After participating in SORCE's annual undergraduate symposium, McLoughlin was introduced to associate professor of religion and SORCE faculty adviser, Joseph Hellweg, who became an avid supporter and sparked McLoughlin's passion for research.
"Sam offers compelling insights into our world. She is always mindful of the relationship of her academic work to the moral, political, and social issues of our time. She is the kind of student who will make this world a more compassionate place."

— Joseph Hellweg, Associate Professor of Religion
"Sam offers compelling insights into our world. She is always mindful of the relationship of her academic work to the moral, political, and social issues of our time," Hellweg said. "She is the kind of student who will make this world a more compassionate place."
While political science is still a key area of interest, McLoughlin has decided to make American conservatism her primary research focus for her master's degree — she will join the Department of Religion's American Religious History graduate program this fall.
"I chose to stay in Tallahassee because I already love FSU and its faculty and resources," McLoughlin said. "Florida State is also one of the only schools in the U.S. to provide funding for a religion graduate degree program."
McLoughlin plans to pursue a career in academia following her master's degree.
Taylor Anderson is pursuing a bachelor's in media/communication studies with a minor in art history. She plans to graduate in Fall 2021.