Future Forecasters
The students of "FSU Weather" are ready for their close-up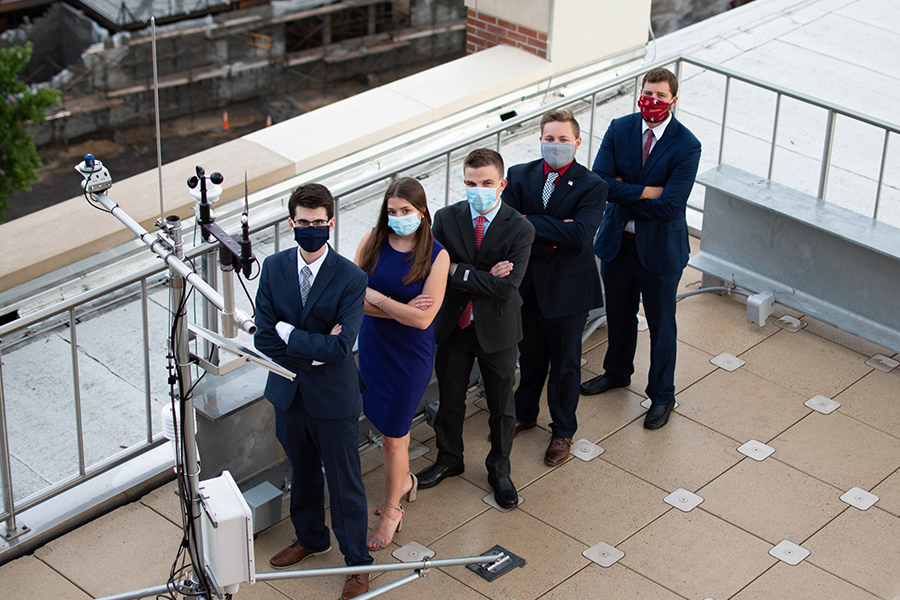 Turn on your TV in Tallahassee any weekday around 6 p.m. and you'll likely see meteorology students from Florida State University's Department of Earth, Ocean and Atmospheric Science hard at work in front of the greenscreen. The "FSU Weather" show, which broadcasts live on 4FSU and also streams on YouTube, gives students interested in broadcast meteorology a chance to put their on-air skills to the test. For students who dream of forecasting for major TV markets or national organizations, the experience is invaluable.
TV debut
When FSU's cable channel 4FSU first premiered in Spring 1996, the student weathercasts were the first segments specifically produced for the channel. Students would prerecord two-and-a-half minute forecasts, which were inserted between the channel's other preproduced programs. Associate professor of meteorology Jon Ahlquist, who has been with the department since 1981, remembers how it all began.
"We literally drove a videotape across town late in the afternoon each Monday through Friday with the weathercasts for that evening," Ahlquist recalled.
A fiber-optic cable was later installed between campus and the FSU Broadcast Center, eliminating the drive and opening up the possibility for live broadcasts. In 1999, the university's Communications Department launched a new show called "FSU Live," which included brief live segments from the weather studio during its four-year run.
"Live TV was such better training than the short, prerecorded weathercasts, so I talked with my students to see whether we could produce our own half-hour show," Ahlquist said. "They produced and recorded two practice 30-minute shows to convince themselves it could be done."
With their ability to produce proven, students charged ahead, and "FSU Weather," as it's known today, was born.
The student-produced program first aired in November 2002 and has been broadcasting every Monday through Friday since, aside from a brief hiatus during the pandemic. As meteorologists around the world innovated and found ways to deliver forecasts from home during lockdown, so did the students of "FSU Weather."
"When the pandemic closed campus and temporarily ceased the production of the show, some students continued to post short, homemade weathercasts to the "FSU Weather" Facebook page. Two students even set up greenscreens in their homes," Ahlquist said.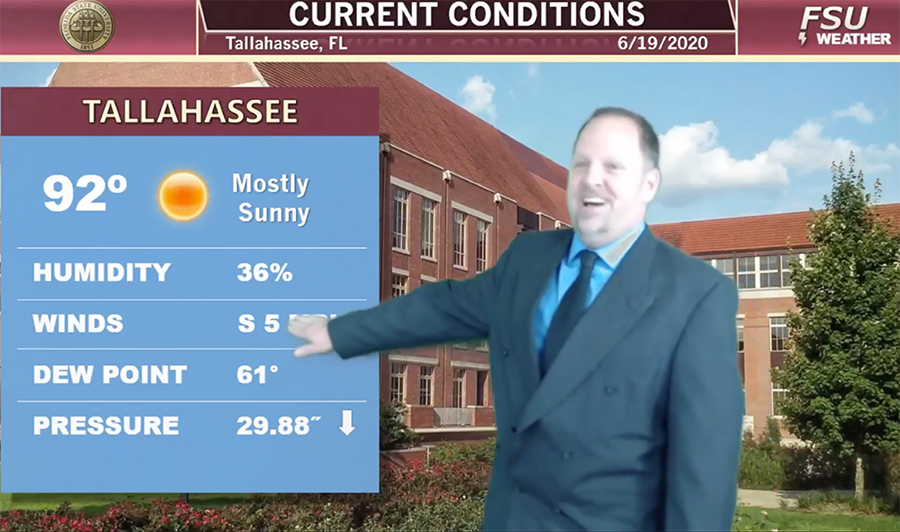 Camera ready
Each year, the warm glow of the studio lights at "FSU Weather" attracts talented students from across the country. The resulting team is a brilliant patchwork of distinct personalities and experience levels, with a variety of career aspirations. Junior environmental science major Lindsey Parmett plans to work in marine conservation and developed an "Environmental Updates" segment for the show that spotlights a different issue each week. Parmett is one of several students in the program with career goals outside broadcast meteorology who fell in love with being part of the show.
"My favorite part of 'FSU Weather' is the people," Parmett said. "Everyone is so happy and excited when they come into the studio; it makes the broadcasting experience so much fun! You can be having the worst day, and that completely disappears the moment you step into the studio because it is such a positive environment."
Others, like senior meteorology student Evan Thomason, have already landed jobs in the field. In October, Thomason's adviser notified him about a job opening for a weekend meteorologist at Tallahassee's WTXL-ABC 27. By December, he was making his on-air debut.
"I honestly had the time of my life," Thomason said. "It was so much fun and helped me fully realize this is exactly what I want my career to be."
Just before graduation, Thomason signed a three-year contract for a TV job in Idaho Falls, Idaho. He said "FSU Weather" gave him the confidence to pursue his dreams.
"I really found myself through 'FSU Weather.' I originally didn't think broadcasting was for me since I was very shy growing up. Thanks to the fun adventures and times I had with 'FSU Weather' and then WTXL, I am fully able to show my personality to the world," Thomason said.
Seminoles forever
Students in the program credit "FSU Weather" not only with helping improve poise and communications skills, but also connecting them to an impressive network of meteorology alumni across the country. Meteorology junior Jonathan Marcus has rubbed elbows with some of his favorite forecasters who also happen to be fellow 'Noles.
"Because of this program, I have been able to have personal conversations with individuals such as NBC New York's Janice Huff, The Weather Channel's Tevin Wooten, and the University of Georgia's Dr. J. Marshall Shepherd, among others," Marcus said. "These networking opportunities are invaluable and stretch across airwaves and into various sectors of the field of meteorology."