Elasmogal
Alumna Jasmin Graham is a shark-saving superhero bringing new perspectives to marine science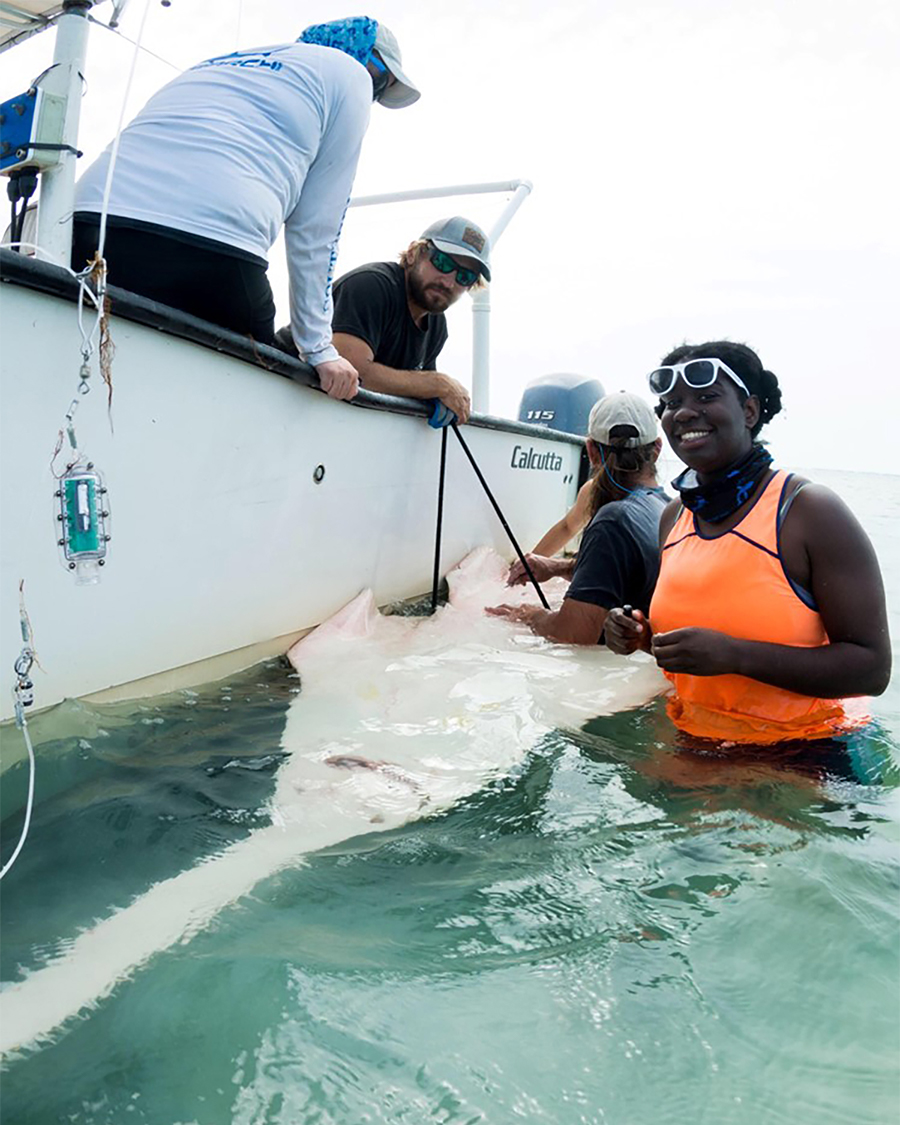 For many, the word "shark" conjures terrifying images of the deep's most fearsome predators. In reality, sharks are a large and complex group of elasmobranch fish essential to the vitality of Earth's oceans. There are more than 1,000 known species of sharks and rays, some as large as the behemoth whale shark and others, like the dwarf lanternshark, that can fit in the palm of a hand.
The smalltooth sawfish, the first native marine fish listed under the U.S. Endangered Species Act in 2003, is a particular friend to Jasmin Graham, a marine biologist and conservationist.
Graham had sea legs almost as soon as she could walk, and for the South Carolina native's family, fishing is a way of life. While Graham has always had a deep love for the ocean, learning she could pursue a career on the water changed her life.
"When I realized marine science was a career, I was shocked. I'd never seen a scientist who looked like me," said Graham, who completed her master's degree in biological science at Florida State and today serves as president and CEO of Minorities in Shark Sciences, an organization elevating underrepresented voices of women of color in the field.
As an undergrad, Graham cast a wide net — she studied ocean acidification, marine mammal stranding, and microplastics before a National Science Foundation-funded undergraduate research experience at the College of Charleston's Fort Johnson Marine Lab cemented her shark fascination and inspired her Twitter handle, "elasmo_gal."
When Graham was ready for graduate school, she connected with Dean Grubbs, FSU Coastal and Marine Laboratory's associate director of research and a member of the U.S. Smalltooth Sawfish Recovery Implementation Team. The NSF funded her proposal through the Graduate Research Fellowship Program to study the endangered smalltooth sawfish.
"My project was born of a deficit in the sawfish recovery plan, the identification of critical habitats — geographic areas essential to conservation of endangered species that require special protection — for large juvenile and adult smalltooth sawfish," Graham said.
Her project, conducted over three years and drawing on ten years of research by the Sawfish Recovery Team, produced the largest existing dataset on smalltooth sawfish and identified concentration areas and migratory patterns, including areas around Florida's Boca Grande, Cape Canaveral, and the lower Florida Keys.
"The biggest threat to these fish is bycatch, accidental capture during commercial fishing," she said. "Only one out of every hundred fishing boats has an observer on board collecting data on what is caught."
By analyzing movement patterns and frequent fishing areas, Graham identified high and low-risk areas for catching sawfish year-round. Her research will assist in shaping critical policies that maximize sawfish conservation efforts while minimizing economic impacts on fishermen.
Graham honed her conservation focus through fieldwork with state, federal, and conservation-oriented non-governmental research partners and internships with the Smithsonian Environmental Research Center and Florida Fish and Wildlife Conservation Commission Division of Marine Fisheries Management.
In tandem with her conservation focus, Graham has worked to increase opportunities for people who, like her, couldn't envision a career in marine science. At FSU, Graham introduced K-12 students to the field through the Office of STEM Teaching Activities' Saturday-At-The-Sea program, and last year, she joined forces with three other Black women shark scientists to form Minorities in Shark Sciences.
Graham and co-founders Amani Webber-Schultz, Carlee Jackson, and Jaida Elcock believe diversity in scientists creates diversity in thought, which leads to innovation. The group has developed curricula for K-12 students and adults and worked with organizations such as The Field School in Miami, Fla., Oceans Research in South Africa, and Bimini Shark Lab in the Bahamas to facilitate research and fieldwork opportunities for underrepresented scientists.
In 2021, MISS will host two workshops, four internships, a summer program, and continued virtual K-12 outreach programming, all free of cost.
"Jasmin places a lot of effort into outreach to the community, especially by bringing science to underrepresented groups of people. Her co-founding of MISS is having a strong effect in increasing diversity of scientists in our field," Grubbs said.
While continuing her research, Graham works in Sarasota, Fla., at the Mote Marine Laboratory and Aquarium's Marine Science Laboratory Alliance Center of Excellence. Through the Louis Stokes Alliance for Minority Participation Program, an NSF-funded program supporting students underrepresented in STEM fields, she is currently identifying best practices in recruiting, supporting, and retaining minority students in marine science.
"We hope to broaden pathways to science and help more people feel they belong. Breaking down barriers and improving the science identity of those who are underrepresented in science is my main goal," Graham said. "Great conservation work can't be accomplished without everyone having a seat at the table."
McKenzie Harris is pursuing a master's in media/communication studies. She earned a bachelor's in English with a concentration in editing, writing and media in 2020.