Gold Standard
FSU students collaborate, combat citrus greening on a global stage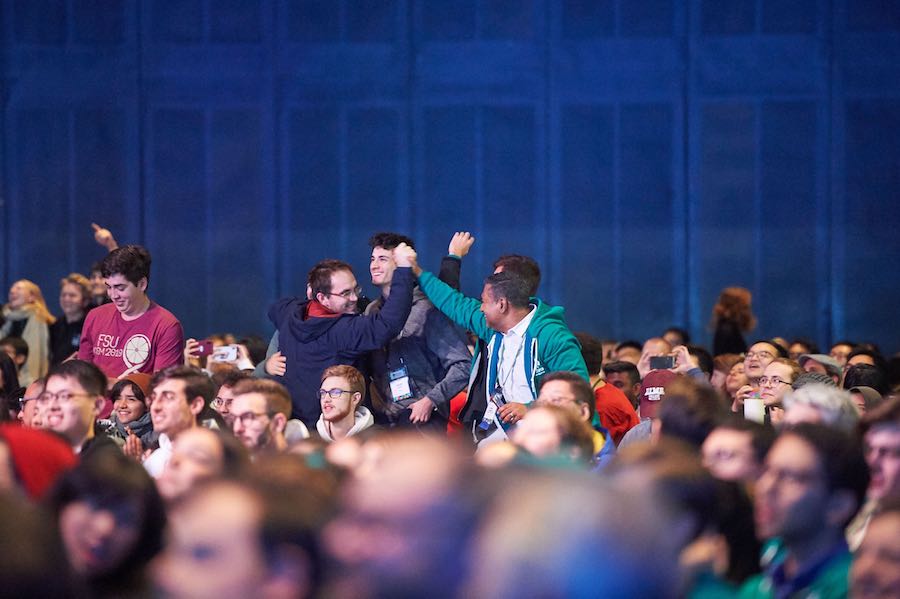 There's no "I" in "team," but for Florida State University's International Genetically Engineered Machine team, known as "iGEM"… well, you see where this is going.
FSU's interdisciplinary team includes more than a dozen undergraduates hailing from departments across campus: biology, biochemistry, mechanical and chemical engineering, computer science, statistics, entrepreneurship and criminology.
"Working on such a team exposes you to the different ways people think," said biology student and team leader Roderick Meyer. "When you collaborate, the work you do is magic."
Each year, FSU's iGEM team tackles a different project with the goal of developing practical solutions to complex scientific problems, before pitching the plan to a global audience during the annual International iGEM Competition in Boston. The 2019 competition saw more than 350 teams registered from around the world and over 6,000 participants in attendance.
Florida focus
This time, the team took on Florida's citrus greening epidemic, an issue affecting 80 percent of the Sunshine State's citrus trees: Asian Citrus Psyllid insects spread greening bacteria and infected trees then produce smaller fruit and in scarcer quantities.
"We chose a problem important to our community. The effects of citrus greening have been evident in the state for years, and citrus production has dropped to less than a third of what it was 20 years ago. Annual loss estimates are between $450 and $500 million over the past 15 years," Meyer said.
Cameron Conroy, a double-major in computer science and statistics, said initial feedback from advisers indicated the project was overly ambitious.
"The biggest challenge was having subject-matter experts tell us there was no way we could contribute to a complicated problem experts have not been able to crack for over a decade," Conroy said.
"We dug in our heels in and gave the problem our very best. We wanted to prove Florida State does great undergraduate research and that we were among the top teams competing."

— Cameron Conroy, iGEM team member
While strong opinions initially cast doubt over the project's topic, the team used those conversations as a reason to work harder.
"We dug in our heels in and gave the problem our very best. We wanted to prove Florida State does great undergraduate research and that we were among the top teams competing," Conroy said.
Language barriers
As research got underway via team workshops at FSU's Innovation Hub, members soon discovered embracing their wide range of skills would be fundamental to success.
"Our team was diverse — some had no background in biology at all," biochemistry student Conner Quinlan said. "The feedback from those members provided insight science-minded people might not have considered."
Such diversity in interpretation underscored the importance of effectively communicating research to wide audiences to make projects more marketable.
"When we gave our first presentation, we called the product an 'antimicrobial peptide.' Most people wouldn't understand that term, but it had become commonplace to us," Quinlan explained. "It wasn't until our computer science team member spoke up mid-presentation and asked what an antimicrobial peptide was that we realized our error."
Beyond differences in areas of study, the team also included a mix of freshmen, sophomores, juniors and seniors.
"The challenge wasn't just communicating the science efficiently to non-science students, but also to science students with varied depths of education," Meyer said.
Showtime
Following months of hard work, the team debuted its project in Boston. FLOEMA, a hardware, software and biotechnology solution, is designed to heal trees affected by citrus greening. The system allows citrus growers to assess tree health, deliver antimicrobial therapy to eliminate Candidatus Liberibacter asiaticus — the bacteria that causes greening — and to administer an antimicrobial cocktail that guards against emergence of resistant strains.
"No other Florida iGEM team had ever earned a gold medal. We were laser focused on getting the gold, which meant we aimed high," Quinlan said.
Of the 52 U.S. collegiate teams competing, FSU was among eight awarded a gold medal and became the first-ever Florida team to take home the honor.
"It was the most difficult and rewarding experience of my undergraduate career. Asking questions from so many different vantage points allowed us to cast a wider net for potential solutions," Conroy said. "Research, after all, isn't always about finding the solution, but, contributing in a meaningful way no matter how big or small."
McKenzie Harris graduated from FSU in May with a bachelor's degree in English with a concentration in Editing, Writing and Media.