Undergrad neuroscience researcher uses unique perspective to achieve academic success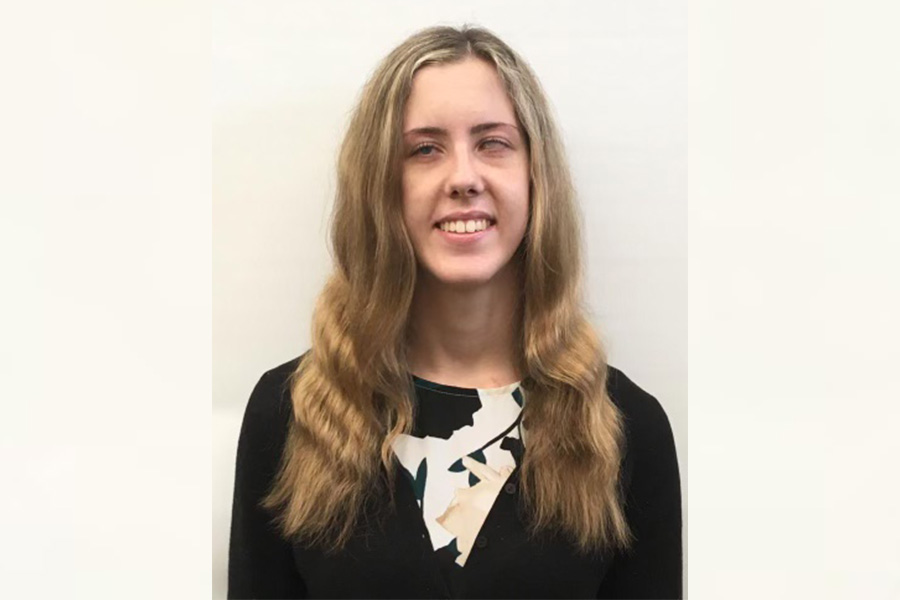 When Florida State University senior Grayson — Gracie to her friends — Delong walks across the stage at the Donald L. Tucker Civic Center this Friday along with about 1,600 of her fellow Seminoles, she will turn the page on an undergraduate experience marked by exceptional academic performance. She will also celebrate overcoming significant personal challenges through hard work, fierce self-advocacy, and the support of her academic family.
Delong, who has a severe visual impairment, graduated from the Florida School for the Deaf and Blind in St. Augustine, in 2016, as the blind department's valedictorian, before heading to FSU with the plan of pursuing a bachelor's degree in biomedical engineering. Once in Tallahassee, she changed majors a few times before settling on a major that appealed to her passion for life science and biomedical topics and met her accessibility needs.
"When choosing a college to attend, I loved that FSU is a large, research university with strong STEM programs and resources to support students in and out of the classroom," Delong said. "The most important thing I've learned at FSU is that failure is an opportunity to try again and to take a different approach or path. Failure can never overtake you if your determination is strong."
When FSU debuted its undergraduate degree in neuroscience in 2018, Delong was intrigued. She expressed interest in the program to Frank Johnson, then the director of the FSU Program in Neuroscience and present chair of the Department of Psychology. He encouraged her to embark on the program and consider her impairment a unique visual perspective on the world and a personal experience of the brain's ability to adapt, both of which could inform her work.
"My first impression of Gracie — here was a person with a level of scientific curiosity and enthusiasm that was off the charts. Her work ethic has been sustained by her enormous curiosity about the brain," Johnson said. "She shows how our greatest strengths are often seeded by what makes us different. I'm excited to see where Gracie's fascination with the brain takes her in the future."
Like many students during the pandemic, Delong faced adversity in adjusting to online learning. The fields of neuroscience and psychology are rigorous scientific disciplines — and visual in nature — so she had to adapt her proven learning strategies and cope with eye strain and intense eye pain caused by long hours in front of a computer screen. Her professors supported her and verbally explained complex topics.
"When all classes went remote due to COVID-19, accessing course material was easier than ever because everything was online," Delong said. "However, not having an in-person learning environment or in-person access to professors' office hours was a challenge for me because I depended so much on both tools to learn. Fortunately, my professors believed in me and went above and beyond to help me learn the material."
In Spring 2021, Delong took a remote class, "Physiological Psychology," taught by Orenda Johnson, teaching professor in the Department of Psychology. Delong's passion for learning and self-advocacy made an impression on her instructor.
"While the coursework can be challenging, she was absolutely undeterred, and because of this, she excelled in the class. Gracie was constantly prepared with specific questions, some clarifying material and others going far beyond the scope of the course," Orenda Johnson said. "Gracie also clearly articulated what I could do to optimize her ability to interact with my course materials. I think future students will benefit from what she taught me."
Delong's motivation and drive are key to her academic success, but her personal experiences are what set her apart as a researcher.
"When you bring a diversity of life experiences and abilities to a discipline, you inevitably get people asking different scientific questions and bringing to bear a variety of problem-solving strategies," Orenda Johnson said.
Following graduation, Delong plans to develop her technical skills in the laboratory and her interpersonal skills in clinical spaces, to better understand how neurological disorders present themselves in patients' daily lives, before applying to graduate school. Her dream career is working in the niche research area of nervous system disorders, where she hopes to help individuals with neurological disorders preserve their identities — components of personality tend to fade over time as impairments to memory, learning and speech develop.
"I would love to work in research to learn more about normal neuronal function in order to better understand what happens in cases of neurological disorders where neuronal function is not normal. I'm also interested in working in the biotechnology industry to develop stem-cell therapies to combat neurological disorders," Delong said. "Either way, I want my impact through research or industry to help restore and preserve what makes people who they are. I will not be here forever, but I hope my impact will."