Student Spotlight: Trystan Loustau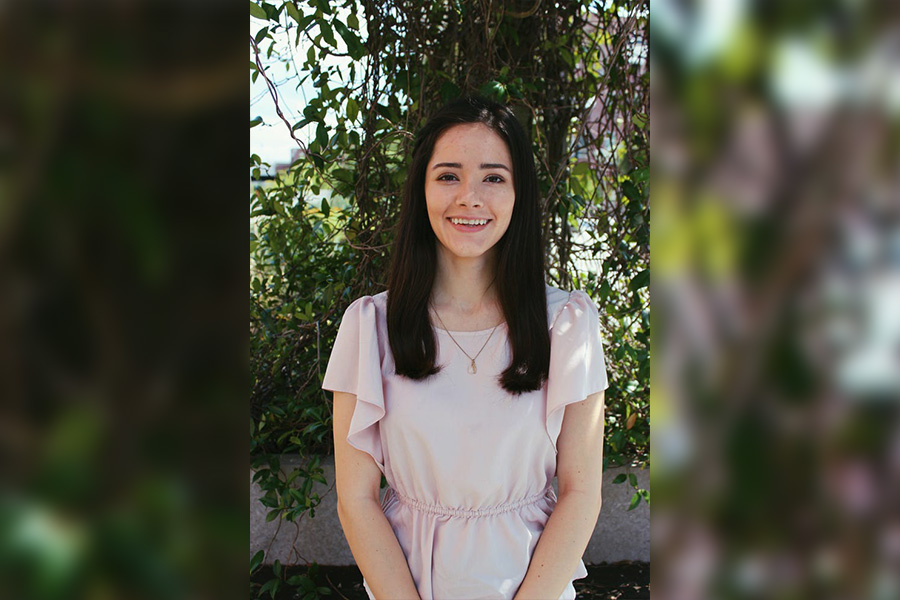 Trystan Loustau is a junior majoring in psychology and minoring in computer science and statistics, all departments part of the College of Arts and Sciences. Loustau, a Presidential Scholar and Honors Experience student, actively participates in FSU's Undergraduate Research Program through the Center for Undergraduate Research and Engagement and received an IDEA Grant in April 2020 for her research on psychological morality and immune system function. Loustau is a Barry S. Goldwater Scholarship recipient and editor-in-chief of The Owl, FSU's Undergraduate Research Journal.
Where are you from? When is your expected graduation date? What brought you to FSU?
I am from Jacksonville, Fla, and I plan to graduate in May 2022. I decided to attend Florida State when I was selected for the Presidential Scholarship, the university's most prestigious merit scholarship for undergraduates.
What inspired you to choose your major and your specific area of research?
After exploring many subfields of psychology through different courses and research projects, I found my niche research area in social psychology, specifically moral psychology.
What aspect of your research do you find most fascinating?
In my research, I have come to understand that much of human conflict in politics, religion, and race relations is centered on differences in moral processes. To bring communities closer together and resolve conflicts, we must understand how different communities determine right and wrong.
You are an active Honors Experience Program student and have taken multiple E-series courses, nonmajor courses designed to engage students in creative thinking about contemporary problems. What has your experience been like in this program, and how does your passion for psychology guide and assist you?
My interest in moral psychology began when I took the E-Series courses "Freedom and Religion" and "Superheroes and Ethics," taught by Ross Moret, teaching faculty in the Honors Experience Program. During these courses, I became fascinated by moral psychological theory and how it explains the "us vs. them" ideology that drives human conflict.
Who are the faculty or staff members that have helped or inspired you?
Ross Moret sparked my interest in social psychology. Assistant professor Paul Conway and professor Jon Maner, both of the Department of Psychology, have advised me on several independent studies investigating social psychological theory. Under their mentorship, I have gained valuable research experience and advanced knowledge of my field.
How has your role as a student researcher through UROP and DIS helped prepare you for academic and professional success?
Engaging in undergraduate research through the Undergraduate Research Opportunity Program, Directed Individual Study and Honors in the Major and receiving an IDEA Grant has equipped me with fundamental research skills and given me the opportunity to conduct original research studies and present at professional research conferences. These skills will aid in my future as a full-time researcher and doctoral student.
You are completing minors in computer science and statistics alongside your psychology degree. What inspired you to pursue programming skills, and how have your diverse interests impacted your extracurricular involvement?
I chose these minors because both provide skills that will aid me as a researcher. I became interested in computer science after conducting research on human-computer interaction. Although my research interests have shifted since then, I plan to complete my computer science minor because of the advantage it will give me in using modern programming-based research methods and analysis tools.
What do you like to do when you're not doing schoolwork or research?
In my free time, I enjoy traveling, cooking, baking and playing tennis.
After graduating, what are your plans? Although you might miss FSU, what are you looking forward to in your post-graduate life?
After graduation, I plan on pursuing a doctoral degree in social psychology. I am looking forward to conducting research full-time and meeting researchers who are investigating the same questions as I am.
What advice do you have for fellow students?
FSU has a phenomenal undergraduate research culture characterized by endless opportunities for growth, financial support for original research projects, and incredibly supportive faculty. Take advantage of every interesting opportunity that comes your way, even if it is not directly related to your intended career path. You never know when you might discover a new interest or unique experience that propels you toward your goals in unexpected ways.