Student Spotlight: Sophie Arase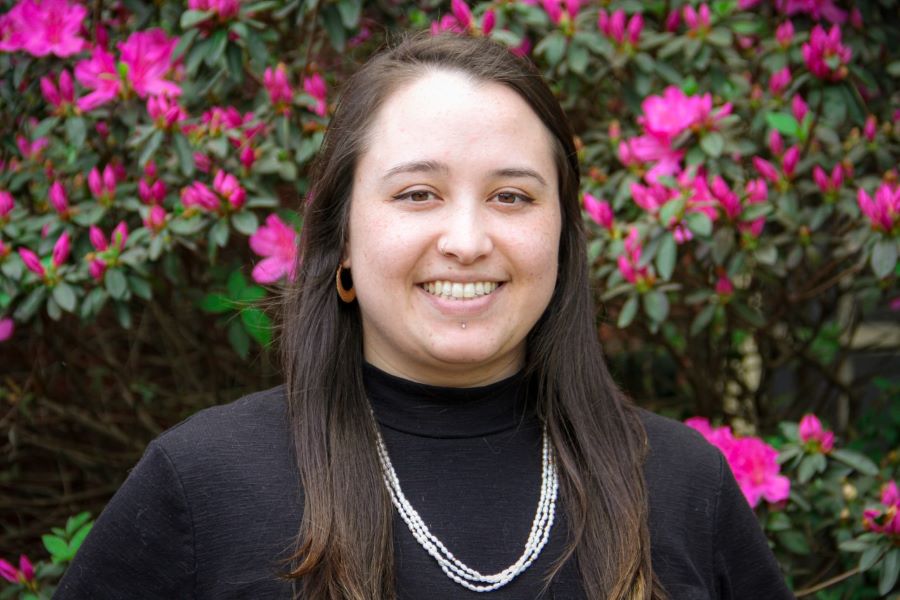 Sophie Arase is a Florida State University doctoral student studying in the Department of Philosophy, part of the College of Arts and Sciences. She currently researches moral psychology, philosophical psychology and practical identity, each of which involves the study of human functioning and identity in moral and psychological contexts. In addition to the philosophical literature, Arase examines first-person accounts of bipolar disorder and mania, and her dissertation explores issues that people with bipolar disorder may have with the self and identity.
What year are you in school, and when do you expect to graduate?
I joined the FSU philosophy doctoral program in 2019 and expect to graduate in the spring of 2025.
Tell us a little about your background, where you're from, and what made you choose FSU.
I grew up in Claremont, California. I finished one year of college in Portland, Oregon, at Lewis & Clarke College and spent my remaining undergraduate years in Honolulu, Hawaii, at the University of Hawaii. I earned my master's degree in Montreal, Quebec, at Concordia University. I chose to attend FSU for my doctoral degree to further my research because it has a strong philosophy department.
What inspired you to pursue your degree in philosophy? Did you always want to pursue this field?
Growing up, I never knew exactly what I wanted to do. I decided to major in what I enjoyed: French and philosophy. I liked and had an aptitude for philosophy, so by the time I earned my bachelor's degree, I was considering a career in academia. Accordingly, I decided to pursue a master's in philosophy that has led to my pursuit of a doctoral degree.
Tell us about your research. Have there been any formative experiences during your time as a graduate student?
Unlike some who enter their doctoral program knowing their research project, I did not. During my second semester at FSU, I encountered a project of particular interest to me, but I did not think it could become a full research project. For the next few years, I considered various topics but ultimately returned to the original project of interest.
It has been observed that people with bipolar 1 disorder struggle with their sense of self and identity, leading others to say things such as "they are not themselves right now," when referring to someone experiencing a manic episode. Additionally, when we hear someone committed a morally relevant action, being an action that can be said to be correct or incorrect morally, during a manic episode, it is intuitive that the mania alters their moral responsibility for that action in some way. My dissertation questions include inquiries such as 'Is it the case that someone really changes in a deep sense when they are manic?' and 'If so, does this have implications for their responsibility for their manic actions?' I plan to answer both questions by appealing to the philosophical literature on identity, psychological literature and first-person accounts of mania.
How has your role as a student researcher helped prepare you for academic and professional success?
As a graduate student in philosophy, I am constantly honing skills for my future as a researcher and professor. Traditionally, these skills are reading closely, understanding various viewpoints, and writing original works that contribute to existing discourses and teaching.
Where do you anticipate your research will lead you in your career?
While the job market for philosophy professors is particularly saturated, my goal is still to become a professor and continue researching issues on identity and its relation to mental illness and responsibility, amongst my other interests.
What do you like to do when you're not doing schoolwork or research?
I like to play tabletop games with friends, hang out with my partner and cats, and collect vintage jewelry.
What are your career goals, and what do you want the public to know about your research?
I would like to emphasize that philosophy can, and does, have practical application. My hope is that in addition to contributing to philosophical literature, my philosophical treatment of these issues can supplement psychological research and potentially point it in fruitful directions.
Who are the faculty or staff members that have helped or inspired you?
Mark LeBar and Andrea Westlund, both professors in FSU's Department of Philosophy have been of great help. LeBar was my adviser for my special area exam, something roughly equivalent to other disciplines' qualifying exams, for my doctoral degree. I also worked with him for two years as the editorial assistant on the Social Theory and Practice academic journal, of which he is a chief editor. Westlund is my current adviser and the adviser for our department's Minorities and Philosophy Chapter, which I served as vice president in 2019-20 and president in 2020-21. I am grateful for her supervision as she is supportive, responsive and helpful.
Although you might miss FSU, what are you most looking forward to after you earn your Ph.D.?
I look forward to relocating again! Moving to a new place gives me a sense of starting anew, which is a very good feeling for me personally.