Student Spotlight: Roderick Meyer
---
Student Spotlight: Roderick Meyer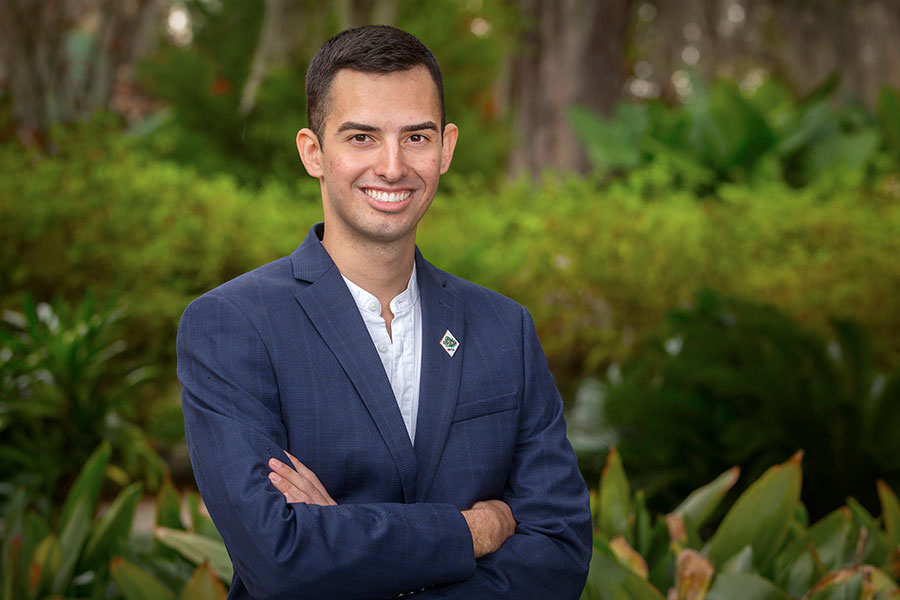 Roderick Meyer is pursuing a bachelor's degree in the Department of Biological Sciences, part of the College of Arts and Sciences. In addition to his studies, Meyer served as team lead for Florida State University's International Genetically Engineered Machine (iGEM) team, the premier international competition for synthetic biology, a multidisciplinary area of research that seeks to create new biological parts, devices and systems or to redesign systems already found in nature. Meyer was part of the team whose research on citrus greening helped it become the first gold-medal winner from the state of Florida.
Where are you from, and what year in school are you? When is your expected graduation date?
I'm originally from Caracas, Venezuela, and I moved to Fleming Island, Fla., in elementary school. I'm a senior expecting to graduate in Spring 2020.
What brought you to FSU?
My initial career plans of attending law school brought me to FSU, but those changed after I committed. However, I've loved every second here, so FSU was definitely the right choice for me.
What inspired you to choose your major and your specific area of research?
I was inspired by my high school teacher's love of biology. Through her, I realized that sometimes it takes someone else's passion for a subject to ignite your own. I'm still so humbled that I get to study something so fascinating.
My area of research came about through iGEM. As a team, we chose a problem, need, or curiosity that we deemed important in our local community. The effects of citrus greening have been evident in the state for many years and after some preliminary research, we discovered that citrus production has dropped to less than a third of what it was 20 years ago, and loss estimates per year are between $450 and $500 million for the past 15 years. Like many other researchers, we see citrus as a state symbol and as part of our culture, so we wanted to contribute to this important cause. We developed antimicrobial peptide cocktails capable of disrupting microbial processes of model species in an attempt to eliminate the bacteria in infected citrus trees.
What aspect of your area of study do you find most fascinating?
I find it incredibly fascinating that almost everything we see is related to biology in some way. It's a beautifully diverse planet that we live on, and we have the opportunity to observe this diversity up close. To me, biology is the study of the astonishing power of life. Did you know we're close to one of North America's biodiversity hotspots? These are regions with species unique only to that one area. Our hotspot starts a few miles west of Tallahassee and stretches just short of Pensacola. Some of the endemic species found in our hotspot are hundreds of species of wild pitcher plants, carnivorous plants that fill with water and harbor communities of microorganisms inside them … how cool!
It's amazing that we are able to modify certain organisms in order to redesign what they're able to do. This opens a new realm of possibilities as to what we can do with synthetic biology. We're on the cusp of being able to re-think almost every biological process, and I find it fascinating. As Willard Gaylin, Ph.D., a pioneer bioethicist, once said, "I not only think we will tamper with Mother Nature, I think Mother wants us to."
You served as the team lead for iGEM's 2019 season. What was that experience like, and how did your passion for biology assist you?
Serving as team lead was a rewarding experience. The team is multidisciplinary, so we had members from many different majors including criminology, mechanical engineering, marketing, computer science and more. Working on a multidisciplinary team exposes you to the different ways people think, and when you come together in harmony, there's magic that comes from the work you do. Not only did the team encompass diverse minds but also a diverse age range including three seniors, two juniors, two sophomores and two freshmen. The challenge wasn't just communicating the science efficiently to non-science students but also to science students who haven't yet received the same exposure as others; while some were in the early chapters of Biological Science II, others were weeks away from receiving their degree. My passion for biology definitely helped when discussing our project inside and outside the team. Our research is something I never get tired of talking about.
Are there any faculty or staff that have helped or inspired you?
Dave Montez at the Center for Undergraduate Research and Academic Engagement (CRE) has played such a guiding role for me. Also, my principal investigator, Cesar Rodriguez at the College of Medicine, was instrumental in providing my team with his lab and resources while supervising our research.
What on-campus resources/departments or offices have helped prepare you for academic success?
The CRE has played an important role in my academic success. They provided me the opportunity to present our research at the President's Showcase in October and offered one of their largest grants for our research, a $6,000 IDEA grant.
What do you like to do when you're not doing schoolwork or research?
I like to spend my free time at the cardiovascular Intensive Care Unit at Tallahassee Memorial HealthCare volunteering and at the University of Florida's Institute of Food and Agricultural Sciences Extension in Quincy helping graduate students with their research. If it's an easy week, I can finish a whole series on Netflix or read as many books as I can get my hands on. On the weekends, I love hiking at different places around Tallahassee with my friends. My favorite activity is zip-lining at the Tallahassee Museum.
After graduating, what are your plans? Although you might miss FSU, what are you looking forward to in your post-graduate life?
After graduating, I will take some gap years while studying for the MCAT and applying to medical schools. During that time, I will continue my research in hopes that one day, we're able to provide a commercially available product to citrus growers in the fight against greening.
What advice do you have for fellow students?
Don't stress over little mistakes. It's disheartening the amount of times I've seen friends get so upset over a failed exam or missed opportunity. The key is to always have internal positive energy despite everything happening externally. I like to believe that the more time you spend manifesting peace and positivity within yourself, the more peaceful and positive your life will be. But still study for that exam!