Student Spotlight: Marshall Thompson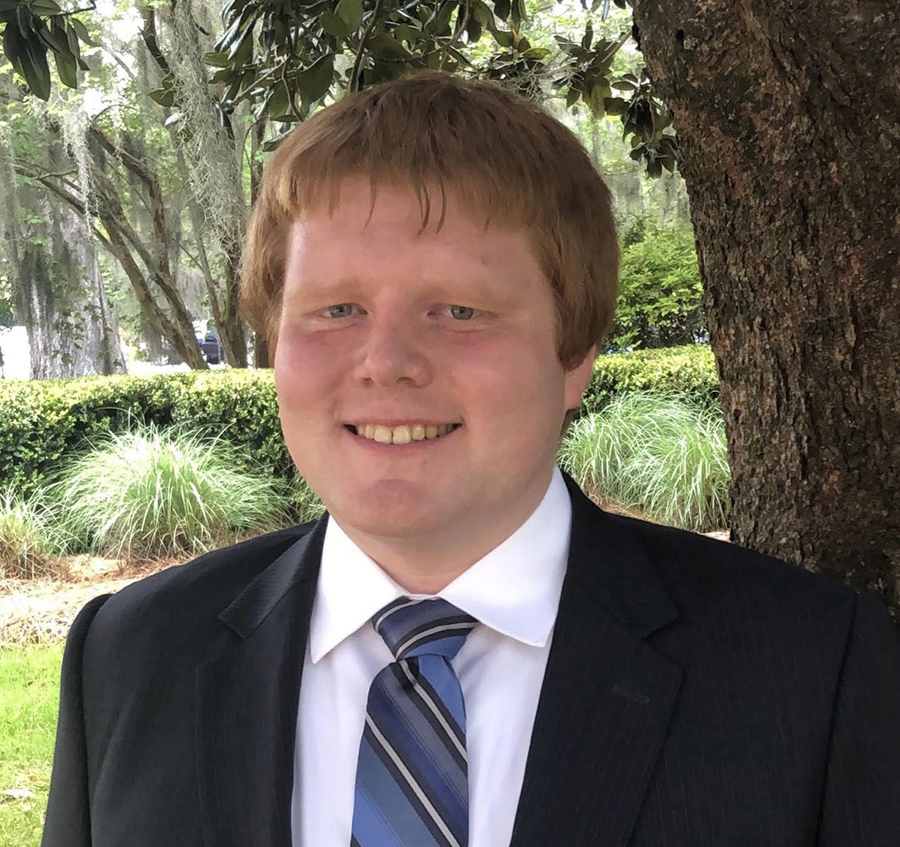 Marshall Thompson is a Ph.D. candidate in the Florida State University Department of Philosophy, part of the College of Arts and Sciences. Thompson's essay on the value of virtues in heaven, "And All Shall Be Changed: Virtue in the New Creation," was selected for the 2019 Marc Sanders Prize in Philosophy of Religion.
Where are you from, and what year in school are you? What is your anticipated graduation date for your Ph.D.?
I'm never sure how to answer the 'where are you from?' question. My dad works for the U.S. Foreign Service, so we moved every couple of years during my childhood. I grew up in Bangladesh, Paraguay, Sri Lanka and Maryland. I did my undergrad in Illinois, my parents currently live in Malaysia, and I've spent a good amount of time in India as well. I'm in my fifth year at FSU and anticipate graduating in Spring of 2021.
What brought you to FSU?
I applied to FSU because of the faculty excellence in action theory, a branch of philosophy I've been interested in since high school. After I got my M.A, I stayed because I believed I could write a better dissertation here with my adviser, John Schwenkler, than anywhere else.
What inspired you to choose your major and specific areas of research? What aspect of philosophy do you find most fascinating?
I became interested in philosophy in high school. I was extremely active in high school debate and found that I won more when I made philosophically sophisticated arguments. I started reading more philosophy, and I got better at debate. This meant I was debating more notable opponents, which made me realize I needed to get even better at debate. So, I read even more philosophy. The cycle terminated when I realized I was reading philosophy for its own sake and not primarily to improve my debate performance.
I started focusing on the intersection of ethics and nature of persons during my sophomore year when I took a "Nature of Persons" course with my then-adviser Mark Talbot. Dr. Talbot was, and has remained, the biggest influence on how I approach philosophy. We began conversations in that class which we have continued into the present.
I love how difficult the field is to divide into components. The question of 'how should I live my life?' cannot be answered without simultaneously considering just about every other philosophical question. What I should do depends on what I know and who I am. It depends on what reality is like (e.g., does God exist?), and how I can affect that reality. That interconnectedness and complexity is part of what I love, as well as the ancient thought that the study of philosophy should have something to do with learning to live a good life. I'm fascinated by the thought that we might be the sort of creatures for which learning to think well is indivisible from learning how to live.
Your essay on virtue ethics in heaven won the 2019 Marc Sanders Prize in Philosophy of Religion. What did that mean to you at the time?
It was extremely gratifying to win the award. I've looked up to scholars like Dean Zimmerman since early on in undergrad, so receiving an email from him telling me I won the award, that he personally liked my paper, and giving me individualized advice on how to improve the paper was incredible. This is the first piece I've tried to publish, so it was encouraging to be told by other philosophers that they thought my ideas were interesting and constituted serious scholarship.
Are there any faculty/staff that have helped or inspired you?
Most members of the philosophy department have helped me in some fashion! The greatest help I received comes from my adviser, John Schwenkler, who does an excellent job providing accountability to get things written. Professor emeritus David McNaughton has also been a huge inspiration and encouragement. He was wonderful in encouraging me to do philosophy I think is interesting and important, not just philosophy that displays technical expertise.
Lastly, I have been helped in huge ways by our office administrator Karen Foulke and program associate Drew Watson.
What do you like to do when you're not working on schoolwork or research?
Much of my free time is spent coaching high school debate. My first coaching experience was the summer after I graduated high school, and I've taught every summer since, save one. I help run camps with sessions in Philadelphia and Los Angeles. I'm the Director of Instructional Design & Curriculum at these camps, spending some time teaching and a lot of time supervising other instructors. Most of my debate work is curriculum design for the coming summer, but I also do online coaching for students interested in philosophy. Over the last year, I've developed a new, free, online debate curriculum to help high schools start or support growing debate teams.
Although you might miss FSU, what are you looking forward to in your post-graduate life?
My goal is to teach at the college level. I hope to share with my students the importance of ideals such as rising to the radical demands of goodness and justice rather than spending a lifetime doing the minimum of what others expected. Plato reports Socrates saying, "I am one of those who are very willing to be refuted if I say anything which is not true, and very willing to refute anyone else who says what is not true, and quite as ready to be refuted as to refute." This image of unflinching self-examination— of someone solely concerned with the truth rather than with showing how one is correct— is the captivating ideal of philosophy. It's the pursuit of that ideal that I hope to share.
What advice do you have for fellow students?
Gather a group of friends who are willing to edit draft after draft of your work and hold you accountable for writing draft after draft. Then, reciprocate the favor.