Student Spotlight: Lorea Arambarri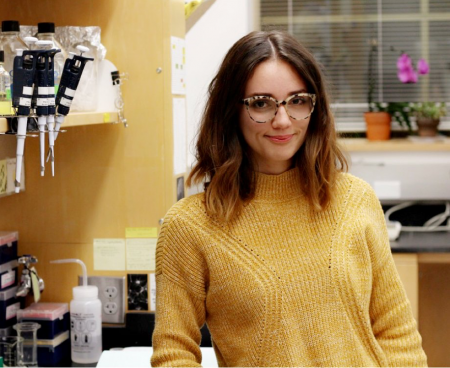 Lorea Arambarri is a doctoral candidate in biological neuroscience in the Department of Biological Science, part of the College of Arts and Sciences. Arambarri worked in the Dennis Lab, the Florida State University-Tallahassee Memorial Hospital Rapid Response Laboratory that is part of FSU's COVID response, from June to December 2020 to help set up the lab. She earned a bachelor's in biology with minors in chemistry and French from FSU in Spring 2016 and started her graduate work the following fall. Arambarri has taught six different courses as an FSU teaching assistant and was nominated for the Outstanding Teaching Assistant Award in 2019-20.
Where are you from? When is your expected graduation date? What brought you to FSU and inspired you to stay here for grad school?
I was born in Puerto Rico and raised in Miami, Fla. I plan on graduating within the next three years. Florida State was the last school I visited in my college search, and the campus and academic opportunities were captivating. I started at FSU as a pre-med biology major. Because I wanted to understand how scientific advancements contribute to the medical field, I joined a research lab and led a research project during my undergrad. I wanted to pursue research beyond undergrad, so I stayed for graduate school.
What inspired you to choose your specific area of research?
I love studying biology and DNA. Genetic biology and molecular biology were the academic courses that propelled me into my current research. I enjoyed those classes and found it amazing that our DNA's bases of adenine, cytosine, thymine, and guanine can create complex and different cells. Every living thing shares a fundamental commonality – our DNA building blocks!
What aspect of your research do you find most fascinating?
I find the range of DNA's capabilities within a single organism most fascinating. It amazes me that DNA's four building blocks can build complex organisms. Everyone is made of 30 trillion cells, and every cell has the same DNA blueprints. Luckily, there are proteins within your cells that dictate which pieces of the DNA blueprints will be used in cell production. The cells that make up your toes and the cells that make up your eyeballs have the same DNA blueprint, but because of these proteins, there are no eyeballs growing on your toes.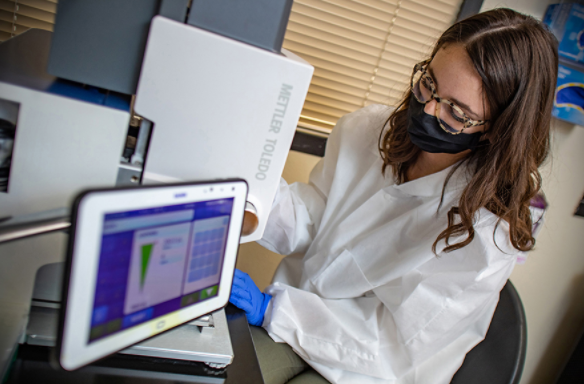 You worked in the Dennis Lab studying DNA-binding proteins. What is that experience like, and how does your passion for biology assist you? Do you plan to further your work post-grad?
Working in the Dennis lab has been a privilege. It has allowed me to collaborate with multiple laboratories at FSU and other universities and help establish the FSU-TMH Rapid Response Laboratory. This work has its ups and downs, but my innate desire to understand biology has motivated me to keep going. In the future, I plan to continue my work on DNA by pursuing a postdoctoral position at a research institution. I aspire to run a research lab.
Who are the faculty or staff members that have helped or inspired you?
I am grateful to Mark Kearley, Honors lecturer in the Department of Chemistry and Biochemistry, for helping me establish a foundation in biochemistry during my undergraduate career by maintaining a contagious passion for his field. When I visit his office, he shows enthusiasm and interest for my current research. Jonathan Dennis, associate professor in the Department of Biological Science and director of the Dennis Lab, is a supportive and enthusiastic mentor who has taught me about the kind of scientist I want to be.
How has your role as a teaching assistant helped prepare you for academic and professional success?
I enjoy teaching. As a teaching assistant, I have learned to communicate complex topics to a large audience, which is a crucial skill for professionals in STEM fields. Teaching is therapeutic, as I can provide a fun and supportive environment to mold future scientists within the otherwise challenging field of biology. When students conduct an experiment and it fails, I remind them they are learning about biology and mistakes are great teachers. As researchers, we must learn to be resilient to deal with unexpected challenges and outcomes. Moments like these, remind me also to extend kindness to myself.
You are fluent in English, Spanish and French. What inspired you to pursue these languages, and how has your trilingualism impacted your extracurricular and academic interests?
I am trilingual because my family is multicultural. On my father's side, we are Basque from Spain, and on my mother's side, my grandfather is Puerto Rican and my grandmother is French. I'm fluent in English, Spanish, French and some Basque because we speak these languages at home. Many people in Miami also speak Spanish. Because my Spanish and French were learned orally, I struggled writing in different languages, so I took classes at FSU and minored in French. Spanish and French, as well as medical and scientific terms, are based in Latin, so these languages made it easy to learn medical vocabulary and move into learning larger concepts.
What do you like to do when you're not doing schoolwork or research?
I volunteer with It's Meow or Never, a nonprofit group focused on reducing cat overpopulation in Tallahassee through the practice of Trap-Neuter-Return. I've worked with this group to reduce euthanasia rates at overpopulated adoption shelters and help feral cats live healthier lives. I also have fostered kittens and maintain over 40 house plants in my apartment.
After graduating, what are your plans? Although you might miss FSU, what are you looking forward to in your post-graduate life?
I'm eager to pursue a postdoctoral position at a research institution and eventually run my own lab. The most exciting part of post-graduate life is knowing I am one step closer to achieving my research dreams. What advice do you have for fellow students? There are lots of ups and downs in science. You must be resilient, persistent, and recognize you are capable. Treating yourself with the kindness you would extend to a friend is a beautiful way to nurture yourself through the rough patches. Finding ways to cope will allow you to enjoy the days you feel immense passion for your work.