Student Spotlight: Laylah Roberts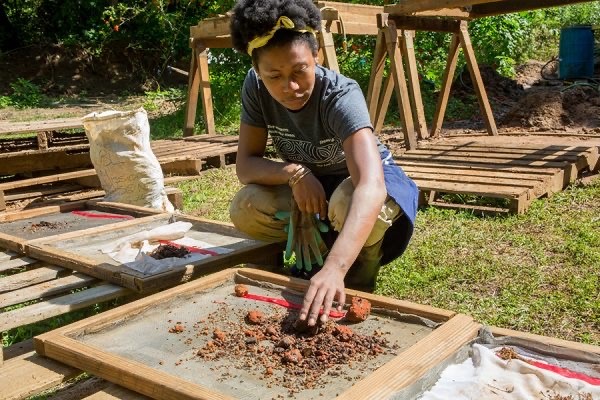 Laylah Roberts, who was born in Atlanta but has lived in Tallahassee for several years, is a senior in the Florida State University Department of Anthropology, part of the College of Arts and Sciences. She is analyzing 17th-century beads found during an archaeological dig in 2018 at Mission San Luis as part of her honors thesis and will present her findings at the Society of Historical Archaeology's annual conference in January.
Why did you choose to study archaeology over the other subfields of anthropology?
I grew up learning about archaeology. As a child, I loved watching the documentaries my mom would put on and my dad often bought me books relating to history and archeology around the world. When I arrived at FSU, I thought I was going to study cultural anthropology, but after taking an introductory archeology course, I knew that was the field for me. It reminded me of my childhood, only this time I wasn't learning about it from a book or a screen — it was right in front of me!
Studying archeology has allowed me to see so many things that I might have otherwise never seen, or only seen in a book or museum. Other subfields of anthropology have their own strengths as well, and while I find them all incredibly interesting, archaeology appeals to my inner nerd. Plus, I get to dig through the dirt!
We are lucky to have such a culturally and historically rich archaeological site right here in Tallahassee. Can you describe your experience working at Mission San Luis? Did you have any expectations of what you might find when you started the dig?
Mission San Luis is an incredible site. It currently operates as a living history museum, so while we were excavating, tour groups occasionally stopped to watch what we were doing. Even the museum staff would sometimes come by to observe us and talk. Engaging with the public was as fun for us as it was informative for them — it was a great way to involve the community in our work.
Before the dig, we took a class to prepare us for the context and conditions in which we would excavate. We learned about the artifacts and history of the site, but actually being there, standing in the unit you excavated, is a completely different experience. So, I had an idea as to what to expect, especially concerning the rules one has to follow while excavating, but physically being there and putting everything I learned in class to practice was somewhat different.
You're currently conducting an analysis of 17th-century glass beads excavated from the site. Can you tell us what makes these beads so interesting?
My honor's thesis will focus on two things: a general classification and the chemical composition of the beads from the spring 2018 dig. In terms of classification, I will discuss the physical aspects of the beads, such as their size, color and shape. After sorting them, my next focus will be on assessing their chemical composition, which may be able to tell us where these beads were being made. This means that we may be able to trace a batch of beads to a particular workshop in 17th-century Venice, Italy, based on the existing information in our database. These results may suggest significant elements of the social context of Mission San Luis during the time period of occupancy. And, while I'm graduating in December, I hope to further my research in graduate school here at FSU.
Why did you decide to minor in art history? How has it helped with your anthropological studies?
I have always loved history, and archaeology has cultivated my love for cultural material. Art history has helped my anthropological studies, especially in the case of archaeology, in that it gives me another perspective to view things. There have been instances in which I find myself in an art history class discussing an artifact we examined in an archaeology class and while the perspectives can be different, there is often some overlap.
Associate professor of anthropology Tanya Peres led the archaeological dig in 2018 and is now a member of your defense committee for your honors thesis. Tell us about working with her, how does she inspire you?
Doctor Peres was the professor of the first archaeology class I took, so she played an instrumental role in my first in-depth experiences with archaeology. She supports me throughout my studies, encourages my academic and career growth and motivates me to move forward, even when I feel exhausted. She inspires me by showing me what someone in our field is capable of achieving.
What do you like to do when you're not working on your honors thesis or studying?
When I'm not studying or working on my thesis, I am either working at the Leroy Collins Leon County Public Library, reading a new novel, or I'm at home playing with my cats. My life is centered around school, but I hope that when I get the time, I can go on more hiking trips!
What are your plans after graduation?
After I graduate, I am going to graduate school to get my master's degree first and then my Ph.D. with a focus in historical archaeology. I think I would enjoy either researching or teaching after I finish graduate school.
What advice do you have for your fellow students or students interested in your field of study?
Anthropology is a vast field that allows you to tailor your areas of interest to cultivate a meaningful career.