Student Spotlight: Cecilia Bouaichi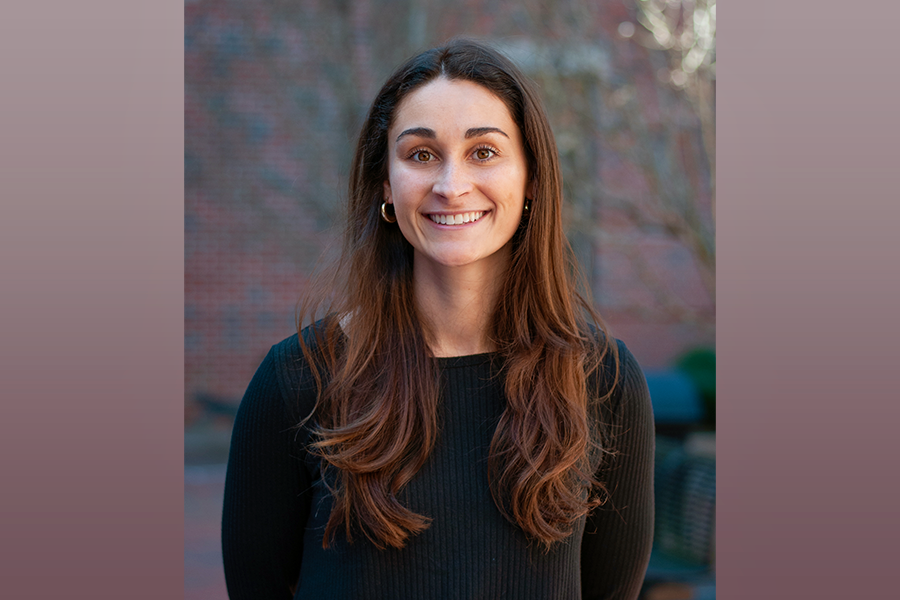 Cecilia Bouaichi is a fourth-year doctoral student pursuing a degree through the Program in Neuroscience, which is an interdisciplinary program with participation from Florida State University's Department of Biological Science and Department of Psychology, both part of the College of Arts and Sciences, as well as FSU's College of Medicine. In 2017, Bouaichi earned her bachelor's degree in biology from Miami University in Oxford, Ohio. After graduating, she worked for pharmaceutical giant Eli Lilly for a year as a biochemical assay biologist, or someone who detects, quantifies and or studies the binding or activity of a biological molecule, like an enzyme, before starting her doctoral track at FSU.
What year are you in school, and when do you expect to graduate?
I am in my fourth year of graduate school, and I am hoping to graduate in 2024 or earlier!
Tell us a little about your background, where you're from and what brought you to FSU.
I grew up in Indiana, and I earned my bachelor's degree in biology with a minor in Spanish from Miami University in Ohio. During my first two years of undergrad, I was on the pre-med track and keen on going to medical school. But, my interests changed after earning a summer research internship with Eli Lilly following my sophomore year. This internship was the first experience that I had in a real lab, and I knew after a few weeks that I wanted to pursue research. Rather than applying to medical schools, I started prepping for the GRE and meeting with my mentor to discuss graduate schools to apply to, one being FSU, and the rest is history.
What inspired you to pursue a degree in neuroscience?
When I applied to graduate school at FSU, I originally applied to the cellular and molecular biology program, but I transferred into the neuroscience program after my first year. I was relatively unsure about which type of lab I wanted to join, so I appreciated that this program has three mandatory, eight-week lab rotations prior to officially joining a lab. After rotating in assistant professor of biology Roberto Vincis' lab, I knew that this lab would be a great fit for me. I was also intrigued at the prospect of being the first graduate student in the lab, meaning I would have one-on-one training with the principal investigator rather than a senior graduate student or post-doctoral student in the lab.
What do you want the public to know about your research? Why are your topics important?
Our perception of foods and beverages is strongly influenced by more factors than just taste and smell. Specifically, tactile information and serving temperature are two aspects that shape the overall flavor during an eating experience. It has become common knowledge in the research community that temperature is relevant for taste preference; however, people rarely give thought to their choice of hot coffee vs. iced coffee. Gaining a better understanding of the neural correlates of sensory processing will give rise to a better understanding of eating behaviors and potentially eating disorders. Also, especially during this pandemic, where many who had COVID-19 lost their sense of taste and smell, these are two fields of research that are of great interest and importance to a number of funding institutions and the general public alike.
Tell us about your publication "Cortical processing of chemosensory and hedonic features of taste in active licking mice" featured in the Journal of Neurophysiology.
This publication was the culmination of the first project I worked on after becoming a member of Vincis' lab investigating cortical processing of various features of taste in mice models. We developed an experimental design allowing for the collection and analysis of taste responses in active licking mice (mice that are presently consuming a substance,) and we successfully recorded activity from a total of 283 neurons. Although there were neurons that portrayed a narrowly tuned phenotype (observable characteristics of an individual resulting from the interaction of its genotype with the environment), our data clearly showed that most neurons within the gustatory cortex (the area of the brain responsible for the sensation of taste) are broadly tuned, which means that they were responding to more than one taste stimulus.
We were also able to show that gustatory neurons can not only encode chemosensory information, but also encode hedonic features (satisfiers) of various taste stimuli, which had not been previously investigated in active licking mice. In addition, about half of the gustatory neurons we recorded elicited neural activity that was strikingly similar to the animal's licking pattern, so these neurons were deemed licking-coherent. That means these neurons were most likely processing motor and general tactile information, which shows the gustatory complex's ability to simultaneously process many different features of the taste experience.
What aspect of your areas of study do you find most rewarding?
Using your brain to study the brain is pretty incredible! The ability to relate to my research and describe what I am studying to the public is something I have had to practice, but now very much enjoy. I have developed a strong appreciation for chemosensory research and look forward to attending meetings and outreach events where I can further make an impact in the research community.
What on-campus resources have helped you achieve success?
One of the most valuable resources around me is my peers. The Neuroscience Graduate Student Association has allowed me to make wonderful connections with other graduate students and faculty. Through these connections, I have been able to ask for help with research and coursework. Also, the instrument/ machine shop in the psychology building has been very helpful in creating a new device for our experiments.
Are there any faculty or staff who have helped or inspired you?
My adviser, Dr. Vincis, is without a doubt the faculty member that has inspired and encouraged me the most. Vincis gave me the opportunity to prove myself despite me being upfront about having no prior experience with neuroscience labs utilizing such advanced electrophysiological techniques and working with animals. Being the first graduate student in his lab, I am grateful for the invaluable mentorship I received.
Additionally, all of the faculty that comprise my graduate committee — distinguished research professor of clinical psychology Pamela Keel, associate professor of biology Emily Lemmon, distinguished research professor of neuroscience Alan Spector, and assistant professor of biology Douglas Storace — have given me constructive feedback that has aided in my experimental design, presentation abilities, and overall confidence in the lab.
Following your graduation, what are your plans? Even though you might miss FSU, what are you looking forward to once you graduate?
I hope to either continue in this field of research in academia or become employed at a major pharmaceutical company. The techniques that I have learned in my three-and-a-half years here at FSU, along with the work ethic that I have developed, are pushing me to become a great candidate for either career path, and I am eager to continue learning and growing during my time in this program.