Student Spotlight: Camille Adams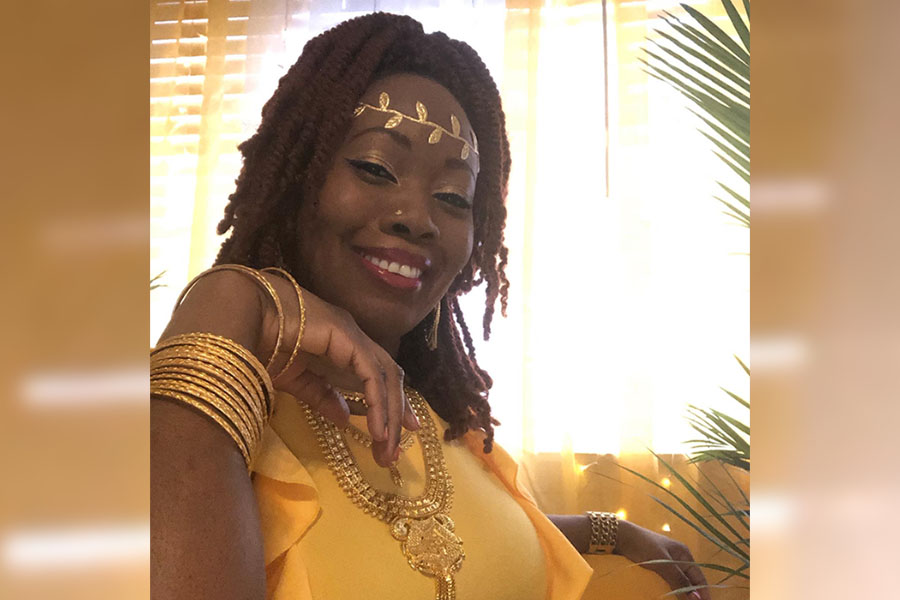 Camille Adams is a creative writing doctoral candidate in the Department of English, part of Florida State University's College of Arts and Sciences. She currently researches and writes about toxic familial and cultural behaviors that are often overlooked in Caribbean societies. Adams specializes in non-fiction creative writing and hopes to shine a light on uncomfortable truths and force readers to analyze their role in dysfunctional systems. She is a recipient of the 2020 McKnight Doctoral Fellowship and the 2021 Erica Ellner Memorial Scholarship, and she received a nomination for the outstanding teaching assistant award in the 2020-21 academic year.
Where are you from and what is your anticipated graduation date?
I am originally from the beautiful country of Trinidad and Tobago. Trinidad is where I was born and grew up. After completing my secondary and pre-university work in Trinidad, I immigrated to New York City. Having lived in Brooklyn while working on my bachelor's and Master of Fine Arts degrees and teaching at the City University of New York, NYC is a second home to me. My anticipated graduation date is Spring 2023.
What brought you to FSU?
My research brought me to FSU. I found that FSU has a dedication to innovation and one of the highest-ranking creative writing programs in the United States. Additionally, the program offers creative writing as its own concentration, whereas several other universities require a dual focus in literature. I thought it necessary to be mentored by faculty who felt similarly in focusing on creative work singularly. Additionally, this program's faculty is composed of writers whose art is widely recognized and respected, and their mentees also go on to make names for themselves in the publishing industry. FSU struck me as the right place to be. The lure of warm weather after years of cold winters also played a role. Additionally, being surrounded by nature reminds me of home.
What inspires your writing?
My writing is grounded in Caribbean culture — Trinidad and Tobago and the Caribbean diaspora. We have a rich history that produces wondrous societal complexity and artistry. My prose and poetry are grounded in our linguistic and musical rhythms. The contents of my writing tackles and challenges our belief systems, social stratifications, behavioral patterns, and defense mechanisms that keep us from probing more deeply to making changes that are necessary.
Tell us about your work. Why are your topics important and what do you want people to know about your writing?
I'm a memoirist - my primary interest lies in parsing family dynamics and illustrating that which is toxic within that principal societal institution that both evinces and creates the cultural norms of a region. Included among the topics I explore are colonialism, religion, gender roles, trauma, economic and class divisions, personality disorders, education and deracination. These are important because silence further enables abuse of power. Truths need to be recognized and named openly for there to be change and accountability in Caribbean culture.
You're a recent McKnight Fellowship awardee; can you tell us about that experience? How did you come to receive this award, and what does that mean for your career as a writer?
The McKnight Fellowship is awarded to Black and Hispanic doctoral students to increase our enrollment in doctoral programs and address the historical exclusion of this population among faculty in colleges and universities in Florida. I'm thankful for the community this fellowship provides. I find it helpful to be among those with similar experiences and perspectives and to witness the triumphs of those completing their doctoral journeys. I must strongly credit and thank assistant dean and director of the Office of Graduate Fellowships and Awards, Adrienne Stephenson, who is an amazing advocate and played a pivotal role in my receiving this fellowship. At the McKnight jacketing ceremony, we get to hear the stories of fellows who've overcome this path's trials and are celebrating their victory. Listening to these moving narratives makes me cry and is encouraging to me. The financial support McKnight offers facilitates greater ease and has funded my participation in external workshops that allows for my development. Being a part of the McKnight community also means that I network with people who can open important doors for me, for which I am grateful.
How has COVID-19 impacted your work and research?
COVID-19 has put a frustrating damper on my travel and made me restless. Writing is also a solitary pursuit and being stationary helps me to constructively channel energy. However, there is some in-person research I must do, so hopefully this pandemic ends soon.
Are there any faculty or staff who have helped and inspired you?
Professor Elizabeth Stuckey-French is my major professor and adviser. She has helped me greatly by being encouraging, warm, open and easy to talk to. Elizabeth understands my work and offers insightful feedback on my essays and academic path. I'm also grateful for all the help, kindness and sweetness Janet Atwater, former graduate program coordinator in English, showed me from my very first day visiting FSU. She recently passed and I miss her greatly. Ms. Janet was positive, knowledgeable, devoted and a beautiful person whose contributions cannot be overstated. I'm also grateful for the support of my committee members, assistant professor Ravi Howard and professor Jerrilyn McGregory.
Following the completion of your doctoral program, what are your plans? What are you looking forward to most after graduation?
I'm superstitious, so I won't say my plans until they have materialized, but I intend to stay in academia. I enjoy teaching immigrant, BIPOC, and first-generation students whose commitment and drive energizes the classroom. The intrinsic motivation and lived experiences of these students expands the classroom discourse, inspires me, and deepens the pleasure I have in teaching. I'm most looking forward to taking an extended work-free long holiday on different beaches.
What advice do you have for fellow students? What advice do you have for undergrads?
Trust what you know. You are an emerging expert in your field. Allow your work to be guided by your obsessions while being open to the directions they take you. To undergrads, be receptive. Being an undergraduate presents a fantastic opportunity to learn and to have your mind and character developed by a vast wealth of knowledge that may be otherwise inaccessible. Attend class with openness to your professors, research deeply and comprehensively, eschew superficial "answers," enroll in lectures that open your world beyond your major, build relationships with people outside your track and grow.