Student Spotlight: Bobbie Renfro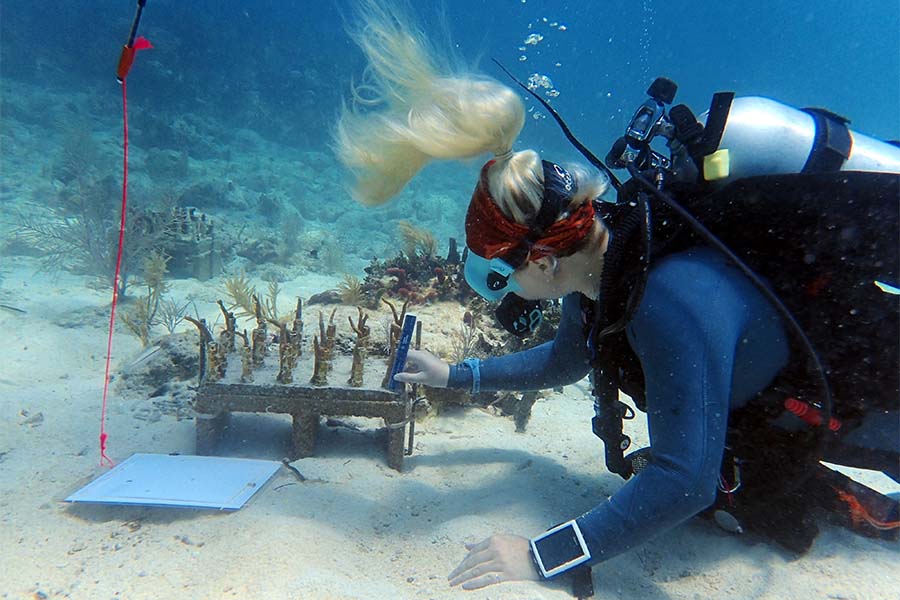 Bobbie Renfro is a doctoral candidate in the Department of Biological Science, part of Florida State University's College of Arts and Sciences. She was awarded the American Academy of Underwater Sciences Foundation scholarship, which facilitates development of safe and productive scientific divers. Her research interests currently consist of exploring the effects of nutrient enrichment on Caribbean reef sponges.
Where are you from and what is your anticipated graduation date?
Originally, I am from Austin, Texas, and I anticipate graduating in Spring 2024.
What brought you to FSU and why did you choose your doctoral program?
I had a long and winding road to FSU and my doctoral program. I discovered coral reef research as a possible career path during my undergraduate education at the University of Texas at Austin by serendipity. I had been on a pre-med track with plans to become a surgeon. To fill my last taxonomy credit, I took a month-long, study-abroad marine botany course in Mexico. That month changed my life. Kenneth Dunton, professor of marine science, saw my newfound passion for the coral reef ecosystem and asked if I wanted to take a gap year before medical school. While working with him, I discovered every day doing marine science was an exciting one. I decided to complete a master's degree in coral reef ecology at Auburn University.
Afterwards, I taught as a marine scientist for the program Sea|mester aboard the 89-foot schooner S/Y Ocean Star sailing the Caribbean! I loved teaching college students aboard the ship, but I also missed research. I came back for my Ph.D. so that I could combine my love of research, teaching, and outreach into a future career as a professor. Florida State University was my top choice for two reasons. First, the Department of Biological Science is famous for its reformation of how ecological research is conducted. Many great minds have come from and are still working here, and I'd receive a rigorous education. Second, the research interests of current professors align with my own. Specifically, Janie Wulff, Ph.D., associate professor of biological science, is a world-renowned marine sponge scientist. She has mentored me in how to study these creatures.
During your time at Auburn University, you were able to study coral reef fish in Mexico with Nanette Chadwick, can you tell me about that experience?
I had an incredible time in my master's degree program! I spent three months living in Akumal, Mexico at Centro Ecológico Akumal. I had formed strong connections with the staff at the ecological center while there during my undergraduate study abroad program. For those three months, I lived in a cramped dorm room with nine other scientists from all over the world, all studying the reef together. I formed life-long friendships with people from across the globe, while researching how divers affect the foraging behavior of herbivorous reef fish.
Which, if any, faculty members have helped you during your time at FSU?
Too many to name! I work with FSU faculty both in the Department of Biological Science and in the Department of Earth, Ocean and Atmospheric Science. In both departments, the faculty have an open-door policy and go out of their way to ensure graduate students feel supported. While I am a member of the Wulff Lab, I also conduct water sample analysis in the Knapp Lab with great support from Angela Knapp, Ph.D., associate professor of oceanography and environmental science, and all of her graduate students. My adviser, Dr. Wulff, and my committee constantly support and push me to achieve my highest possible level of research and professional success. Thinking about all of my interactions with our faculty, my most cherished moments are those when Dr. Wulff and I get the chance to do field work together in Belize and Panama. We spend all day working underwater and at night sit together going through our underwater photos and data from the day with the sounds of crashing waves or tropical animals around us.
What first interested you about the research you've been conducting? Why is it important?
I first became really interested in the effects that humans can have on ecosystems during a disturbance ecology course at Auburn University. Sharon Hermann, Ph.D., professor of conservation biology, taught us how ecosystems respond to natural disturbances. This, combined with my already established excitement for coral reefs, led me to ask several research questions about how humans may disturb reef ecosystems. My current research looks at how the beautiful sponges of the reef are affected by nutrient enrichment from sewage and fertilizer runoff.
You were awarded the AAUS Foundation Scholarship. How did you come to receive it? How has it helped you?
I was honored to be awarded the AAUS Foundation Scholarship to support an experiment I successfully completed using scientific diving in Summer 2021. I reciprocally transplanted reef sponges between areas of high and low nutrient enrichment in the Florida Keys to determine how the nutrients in the water over the reef affected the growth and survival of several sponge species.
You've published two papers concerning recreational snorkeling and tourism's effect on coral reefs. What effect is this having on our reef systems?
Tourism is often hailed as the environmentally friendly solution to using coral reef resources for economic gain. Snorkeling and diving tourism are often less damaging to the coral reef than many extractive practices, like harvesting coral rock for building materials. However, tourism can have negative environmental effects if improperly managed. My goal is to study the effects of tourism and other human influences on reefs so that we can sustainably manage our use of these ecosystems.
What are some of your goals, professional or otherwise?
A personal goal of mine is to experience as much of the world as possible. Hopefully, I can try the foods, see the art, explore the nature, and bond with the people of every corner of this planet. That's probably a bit of an unattainable life goal, but I think it's better to strive for big dreams and fail, than not try at all!
What do you like to do in your free time?
As if I don't do this enough for work, I also scuba dive in my free time. This is one of the reasons I feel so lucky to be a marine biologist — I get paid to do a sport that I would do for fun anyway. Cooking is probably my other really major hobby; it's a blast to try to tackle new recipes. My latest challenge is to learn to cook Moroccan food and other recipes in my new Tajine, a clay dish!
What are your after-graduation plans and what do you hope to do with your degree?
After completing my doctoral degree at FSU, I plan to find a position as a university professor. Through a career in academia, I hope to inspire and guide new generations of biologists, engage members of the public in research and restoration projects, and improve sustainable management of the coral reef ecosystem that I love.