Seventh annual Sisson 5K to honor fallen FSU, ROTC alumnus slated for Feb. 29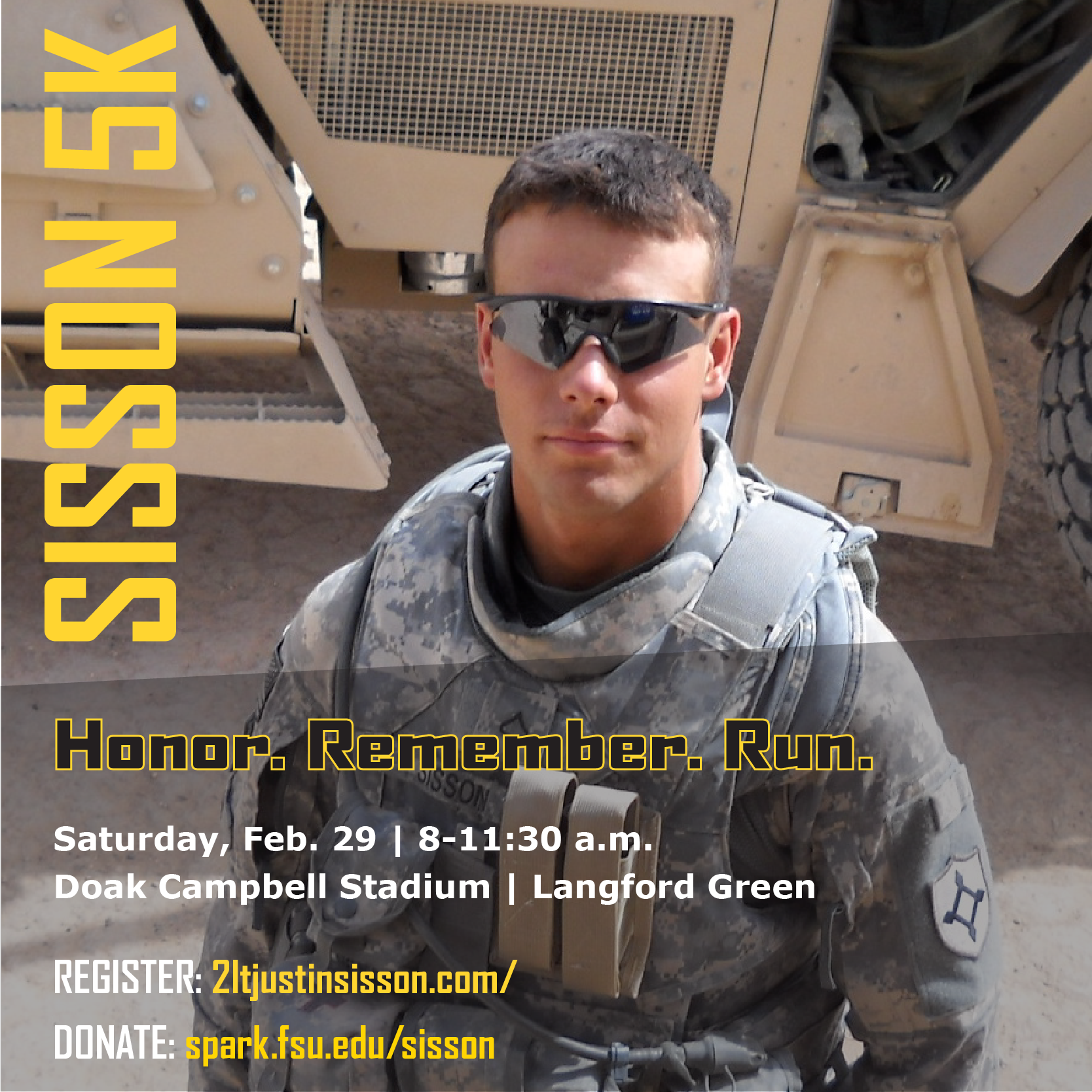 Friends, military members, veterans and more from Florida State University's extended family will gather on Langford Green Saturday to participate in what has become a spring-time ritual – the seventh annual 2nd Lt. Justin Sisson 5K Run/Walk for the Fallen.
Racers and organizers will commemorate and celebrate the life and legacy of Sisson, an FSU and FSU ROTC alumnus, who was killed in action in Afghanistan in June 2013. The 5K is a fundraiser for the Justin Sisson Outstanding Scholarship fund, which has provided more than 20 scholarships so far to deserving FSU ROTC cadets and student veterans who embody Sisson's courage, dedication and devotion to family and country.
"Though many of us were never fortunate enough to meet him in person, Justin's memory and legacy lives on within each of us as we look to his character as a guiding example of what it means to be an outstanding leader," said FSU ROTC alumnus and Army 2nd Lt. Paolo Bonventre, a 2016 recipient of the scholarship who now serves in the 101st Airborne Division.
Sisson received an ROTC scholarship to attend Florida State, turning down two separate appointments to the U.S. Military Academy at West Point to remain a member of FSU's Seminole Battalion. He joined the National Guard during his freshman year at FSU to get a better understanding of what the soldiers he'd eventually be leading needed in an officer. Between his sophomore and junior years, Sisson chose to deploy for a year to Mosul, Iraq, as a private, first class.
Upon returning to FSU in 2010, Sisson completed his education and earned the George C. Marshall Award as the top cadet in FSU ROTC. Following his 2012 graduation, he was commissioned as a second lieutenant in the Army and assigned to the 101st Airborne Division, based at Fort Campbell, Ky. Sisson deployed to Afghanistan in 2013 and was leading his platoon and providing security for Afghans when he was killed by a suicide bomber.
The Sisson family looks forward to seeing those he served with and those who knew Justin at the event every year and hearing their stories. "Justin's unit, the 101st Airborne, Able Company, has been deployed over the years, but the soldiers hold a run in his memory wherever they are," Kevin, Justin's father. "There are representatives of the 101st at the 5K every year. They never forget their fallen brother."
Despite all of his awards and accolades — Sisson was the only junior enlisted member of his company awarded a Bronze Star for exceptional service while stationed in Iraq — his mother, Phyllis, says he may be remembered most for a life dedicated in service to others — in and out of uniform. "
"I remember a young FSU student who mentioned she was too shy and intimidated walking into a classroom on her own," Phyllis said. "Justin realized this and for the rest of the semester, he would wait outside the building and make sure she had someone to walk in with. She said he made her feel safe.
"It also warms our hearts that so many who didn't know him come out to honor him and his sacrifice for us all. It eases the loss of living without him," she said.
The seventh annual Justin Sisson 5K kicks off at 8 a.m., and the 3.1-mile route begins and ends on FSU's Langford Green, on the south side of Doak Campbell Stadium, and the route takes runners along some of FSU's most picturesque locales. An FSU pep band will energize runners with fan-favorite tunes, and FSU President John Thrasher will be on hand for the opening ceremony, set to begin at 9 a.m., with the 2020 Justin Sisson Outstanding Cadet Scholarship presentation to follow. The race begins at 9:45 a.m., and attendees can enjoy complimentary post-race bites courtesy of Mission BBQ.
Runners, walkers, strollers and leashed pets are welcome. Early online registration via EventBrite is encouraged, but participants who wish to register the morning of the event may do so from 8-9 a.m.
Participants from all over the world come to Tallahassee for the Sisson 5K, but those who cannot make it to town on race day may participate through a virtual run. Virtual racers who register online will still get a t-shirt and are invited to tag pictures and videos of their run with #justinsisson5K.