FSU tapped No. 21 'Best Value College' by The Princeton Review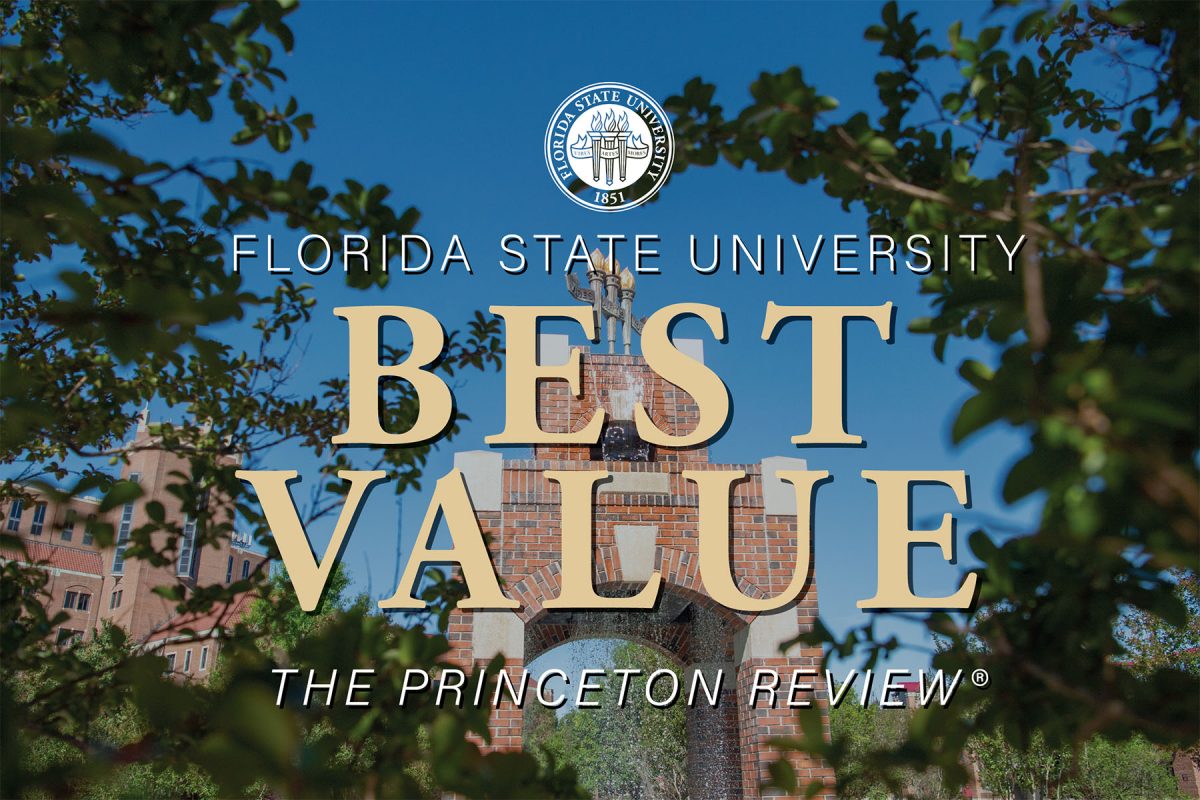 Florida State University is one of the nation's best colleges for students seeking a top-notch education with excellent career preparation and at an affordable price, according to The Princeton Review.  
FSU ranks No. 21 for "Best Value" among public schools in the education-services company's Best Value Colleges for 2023. 
"Students and their families know that Florida State University provides a world-class education at an affordable price," said Jim Clark, provost and executive vice president for Academic Affairs. "We are pleased to be recognized for our excellent return on investment and ensuring our students earn their degrees with little financial burden." 
The Princeton Review produced the 2023 list based on data from its surveys of administrators at more than 650 colleges in 2022-2023. Topics covered everything from academics, cost and financial aid to graduation rates and student debt.  
The company factored in data from its surveys of students attending the schools as well as data from PayScale.com's surveys of alumni of the schools about their starting and mid-career salaries and job satisfaction.   
The Princeton Review also included FSU in the Top 20 among public schools in four additional categories: No. 15 on Best Schools for Internships and Best Schools for Making an Impact and No. 16 on Best Schools for Financial Aid and Best Alumni Networks. 
"Florida State strives to excel in all aspects of the student experience, and these rankings reflect our commitment to giving students the opportunity to succeed throughout college and after graduation," Clark said. 
As evidenced by FSU's ranking on the Best Schools for Internships list, connecting students with opportunities for experiential learning is a critical part of the university's mission. FSU became the largest university in the nation to require experiential learning for undergraduates four years ago. The Career Center provides students with free individual career advising and counseling and offers programs like InternFSU and FSUshadow that help give hands-on experiences.  
"Internships are transformative opportunities for students to gain real-world skills, make valuable connections, and discover their true potential in their desired career field," said Leslie Mille, interim director of The Career Center. "The Career Center works continuously to expand relationships with national, regional and local employers to increase internship opportunities for all students across the university." 
Universities included on the Best Schools for Making an Impact list were selected based on student ratings and responses to survey questions covering community service opportunities at their school, student government, sustainability efforts and on-campus student engagement.  
"We are honored to be recognized by our students as a Best School for Making an Impact," said Amy Hecht, vice president for Student Affairs. "The Division of Student Affairs prides itself on empowering students to make a positive difference, and the evidence is clear. Supporting and challenging the talented students at FSU is why we entered this field. I couldn't be prouder to see this recognition for our unparalleled student experience." 
For more information, visit https://www.princetonreview.com/college-rankings/best-value-colleges/lists.