FSU grad Ryan Smithies hunts hurricanes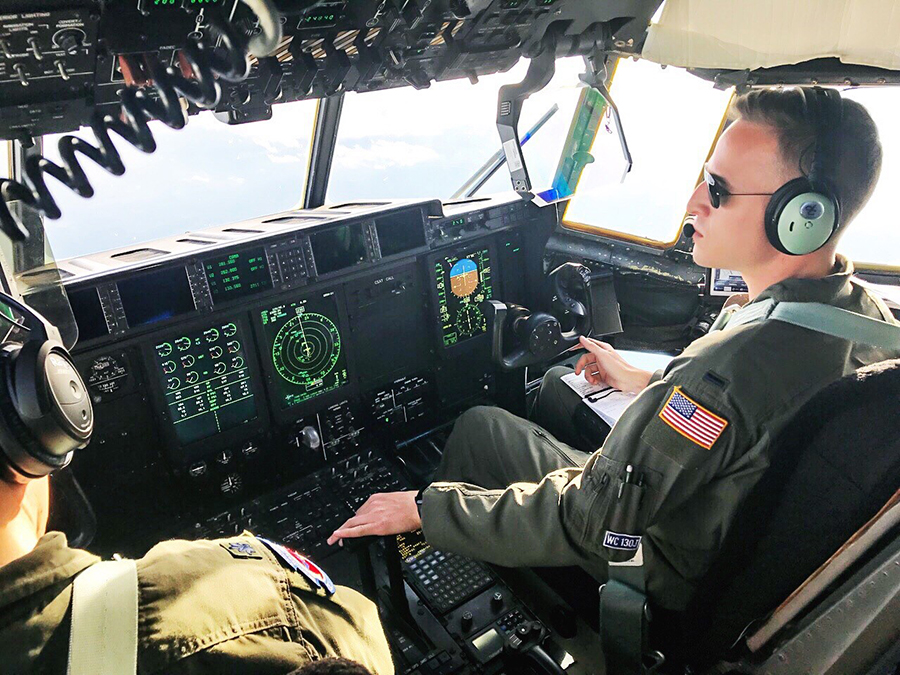 While most people watch the track of a coming hurricane with the intent of dodging its destructive path, Florida State University meteorology alumnus and Air Force 1st Lt. Ryan Smithies consistently flies into the heart of the storm.
As part of the Air Force Reserve's 53rd Weather Reconnaissance Squadron, better known as the Hurricane Hunters, Smithies and his fellow Airmen brave Mother Nature's wrath to secure critical data that feeds the predictive models and forecast tracks used by emergency management teams; local, state and federal leaders; and members of the public.
Smithies, who earned his bachelor's degree in meteorology in 2014, says his passion for the weather was a result of growing up on the Gulf Coast: He lived in Pensacola during the 2004 season when Hurricane Ivan struck the city as a Category 3 storm and in 2005 during Hurricane Katrina's catastrophic landfall and aftermath.
"That was a big turning point for me," he said. "When it came time to go to school I was more inclined to pursue the weather."
Those experiences prompted Smithies to choose FSU for its meteorology program, the largest, most comprehensive in the Southeast U.S., and his time in Tallahassee prepped him for multiple careers in competitive science-based industries. Smithies spent time as an on-camera forecaster and producer for FSU Weather, a live show produced by students in the meteorology department and broadcast across North Florida. He later parlayed his FSU experiences into a yearlong role as a news meteorologist in California.
"The skills I developed in the FSU Weather studio earned me my first job after graduation and polished invaluable communications skills," he said.
But, Smithies soon wanted something more. Thanks to his father, an Air Force pilot, he already possessed a lifelong interest in aviation. The realization he could pair these fields propelled Smithies to seek a career change as an Air Force officer. Smithies underwent two-and half-years of training including a 18 months of pilot training to become a Hurricane Hunter. He says FSU also helped him prepare for his new career as a pilot and military officer.
"While not directly related to flying airplanes, the fundamental meteorology education I received at Florida State is of great value to me in the cockpit every day," Smithies said.
Hurricane hunting as a discipline also came about thanks to serendipity – it started as a dare in 1943 when Air Force Lt. Col. Joe Duckworth flew a training aircraft into the eye of a hurricane. Upon his return to Bryan Field in Texas, the base weather officer met him on the flight line and asked him to fly back through the storm to collect data. Decades later, these flights are no longer about beating the odds but about calculating them days in advance using math and science.
Allison Wing, FSU assistant professor of meteorology, studies tropical cyclone formation, including how and why tropical clouds clump together and why the number and strength of tropical cyclones – hurricanes – varies from year to year. Data generated by Hurricane Hunter flights helps improve forecasts and fuel further research in atmospheric and climate science, as well as meteorology.
"We never know the precise initial condition, the precise temperature and wind measurements at every single location on Earth at every single time," Wing said. "So, the forecast models are always starting at an imperfect state and those small differences grow, leading to uncertainty. Data from hurricane reconnaissance flights helps provide a more accurate picture of the initial position and strength of the hurricane, and the structure of the atmosphere around it."
The Hurricane Hunter nickname is also applied to pilots at the National Oceanic and Atmospheric Administration who share in data collection for the National Hurricane Center. These missions, however, usually have different purposes: The 53rd WRS collects data on a continuous basis for "operational meteorology" or forecasting purposes, while NOAA focuses on research to better understand complex systems and improve future forecasts.
Smithies' squadron flies the Lockheed WC-130J Hercules and said, during hurricane season, missions will often be built and the crews pieced together less than 24 hours before takeoff. A typical mission might involve three hours of flight time to the storm, six hours in the storm and three hours back to base. This timeline excludes hours of preparation and debriefings before and after the flight.
The preparation is regimented because every flight into a storm is a distinct experience, he said. Some are similar to looking out a window at a passing rain shower, while a more intense flight might be likened to a rollercoaster-carwash combo, at night, with some lightning thrown in for effect.
The 53rd WRS is the only military squadron tasked with hurricane reconnaissance, so gathering critical data is paramount to aiding forecasters tracking the storm and preparing the communities in its path.
"The long hours, uncertainty and potential for danger are all part of the job, but we're happy to do it," he said.