FSU biological science doctoral student, advisers receive prestigious Howard Hughes Medical Institute Gilliam Fellowship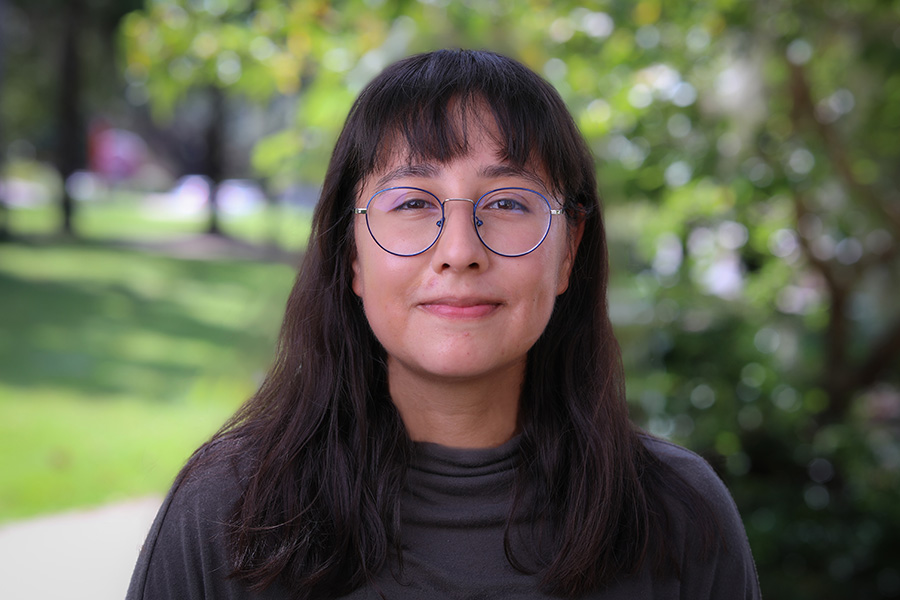 A graduate student in Florida State University's Department of Biological Science and her faculty advisers were chosen for a highly competitive fellowship recognizing outstanding research in their respective fields.
Doctoral candidate Monica Paniagua Montoya and her graduate advisers, professors of Biological Science Nora Underwood and Brian Inouye, are recipients of the Gilliam Fellowship from the Howard Hughes Medical Institute. The science nonprofit and philanthropic entity supports individuals as they advance science through research and science education and make discoveries that benefit humanity.
The Gilliam Fellowship provides graduate students and their advisers with an annual award of $53,000 for up to three years of funding, totaling $159,000. Montoya, a population biologist, and her advisers are among 50 graduate students and mentors selected for the award this year and FSU joins eight first-time awardee institutions. The fellowships were awarded Sept. 1 during a ceremony at HHMI headquarters, in Chevy Chase, Maryland.
"It's great to have FSU among this year's cohort of top graduate programs that were awarded these prestigious fellowships," Inouye said. "We have a strong ecology and evolution graduate program and Monica is a leader within that group."
The Gilliam Fellows Program, named for businessman and civil leader James H. Gilliam Jr., a charter member of the HHMI Board of Trustees, was founded in 2004 with the mission to continue Gilliam's legacy of promoting inclusivity and diversity by preparing exceptional students from underrepresented groups to become leaders in science.
Montoya is among the fellowship recipients working to answer major questions in the fields of health and science. She conducts her research locally at the FSU Mission Road Greenhouse, focusing on how variation among individual insects in a population can affect their interactions with the flora and fauna around them.
Working with the Carolina horsenettle, a native weedy plant, and false potato beetles that feed on the plant, Montoya seeks to identify how variations in insect size and the plant's own defense systems affect other elements of the ecosystem.
"What excites me most about my research is deciphering the complexity of our natural world," Montoya said. "At first glance, the interaction between a plant and an insect may seem simple. But under the surface, we can explore why an insect was drawn to a plant or how a plant responds to damage from the insect by activating chemical defenses. It is very rewarding to grasp these interactions and consider their implications."
Receiving the Gilliam Fellowship alongside Underwood and Inouye is significant for Montoya because it highlights the importance of her work in the field of ecology and recognizes her mentors' contributions.
"Nora and Brian are very prominent in the plant and insect world and working with them the past few years was special," she said. "They're very kind and challenge me both as a biologist and researcher. Receiving the fellowship has been greatly affirming to my work and has made me feel that I'm on the right path.
In addition to providing student-adviser pairs with financial resources for pursuing research, the Gilliam Fellowship offers advisers professional development opportunities, including participation in a yearlong mentorship development program. Underwood and Inouye will attend monthly webinars and two in-person conferences at HHMI headquarters.
"I'm looking forward to learning how to be a better mentor," Underwood said. "Each student needs something different, so the more tools and approaches I can learn, the better I can serve my students. I hope that in working with other Gilliam mentors, we might develop new approaches and materials that we can share at our institutions and beyond."
While Montoya, Underwood and Inouye are the first student-adviser group at FSU to receive the fellowship, they believe this achievement can help pave the way to other fellowships for their colleagues within the College of Arts and Sciences.
"It's an honor to be the first student at FSU to receive the Gilliam Fellowship," Montoya said. "I see it as a recognition that our university and department are on the right track and I hope to see more FSU students awarded the Gilliam in the future."
To learn more about biological science research at FSU, visit bio.fsu.edu.