FSU Actuarial Program honored for efforts to increase racial diversity
Florida State University's Program in Actuarial Science, part of the Department of Mathematics in the College of Arts and Sciences, has been recognized for its efforts to promote diversity within the actuarial profession.
For the past five years, the actuarial science program has partnered with the International Association of Black Actuaries, IABA, and the accounting firm of Ernst & Young to establish the Actuarial Ambassador Program at FSU. The ambassador program's mission is to increase the quantity, retention and career prospects of black students in the actuarial profession through mentorship, professional development and real-world experience. This year, the IABA selected FSU's ambassador program for its Affiliate of the Year Award.
"When we looked at our criteria for choosing awardees, we saw that the Florida State affiliate has withstood the test of time — it wasn't just a trial that quickly faded away," said Kate Weaver, IABA executive director. "The partnership is strong, and there is a high level of commitment from both the school and Ernst & Young. The IABA now hopes to unveil this concept of an ambassador program to other companies and other schools as a successful program."
Weaver estimated that of the 32,000 or so professional actuaries working in the United States and Canada, just 500 — slightly more than 1 percent — are black. Working to promote greater diversity is the IABA, a professional and student member organization whose mission is both to contribute to an increase in the number of black actuaries and to influence the successful career development, civic growth and achievement of black actuaries.
Kenneth Ukah is student co-leader of FSU's ambassador program. The senior from Lake Mary, Florida, said his participation in the program has taught him things that will one day pay off in the professional world.
"The ambassador program has helped me develop a soft skill that any aspiring actuary should aim to develop; good communication," Ukah said. "I have found that my communication skills are most tested in the day-to-day details of managing the program.
"Be it through developing and giving my own presentations for some of our events, occasionally debriefing with my co-leader, Jasmine Harris, on our respective tasks within the co-lead role, or planning and facilitating monthly leadership meetings with corporate ambassadors, I am often thinking of concise, effective ways to relay information to ensure comprehension, foster working relationships and save time, a finite resource," he said.
Ukah added that his personal goals are to have two preliminary actuarial exams passed prior to graduation in Spring 2019, then to pass one or two actuarial exams a year while working, all on his way toward becoming an associate actuary.
Steve Paris, a teaching faculty member at FSU who directs the Program in Actuarial Science, says one of his most enjoyable duties is taking a group of students to the IABA's Annual Meeting each summer. This year, he accompanied nine students to the association's meeting in Atlanta.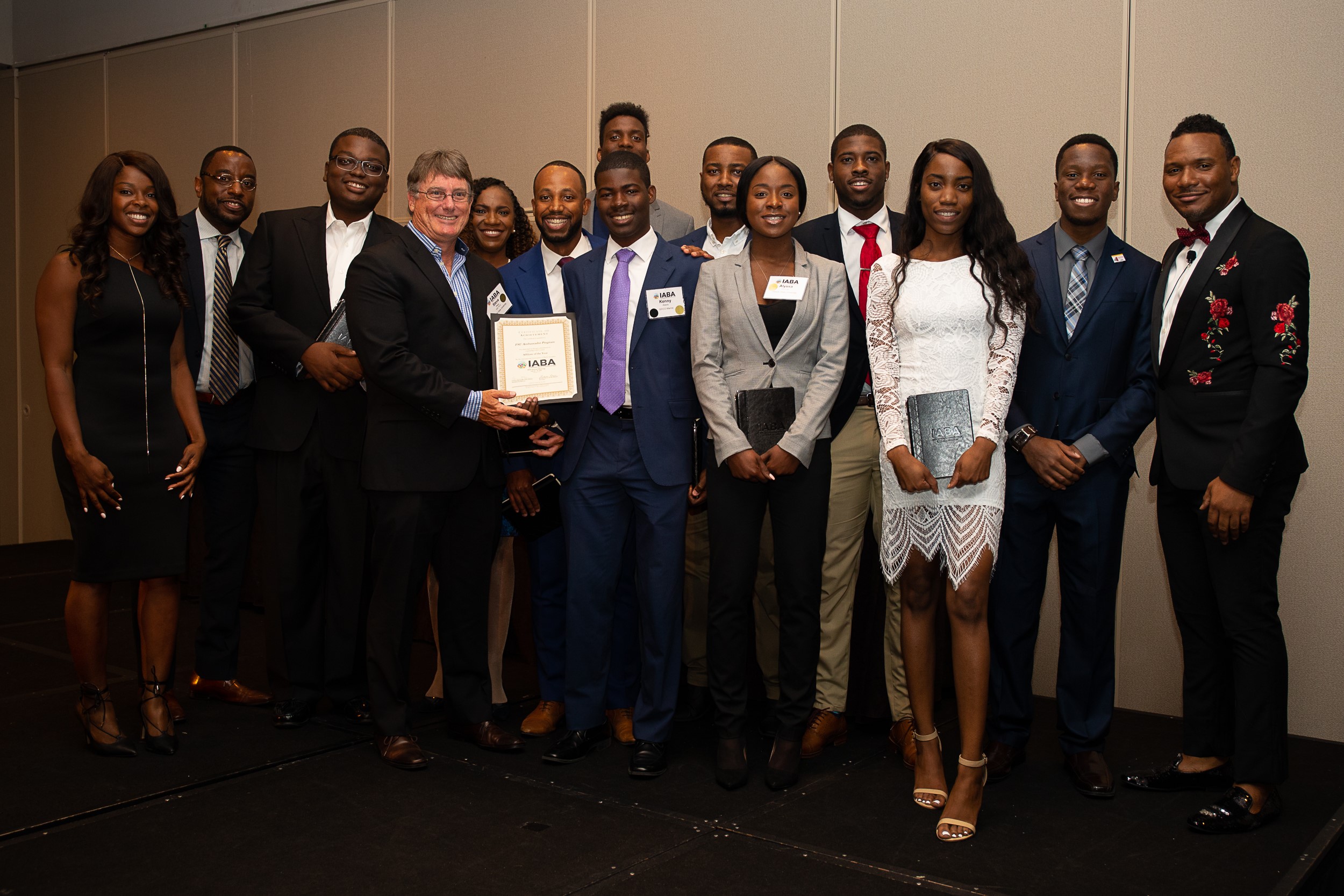 "At the meeting, students had the opportunity to network with other students and actuaries," Paris said. "There were many corporate sponsors for the meeting — I'd say 30-plus — and most of the companies sent HR staff to interview students. Of the students I took, five of them had a total of nine interviews. Also, we were pleasantly surprised with the Affiliate of the Year Award at the closing ceremonies."
By the Numbers:
An actuary is a person who compiles and analyzes statistics and uses them to calculate insurance risks and premiums. According to the U.S. Department of Labor's Bureau of Labor Statistics:
The 2016 median annual salary for the profession was $100,610.
From 2014 to 2024, an 18 percent increase in the number of U.S. actuaries is forecast. (The average growth rate for all occupations is forecast at 7 percent.)