Biological science, chemistry faculty receive Pfeiffer professorships for cancer research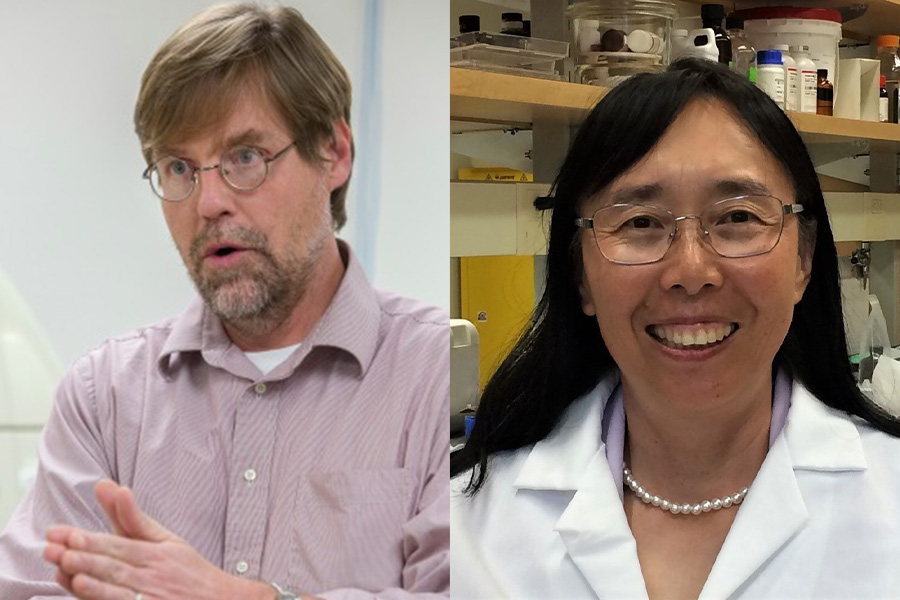 Two faculty members in the Florida State University College of Arts and Sciences have been awarded funding to continue their innovative research into the causes of and treatments for cancer.
Associate professor in the Department of Biological Science Jonathan Dennis and professor in the Department of Chemistry and Biochemistry Amy Sang will each receive $12,000 per year to support their cancer research efforts through the Margaret and Mary Margaret Pfeiffer Endowed Professorship for Cancer Research from August 2021 through 2024.
"It's an honor to earn this professorship for our research group. My former and current students, lab members, and I are grateful to be recognized for our long-term efforts and dedication to cancer research," said Sang, who is also the Endowed Chair Professor in Cancer Research. "The funding will allow us to initiate novel cancer research projects such as immunotherapies, gene therapies, and vaccines and perform pilot studies to evaluate the feasibility of these potentially high-impact ideas."
The Pfeiffer Professorship for Cancer Research was created by a charitable gift annuity from Mary M. Pfeiffer and serves as a memorial tribute to her mother. The professorship supports FSU faculty members conducting cancer research in the areas of biology, prevention, early detection, diagnosis, prognosis, treatment, control, survivorship, outcomes, scientific model systems and studying the causes of cancer.
"This professorship means everything to my research, and the applications are truly profound. Cancer is as individual as each person it affects, and I see tremendous value in developing patient-centric diagnostics based on genomes," Dennis said. "My work on lung cancer is what initially inspired me to apply, and my current research on colorectal cancer is only made possible through the Pfeiffer professorship."
Both Dennis and Sang conduct research on the discovery of cancer biomarkers to aid in early diagnoses and effective treatment. In addition to researching breast, brain, prostate, and lung cancers in individuals of all ages, Sang investigates the effects of environmental pollutants on the human respiratory system. Her preliminary research, published this spring in Chemical Research in Toxicology, reveals microplastics, small fragments of discarded plastics, cause morphological, biochemical and growth disturbances in lung cells.
"Plastic pollution is a growing problem across the globe, so our goals are to investigate the effects of microplastics on both non-cancerous and cancerous lung cells to evaluate if breathing in these small plastics causes harm to our lungs on a cellular level," Sang said.
Because cancer of the brain and central nervous system are some of the most common types of tumors in young children, Sang's team is also building 3D cell culture models to mimic pediatric brain tumors for the evaluation of new compounds and potential drugs for the treatment of pediatric brain cancer.
Though Dennis researches cancer, the discovery at the center of this research was made through a collaborative effort with professor of biological science Hank Bass, who studies the molecular genetics of maize. They discovered by profiling DNA and genetic material in the nucleus, they could apply a probe-like enzyme to identify where DNA is open to alteration. While this initial work was uncovered in researching developmental stages of the maize genome and published in The Plant Cell, the diverse applications of this process are significant. Dennis continues to help develop methods to determine the accessibility of underlying DNA in cancer cells, and this work was published earlier this year in Nature Communications. The strength of his research, Dennis said, derives from the strength of the diversity of research in FSU's Department of Biological Science.
"One thing we know about cancer is that it is caused by 'out of control' genes. Since 2001, Jonathan has studied how proteins control genes and engineered ways to track changes in gene control over time in normal and disease conditions," said Thomas Houpt, biological science department chair. "The clinical promise of his work is very much in the spirit of the Pfeiffer endowment to promote innovation in cancer detection."
Based on the accessibility of DNA, Dennis has made promising classifications of whether polyps, small tissue growths indicating digestive cancer, will become cancerous or not. This research was made possible through collaboration with Brooke Druliner, an FSU biological science alumna and current associate consultant at the Mayo Clinic in Rochester, Minn.
"Jonathan's work makes cutting-edge concepts accessible to as many people as possible. The patented test he is developing as the Pfeiffer professor is a real quantum leap from bench to bedside, which is typical of Jonathan's insightful enthusiasm," Houpt said.
Prior Pfeiffer Professorship awardees include professors of chemistry and biochemistry Hong Li, Brian Miller, and Michael Roper, chair of the Department of Chemistry Geoffrey Strouse, professor of biological science Fanxui Zhu, and professor and Ron and Carolyn Hobbs Endowed Chair in Statistics Debajyoti Sinha.