Award-winning undergrads set to present latest research at 2021 President's Showcase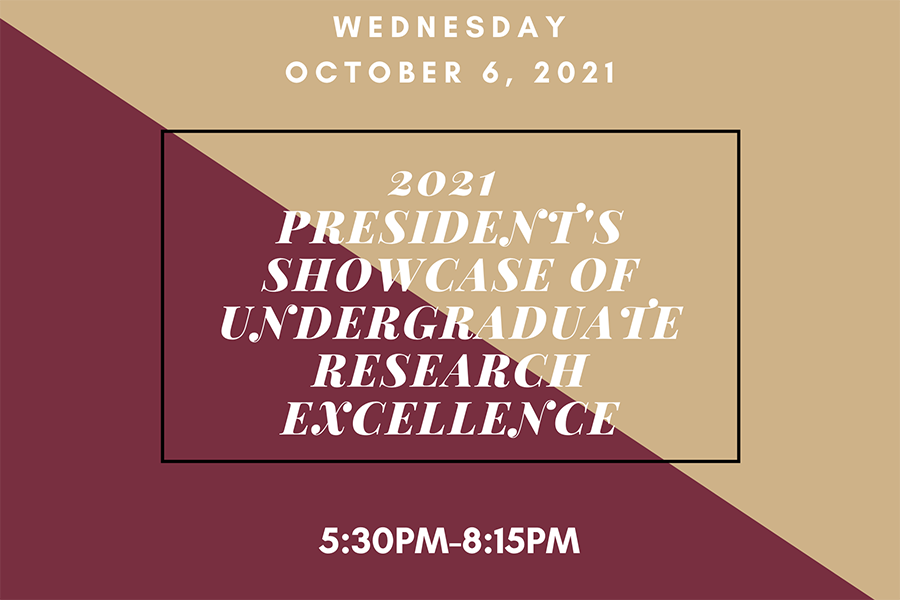 More than three dozen Florida State University students, including 12 researchers from the College of Arts and Sciences, will present their research at the Virtual 2021 President's Showcase of Undergraduate Research Excellence 5:30-8:15 p.m., Wednesday Oct. 6.
The showcase, sponsored by the Office of the President and the Center for Undergraduate Research and Academic Engagement, or CRE, is the culmination of the IDEA Grant research experience – which funded self-directed student research and creative projects over Summer 2021. Award winners will share their research and creative projects through poster and oral presentations at the event.
"I am so proud of our students who are showcasing their undergraduate research, and it is a pleasure to thank all of the Arts and Sciences faculty members who have contributed their time and talents to serve as mentors," said Sam Huckaba, dean of the College of Arts and Sciences. "This event provides a fantastic outlet to share a slice of the research excellence taking place all across campus."
The College of Arts and Sciences presenters, along with their academic majors, faculty mentors and project titles, are:
Biological Sciences
Alexis Cox, Ella Missey, Florence Mumbi, Biology and Biochemistry, Dr. Ravinder Nagpal, "Superimposing Celiac Gut Microbiome Metabolites on Healthy Caco-2 Cells to Observe Inflammatory Effects"
Jenevieve Norton, Biological Science, Dr. Emily DuVal, "Causes and Consequences of Nest-site Fidelity in Female Lance-tailed Manakins"
Derrick Woodard, Biological Science, Dr. Dawn Matthews, "Black College Student Experiences at a Predominantly White Institution"
Chemistry and Biochemistry
Patricia Mehaffy, Chemistry, Dr. Igor Alabugin, "Exploring Synthetic Routes to Nanoporous Graphene"
Classics
Luis Sanchez, Greek and Latin, Dr. Svetla Slaveva-Griffin, "The Political Medicine of Asclepius in Plato's Republic"
History
Emma Davis, History/French, Dr. Kurt Piehler, "Anita Newcomb McGee and the Army Nurse Corps"
Meteorology
Chandler Pruett and Robert Szot, Meteorology, Dr. Jon Ahlquist, "Weathering the Storm: How Cones of Uncertainty Impact Hurricane Risk Perception"
Psychology
Aoife Trotter, Psychology, Dr. Brad Schmidt, "Factors impacting mental health following sexual assault in LGBT individuals"
William Zak, Psychology, Dr. Brad Schmidt, "Influences on COVID-19 Related Stress"
For more information on the showcase and to see the presentation schedule and the event program, visit the CRE President's Showcase website.